About a month ago we had some very warm days. I was motivated to wash the windows in the family room. It was a short-lived effort because the weather soon turned foul again. In an attempt to channel the energy that was rising like the sap in the maple trees, I dove into other indoor cleaning projects.
Do you ever have that feeling that the house is getting away from you? The Farmer and I were talking about this. It's not only cleaning projects but maintenance projects like re-staining the deck and painting the shutters. This place is starting to look downright tacky!
Living in the country means that we're on a well and septic field. When you move out here you're thrown in the deep end of dealing with super hard and rusty water. We have our own water treatment plant in the basement but it's still a problem. I've never been one to use household chemicals because I've always been of the belief that hot water and plain soap can do wonders. We must be careful what's put into the septic tank and I try to limit the Other Mother's addiction to chlorine bleach, ammonia, pine cleaner and any number of other chemicals.
The tubs, shower and sinks take a beating with the well water and I've tried scrubbing and mild abrasive powders to no avail. The rust and lime in our water sends the "scrubbing bubbles" back to the drawing board. Against my "chemical free" habits and out of sheer frustration I recently purchased this product.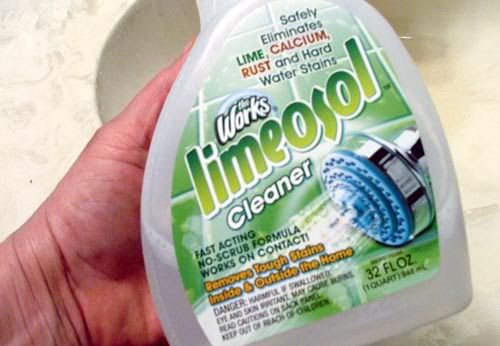 OH MY GOSH....I'm in love. This stuff is fantastic (and no, they don't pay me to say that - HA). This makes the tub white as snow and with a little scrubbing takes all the white lime off the shower doors. I feel like I've been let out of tub-scrubbing prison. Like I said, it's mostly hot water and plain soap around here but I will make room for this stuff. Oh, and the beeswax and lemon furniture polish.
Do you have a favorite household product?
Do you have any annual housecleaning rituals? I had an aunt that would literally scrub down all the walls in her house every spring. I mean, huge buckets of hot water and scrubbing! All the furniture would be moved into the center of the room and they'd go to town. I've never heard of anyone else who scrubbed their walls. I just dust them off with a broom and repaint every so many years.