Normally I write my post the evening before and schedule it to publish at 2 a.m. but yesterday I was lazy. So, here I am at 4:30 a.m pounding on the keyboard. This is an ungodly hour to rise. Only dairy farmers get up this early! Did you hear that Heidi?
Anyway, the Farmer and I are accompanying our son and his friend to downtown Chicago where they will participate in the Chicago Police Departments 5K run called Run to Remember.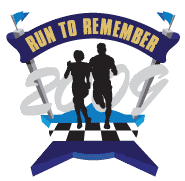 It's organized in memory of police officers who have died on duty.
The guys are excited, friend Charlie has run races before but this is our son's first.
Wish them luck. It's for a good cause. The Farmer and I will be standing still and cheering. The start and finish lines are in the same spot and we'll be able to partake in the post race activities that are planned including listening to bagpipers. I love bagpipes!!
Look at this great site. It matches volunteers to special events.
Volunteer Match
And the official site for the race:
Run to Remember