Are you hungry? Are you ready for this week's field trip?
The Burlington, Illinois Volunteer Fire Department hosts an all-you-can-eat pancake breakfast and you're invited!
The fire department is made up of local volunteers and this is a fund-raising effort. It's $5.00 for adults which I think is a good deal.
When you enter the building the locker room is to the right. Their gear is stored here.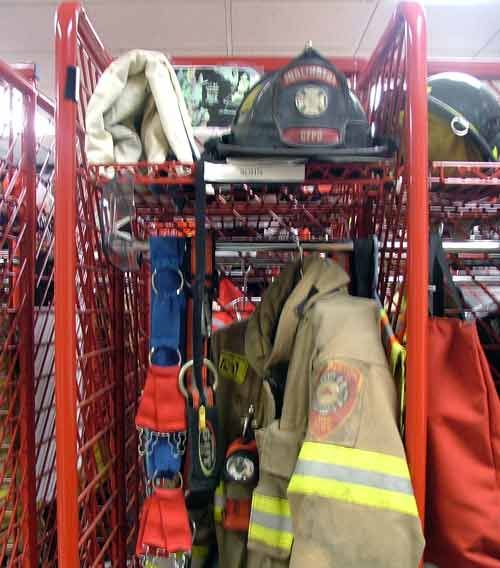 What's a firehouse without some chairs for relaxing?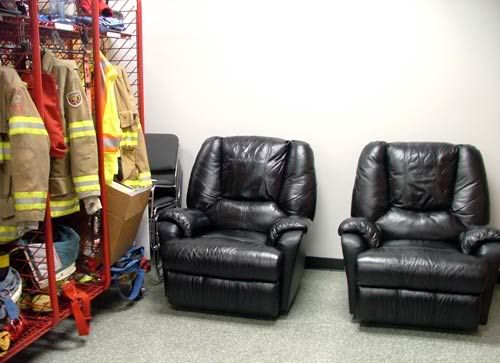 A look inside the firehouse kitchen shows that everyone is hard at work.
Two of the guys are flipping pancakes. I love the fact that someone got him into an apron.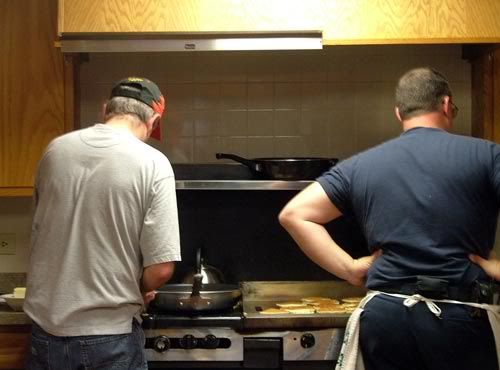 You pay the lady at the table just outside the kitchen door. I asked her how many people they serve. It was apparent they don't keep track.
"Lots," she said. "Lots and lots."
The main action is inside the garage area. The lines are long but just inside the door you can see the first of the food. Hey, how did that New York Yankees fan get in there? Everybody knows this is Chicago Cubs territory!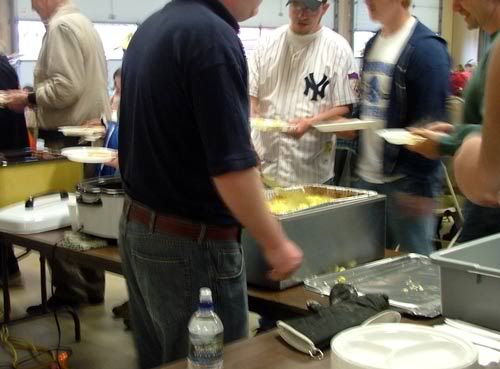 Everybody brought their Nesco roasters. Do you know how large those things are? Big. The first pan holds the scrambled eggs. The second keeps the pancakes warm.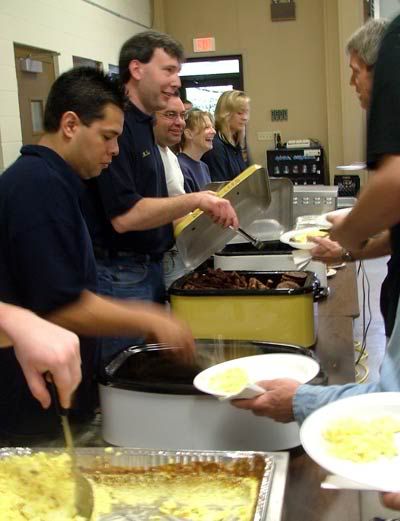 Shield your eyes if you don't like the site of meat. Northern Illinois is known for their pork production. Here's a Nesco roaster filled with pork sausage, both links and patties. OH YEAH!!!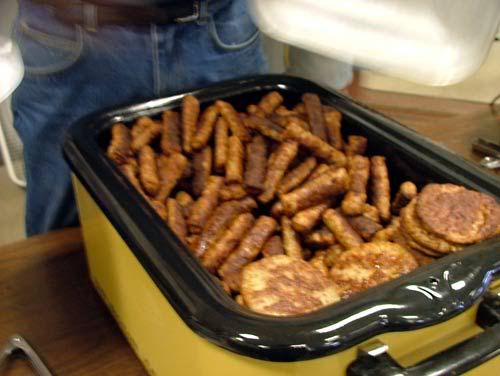 I didn't get a picture of the trough of bacon, but trust me, there was another roaster filled with crispy bacon.
Debbie makes toast as fast as she can.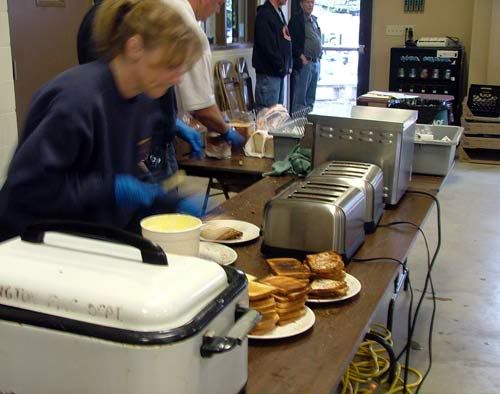 The line never slowed down. We arrived at about 10:15 and it had been going strong since 7:30 a.m., that's when the farmers show up. The breakfast ends at 12 noon. That's 4 1/2 hours of eating!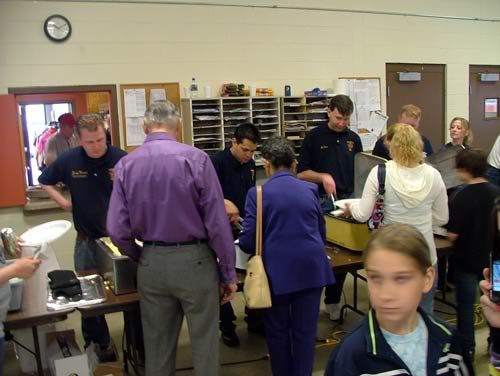 The Farmer digs in. Juice and coffee are included.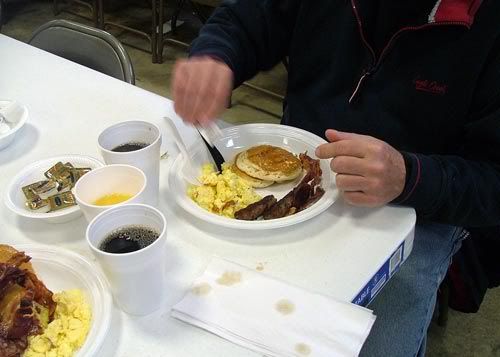 My pancakes were buried in pork. When the guy went to serve me some bacon, it all stuck together..... I had to take the whole lot of it! I swear, that's the truth.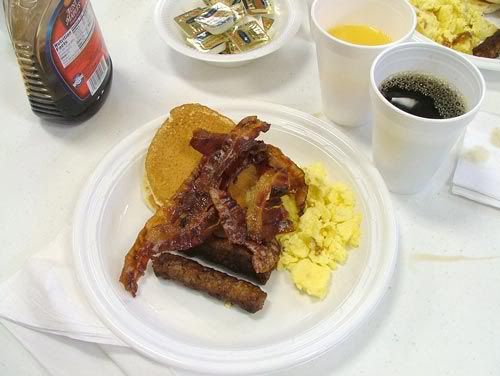 The sausage was absolutely delicious. I don't know which brand it was but it was very good.
There were lots of people eating and having a good time.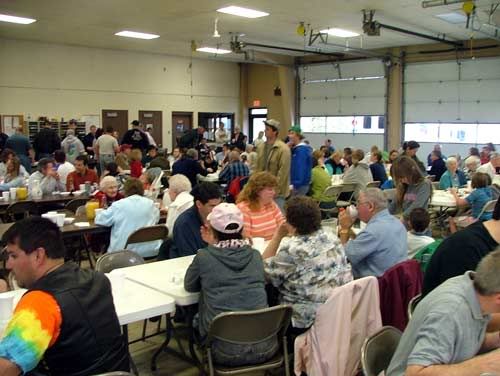 Who says we don't have fashion sense out here on the prairie? Tommy Hilfiger was spotted.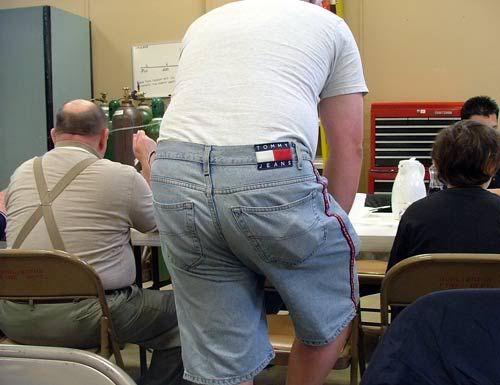 Video of the crowd at the firebarn
With everybody inside the barn, the equipment must be parked outside.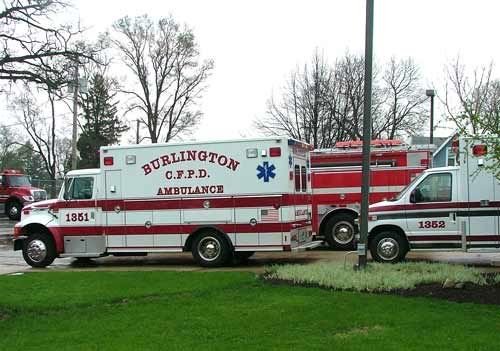 Here are their vintage trucks. I bet these look great in a parade.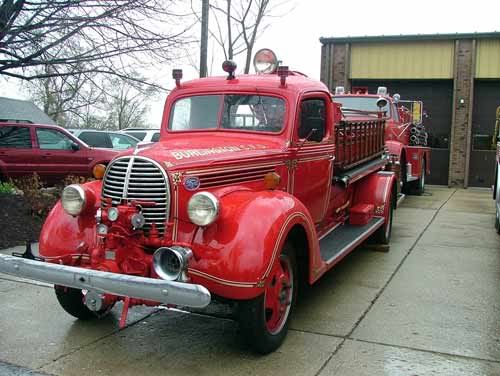 Since this is a field trip we can't just eat and enjoy ourselves, we must learn something. Burlington is about 10 miles from our place and we have a separate fire department but out here they all employ the same technology.
We don't have city water or fire hydrants, we're all on wells. What that means is there's no water for the department to tap into except for our wells. In our house we can barely muster up enough water pressure to provide a decent shower, there's certainly not enough to fight a major fire. That's why our fire departments have these trucks.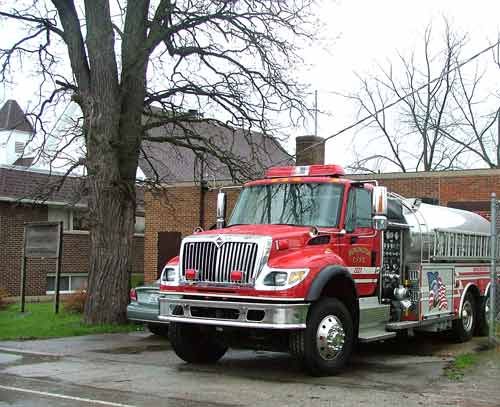 This is a water truck and it's what they bring to the scene of a fire. A department many have two or three water trucks and that's all the water power they might have to fight the fire. These volunteers do an amazing job for our small communities. I'm reminded of the comments of some Americans living abroad who sorely miss that American "can do" spirit. Our volunteer fire departments is the embodiment of this spirit. I thank each and every one of them....some of whom are our friends and neighbors.
Thanks for coming along to the pancake breakfast. I hope you enjoyed yourself and learned a little something too.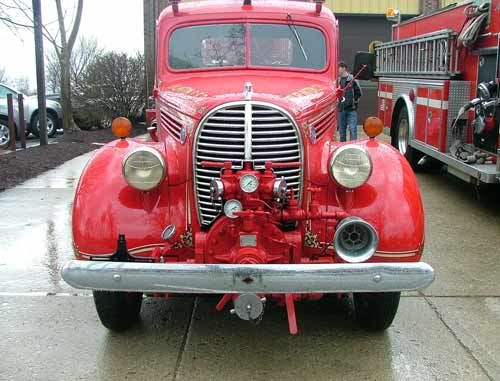 Hey - there's lots of bacon still in the roaster...... have seconds!!