I love to iron! There, I've said it. Ironing is one household chore that has never been a chore to me.
When we were kids there were no perma press fabrics and my mom would need to iron all the cotton clothing. She would sprinkle everything with water first, roll them up inside a bath towel and place them in the refrigerator. She'd pull out each piece of clothing, one at a time and iron. I'm pretty sure there weren't any steam irons back then.
I think perhaps the one of the reasons I don't mind ironing is that I love to sew and you're required to press the seams as you work through the construction. I find it to be relaxing.
My previous iron was driving me crazy because it didn't have a teflon soleplate and my spray starch was sticking and burning. Yuck. I bought a new one.... very inexpensive.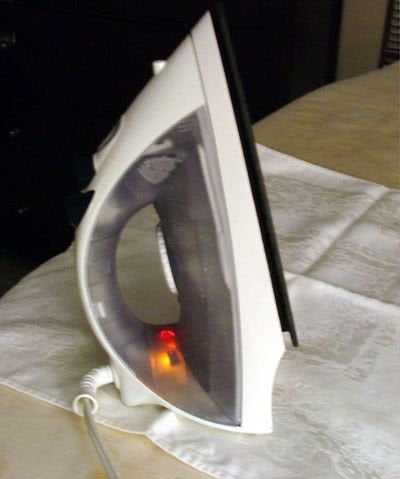 My basic requirement is that an iron have a burst of steam capability.
Once, in a fit of extravagance, I invested in a pricey Rowenta iron. I was not impressed. It didn't do anything different than the inexpensive model and it broke in about the same time frame.
I've been ironing up a storm the past few days as I organize one of my linen closets. The people we bought this house from informed us that their architect who provided the plans was a woman. Whoa, you can sure tell by the number of closets she included. Each bedroom has it's own linen closet - that's four linen closets. There really aren't enough towels and sheets to fill them all so I've set aside one closet to house some out of season sweaters (on the very top shelf) and my table linens on the bottom.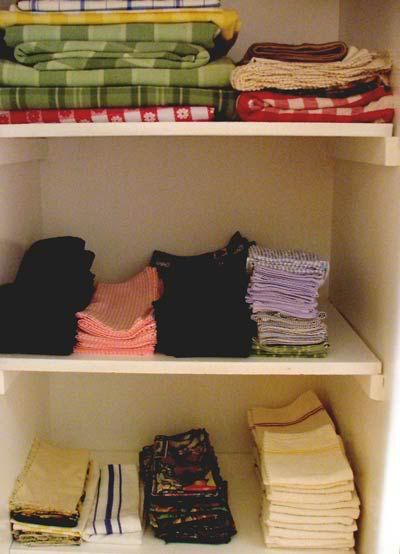 Phew, that looks like a lot of tablecloths and napkins but I made most of them myself. Just a square piece of fabric, hemmed on all four sides. I rarely, if ever, use paper napkins.
So, now about you? Do you like to iron or avoid it like the plague?
Oh, by the way, my most dreaded household chore is emptying the dishwasher. I hate it!!!