You didn't think you could get out of a staff meeting simply because of the holiday, did you? Heck no, we've got alot of ground to cover.
First and foremost is the food. I'm going to offer up a big cookie jar full of oatmeal raisin cookies.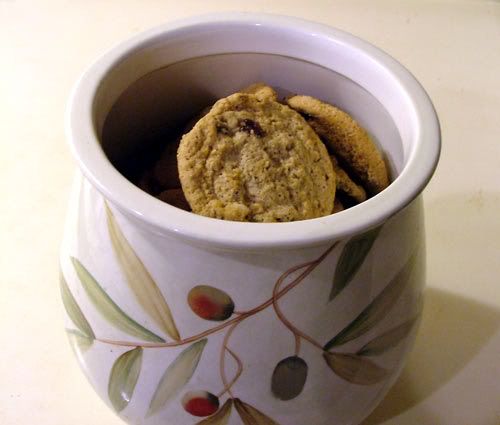 Help yourself. In in effort to keep us all healthy I will NOT be serving the pie that lurks in my fridge. It's a store bought lemon meringue pie.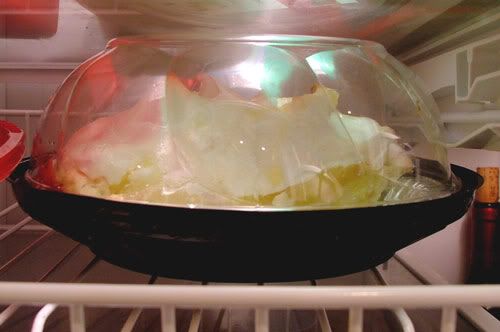 If it was homemade and luciously fresh and delicious it might be worth tempting the dangers of (per slice) 32 grams of sugar, 320 calories, 190 mg of sodium and 52 g of carbs. I kid you not!!! That's right off the packaging and that's crazy.
Don't look at me, I didn't buy it. We're having difficulty reigning in the Other Mother on her shopping sprees. Everyone in the house (except for our son) is a diabetic, including the Other Mother. She will not be deterred because as she claims, "You can eat everything, it just depends on the portions".
HUH?? A safe portion of that crazy pie would fit in a thimble. We don't want any of that in house period, and she certainly doesn't need to be eating that either. I agree that at 88 years old you should eat whatever you want, but we'd prefer not to have the thing staring at us everytime we open the fridge for a piece of string cheese.
- - - - - - - - - - - - - - - - - - - - - - - - - - - - - - - - - - - - - - - - - - - - - - - - - - - - - - - - - - -
I dread to talk about the weather again, but it's downright cold here. June is breathing down our necks and I'm in a sweater and warm socks. I'm going to be sorry I mentioned this because sure enough we're going to skip a beautiful transition and go straight into hellfire heat and humidity.
- - - - - - - - - - - - - - - - - - - - - - - - - - - - - - - - - - - - - - - - - - - - - - - - - - - - - - - - - - -
My sewing machine Beverly has agreed to share the sewing room and I've purchased additional machine.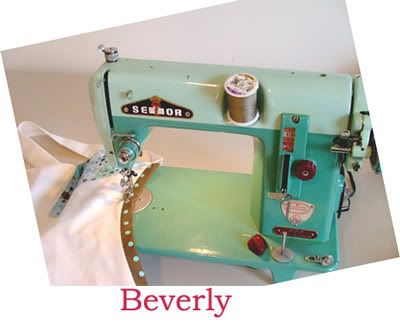 Beverly is a 1950's Sewmor, cast iron machine. You could run over her with a truck and she would still continue to sew. The problem is that she only knows one stitch - straight as an arrow. I wanted another machine that has some decorative stitches and I've purchased an inexpensive Brother. My machine previous to Beverly was a Brother that I purchased for $99. I used that machine every day for over 8 years until it finally went kaput. I'd say I got my money's worth.
Now we come to the exciting part of the story, TRACKING THE SHIPMENT. This is crazy fun. I've become addicted to tracking shipments. Seriously, I jump on mapquest to see where my stupid package is sitting!
My new Brother started it's journey in Rockledge, Florida. That's right next to Cape Canaveral. A little while ago I checked and it had made it up the coast to Jacksonville. It will probably board a UPS plane this evening and land in nearby Rockford, where UPS has a hub. Maybe it will be delivered tomorrow, or the next day.
Following these packages is addicting. I might even be tempted to buy something just to watch it's journey.
Which brings me to another addictive delivery system - PDF downloads. Omigosh, this is dangerous.
For example, just a week or so ago I purchased
Alicia's tote bag pattern.
You transfer the money and POOF!!! you can download the PDF and start sewing a bag. No shipping charges, no waiting for the USPS to deliver.
I began trolling Etsy for patterns and discovered that alot of them are PDF downloads. Woo hoo, I'm in trouble now.
I promised myself that I'd wait until my current projects are off my worktable until I think about buying anymore patterns.
But at some point I must have this sock monkey pattern.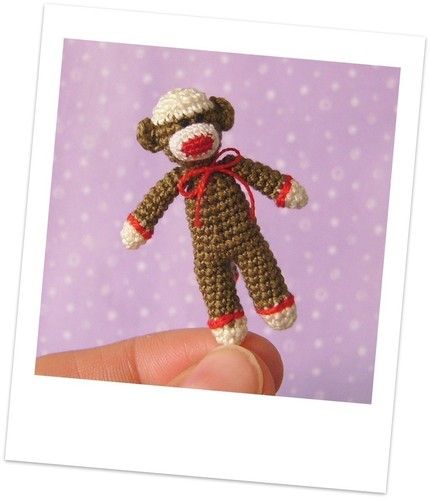 SOCK MONKEY PATTERN ON ETSY
And yes, I'm crazy enough to crochet a sock monkey that small.
Now, everyone must share their story. Are you as crazy as me about tracking packages or downloading PDF patterns?
Have another oatmeal cookie and tell me I'm not alone.
UPDATE: The sewing machine was scanned out of the Jacksonville facility at 3:32 a.m. That probably means I won't be receiving it today. Perhaps tomorrow. OK, I know this is lame, but humor me. I take my excitement where I can.
UPDATE: My Brother sewing machine arrived in Chattanooga at 11:07 a.m. Chattanooga??? Is it going by truck? By Pony Express? Mapquest tells me that Jacksonville to Chattanooga is a 7 1/2 hour trip and doing the math tells me that it traveled by truck. Sheesh, I could have picked it up myself and visited some bloggers along the way! It's a 9 plus hour drive from Chattanooga to Chicago. Put the thing on a plane already.
UPDATE: The sewing machine is on the move again. It left Chattanooga at 7:57 p.m. Maybe tomorrow??