I was raised in a family with four kids which meant that there wasn't much one-on-one time with mom. When I remember back she was a blur of activity, cooking and cleaning and generally caring for her brood. The pace got a little more frantic during the six months out of the year that my grandfather lived with us. Oh, and let's not forget the standard Poodle and eight puppies.
For some reason I don't remember any special habits that my mom engaged in during the day. You know, like always draping the damp wash cloth over the edge of the sink to dry.
Time with grandma was very different because she only took her grandchildren one at a time. That allowed for plenty of one-on-one time. Weekend visits to her house were gold in my book. She'd cook up a big pot of oatmeal with raisins. I hate oatmeal that is cooked in the gooey, sticky method but for some reason it tasted delicious at grandma's house.
Our activities included staying up late to watch old movies. Grandma was a notorious night owl and so am I. She piled her bed full of plump pillows, long before it was the rage. This allowed her to prop herself up near the headboard, surrounded by her beloved newspaper and magazines. She'd spend hours clipping interesting news articles, recipes and other interesting bits.
That's one habit I acquired from her. I probably have 300 recipes that I've clipped or printed out. The chances of me actually cooking all those recipes is pretty low, but I keep them "just in case".
Another little habit I acquired from my grandmother is to tuck my nightgown under my pillow. Does anyone else do that?
When clothing was no longer serviceable she would sit in the easy chair and snip the button off, one by one.
Here's a pile of collars and cuffs, the by-product of my apron making efforts.
I sat in my sewing room and removed all the buttons, giving me a nice little addition to my button jar.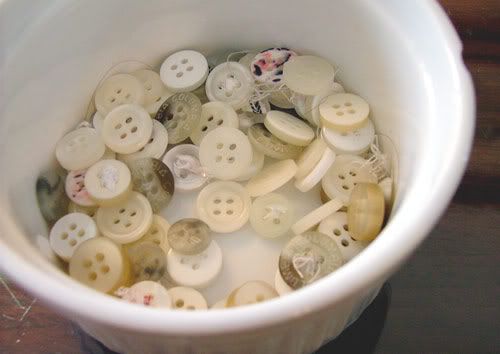 Now if I could just come up with a creative use for those collars and cuffs!
What about you? Do you find yourself repeating little daily habits that you learned when you were growing up?