It's been awhile since we've played What's for Dinner. OK, come to think of it perhaps we've never played What's for Dinner but we're going to start ......... right now!!!
Why? Because I'm coming up blank on having anything interesting to talk about. I always say if you don't have anything interesting to say then serve some food.
Here's how we play. I tell you what we had for dinner last night and you tell me what you had for dinner last night. This is reaching some new level of dried up creativity, second only to Twitter.
This was our dinner.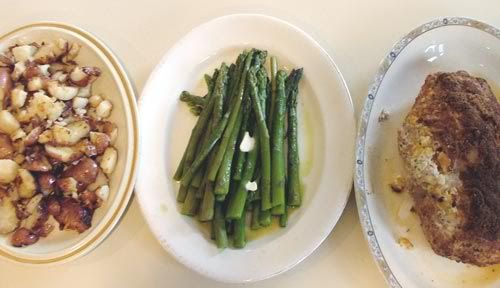 Left to right: Oven potatoes, asparagus and stuffed pork loin.
Oven potatoes are easy. I simply boil red potatoes until they're tender, cut into pieces and place on a baking sheet. Brush them with some oil, sprinkle with salt and pepper and place in a hot oven (400 degrees) until brown and crisp.
The Other Mother made a version of these that she called oven fries but they were positively swimming in oil. This was my attempt at making them a teensy bit healthier.
The asparagus is simply cooked until dark green and served with a little butter.
The pork loin is easy and delicious. It's a favorite around here.
Stuffed Pork Loin
1 pork loin roast
flour
1 egg, beaten
seasoned bread crumbs
Oil for frying
One 8 oz. container onion & chive cream cheese spread
10 dried apricots, diced
Mix cream cheese spread and apricots. Set aside. Dredge all sides of the pork loin in flour, dip in beaten egg, turning to coat all over. Coat in seasoned bread crumbs and brown lightly on all sides in a fry pan with 1/4 inch of oil. Place roast on a baking sheet and with a very sharp knife, cut a pocket in the side of the meat, being careful not to cut through the ends. Fill the pocket with the cream cheese mixture and bake in a 350 degree oven for 1-1 1/2 hours, depending on the size of the roast.
Here's what it looks like on the plate.
The onion/chive cream cheese and apricots sounds like a strange mix but trust me, it's delicious.
So, now it's your turn to play. What did you have for dinner?
And be sure to get back to me if you have a recipe that will chase the creative doldrums away.