This is where we talk about ice cream.
It's June. It's summer. Well, probably everywhere else it's summer, but here in northern Illinois is still only 50 degrees. I'm getting very perturbed with the weather.
It doesn't matter. I shall eat ice cream whenever I wish. How about you? That's that I thought.
This is Roger. He's a former co-worker at the newspaper. Roger was a consultant who was brought in to help our department. Along with the
best boss ever
(publisher Mark Sweetwood), Roger created an atmosphere of fun.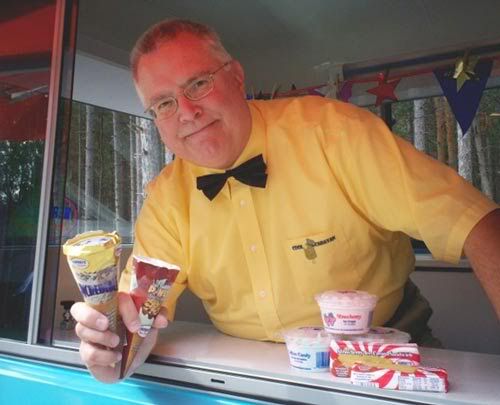 Fun to go to work? What a concept. Sales steadily increased and morale was high. Of course you know the rest of the story. Upper management can't have such shenanigan's as smiling employees. Decisions were made. The Best Boss Ever grabbed his lunch container and walked out the door one day, never to return. What's the human resource term? "Seeking new opportunities?" Yeah, OK, and I've got a big chunk of the Louisiana Purchase for sale.
Soon after, Roger, Lisa and several other mid-level managers left and everything went to hell in a handbasket. But my newspaper industry rant is for another day. Today we're talking ice cream.
After Roger left the paper he decided to sell the house and move to Michigan where he set up shop with a Cool Caravan. It's a totally tricked out ice cream van.
This photo makes me laugh on so many levels. You can see Roger's playful spirit in his face. One year for Halloween our department dressed up in vintage garb. We put together our best Laverne and Shirley outfits and Roger dressed as Mel from the TV show "Alice". He was perfect in the role and now he's doing it in the Cool Caravan!
Ice cream.
My favorite:
Maggie Moo's Chocolate Cake Batter
Soft Serve
: Combination twist cone at Alice's Place in Elburn, Illinois
Novelties:
Ice cream sandwiches or Klondike bars (it's a tie)
Other frozen delights:
My own homemade Lemon Basil Sorbet
Hooray for Cuisinart's Ice Cream machine. I make my own ice cream and it actually costs the same and buying store bought but the quality and taste is far superior. My machine was on sale at Penney's catalog outlet and perhaps there are some online deals. You can add whatever is in season, such as strawberries (my favorite), blackberries or cherries.
So while I grab my parka, you discuss ice cream to your heart's content!