Did you know the sock monkey has a hometown?
Yes! It's Rockford, Illinois which is about 50 miles from my place, as the crow flies. I'm bringing along someone to keep me company on this trip. Casimir will be riding shotgun. Nobody rides in my car unless they're buckled up.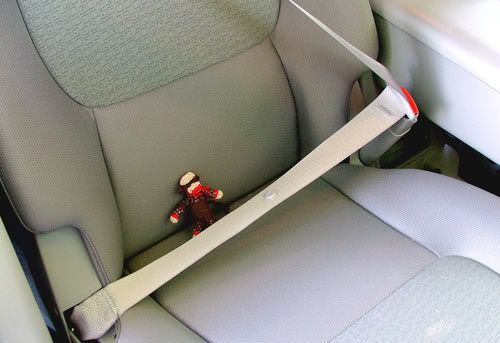 Join us on our adventure to the Sock Monkey Museum in Rockford. Ok, there isn't actually an entire museum devoted to the sock monkey but there is a large exhibit in the
Midway Village Museum
complex.
The Farmer asked me to make a stop at the bank, after which I headed up Randall Road towards the tollroad. Traffic. The monkey hates traffic.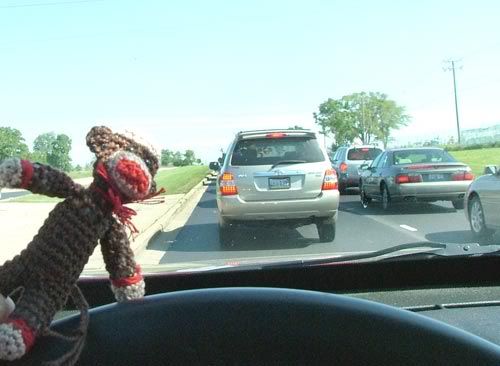 It was making him very nervous. It's a good thing I know all the backroads. After a quick u-turn we were on our way.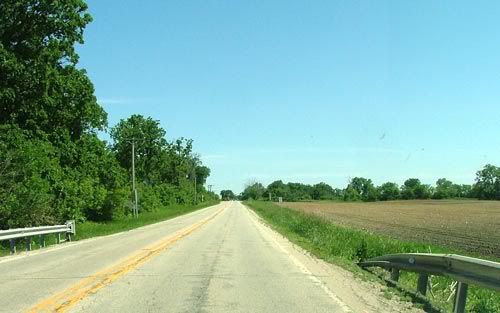 That's better.
There's a large representation of an old vintage postcard at the entrance to the exhibit hall. Remember these?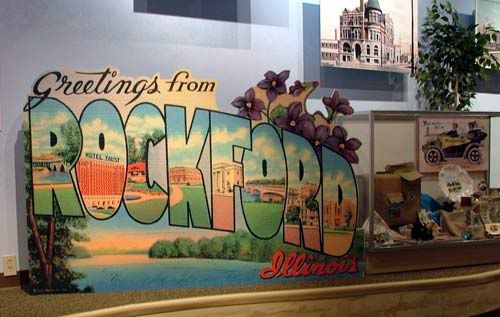 The sock monkey exhibit pays homage to Rockford's industrial past. Here's one sitting on one of the old knitting machines.
This machine knitted back and forth, producing a flat piece. This meant that the sock would need to be seamed together. A seam in a sock in annoying. In 1873 John Nelson invented a knitting machine that would make socks without seams in the toe or heel. He helped to start the Nelson Knitting Company, and his invention made Rockford a leader in the sock knitting industry.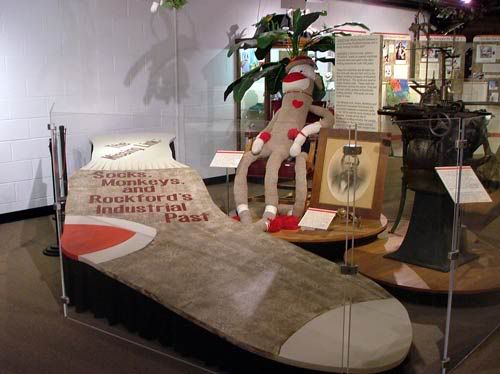 Later they dipped the heel in red dye to distinguish their product from others that were being produced.
At this point the
It's a Small World Rule
is put into play. The Nelson Knitting Company went through a number of acquisitions, the Rockford plant was closed and the Red Heeled socks are now made in Osage, Iowa. One of the very first blog friends I made was Kelli at
Sugar Creek Farm
in Osage, Iowa!
No one knows who made the first sock monkey doll. I count myself as being a fairly creative person but I cannot imagine looking at a pair of socks and saying, "Oh, I'll make it into a monkey. With a huge red mouth". Honestly, baboon is what comes to mind. Here are some very early sock dolls.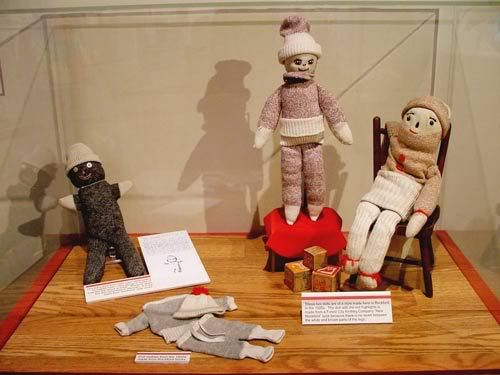 There is a great deal of controversy over this matter because no one has been able to find the missing link between these dolls and the monkey.
Casimir decided to try his hand at acting over at the Sock Monkey Puppet Theater.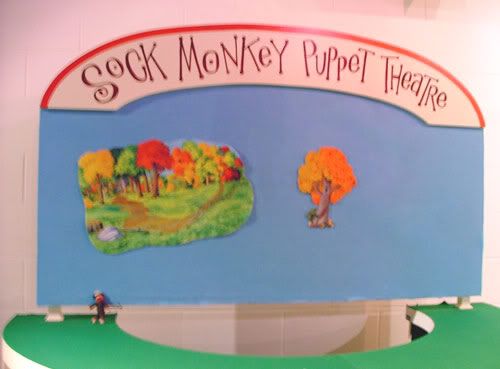 Yes, he's very tiny and a very bad actor.
These monkeys are so clever.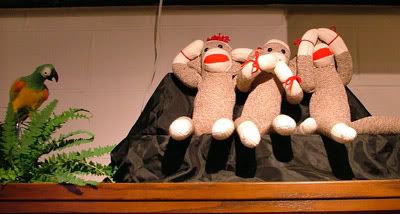 Sock monkeys from all walks of life are displayed.
We moved on to the next exhibit which invited you to try your hand at milking a fiberglass cow.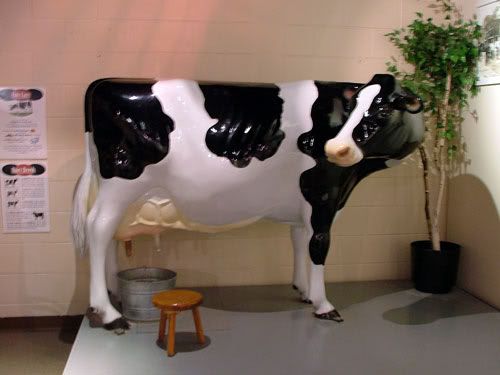 Casimir decided to give it a shot.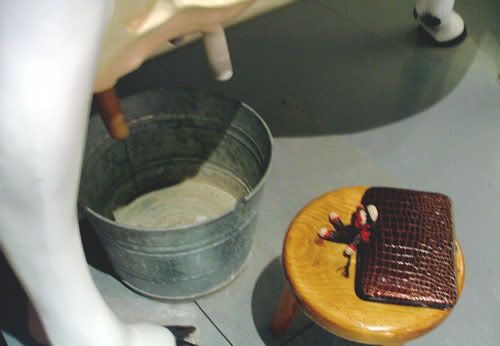 As you can see, he's lacking some backbone and needed to be propped up with my faux snakeskin wallet. He was not successful, not a drop in the bucket. Who am I to talk because I couldn't produce a drop either. Perhaps Heidi will give me lessons when I visit her dairy farm later this summer. Heidi??
Casimir and I were pooped from all that walking but we met my sister in Belivdere for some pie.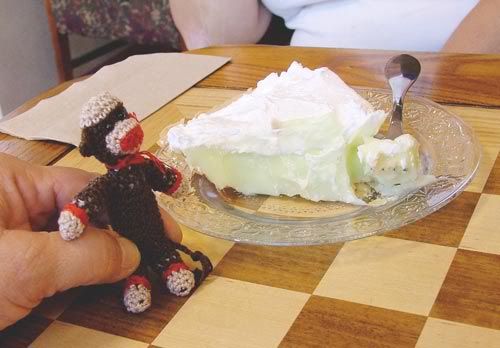 She shared her Key Lime pie with him. (A pie review another day).
On the way home we ran into Sanford and Son.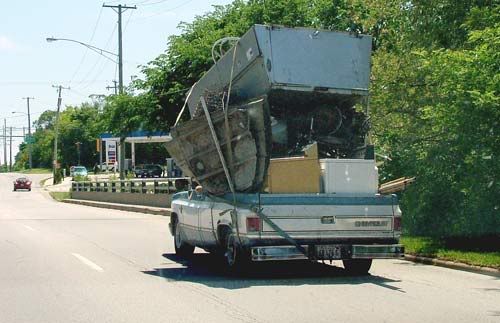 THE END
- - - - - - - - - - - - - - - - - - - - - - - - - - - - - - - - - - - - - - - - - - - - - - - - - - - - - - - -
THE GIVEAWAY PORTION OF THE FIELD TRIP
Another giveaway! Yes, it's crazy.
Please leave a comment and tell me your own personal sock monkey story. If you don't have one, make it up. We have creative writing teachers and professional authors who read this blog, so make it good! These won't be graded, it will be the usual rabbit-out-of-a-hat style drawing.
Here's what will be given away (in the order the names are drawn).
- A Sock Monkey Wooden Nickel
. Who knew there was such a thing? There is, and this is your chance to own one.
- A Sock Monkey postcard.
In the tradition of my Post Card Projects, I will send one lucky winner this lovely post card.
- Two Pairs of Rockford Red Heel Socks
complete with directions to make your own sock monkey! And yes, if you win I expect you to make the darn thing.
- Casimir, the 4-1/2 inch tall Sock Monkey.
Yes, I am finding Casimir a new home. It's not that I don't love him, I do. He's a good traveling companion but at 4-1/2 inches he's too tall for my purposes. My intention in making Casimir was to fashion a monkey that would fit on my daughter's key chain. I used the crochet cotton I had on hand and it's larger than the designer intended. (Her sock monkey is only 1-1/2 tall). So Casimir will find a home and I will find some smaller crochet thread.
Contest ends 6 p.m. Central Standard Time on Sunday. Winners announced at the Monday morning staff meeting which will be held at the Cracker Barrel Restaurant (virtual location of your choice).
Good luck everyone, and thanks for traveling with me on yet another adventure!