You didn't think I'd give you the name that easy, did you? I must discuss and digress, thereby making an entire post from one drawing!
I want to thank everyone for participating in the drawing and thanks also to
Cindy LaFerle
for generously sharing her talent with us. Not to worry if you don't win because her book is available on
Amazon.
All profits from the sale of her book are donated to homeless shelters in Detroit. That's what I like about Cindy, she puts her money where her mouth is. (Hmmmm, isn't that an odd phrase? But true.)
If you haven't participated in one of my drawings in the past, here's how it works. No stinking computer generated number with verifying codes. I'm old school.
I write out the person's name.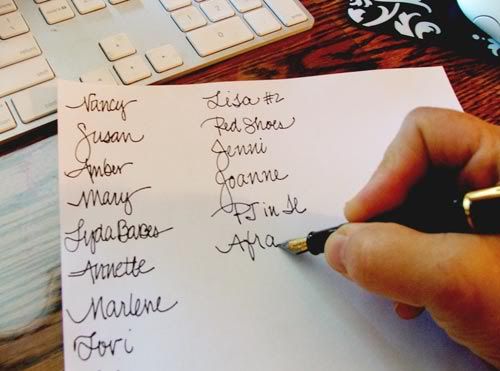 In cursive.
OK, here's the part where I digress. I've been following a discussion on one of the science blogs that I follow. A professor stated that for the first time in his 35 years of teaching, all the class evaluation sheets submitted by his students at the end of the semester were printed. Not one student wrote in cursive.
Huh? Do they teach cursive handwriting anymore? I spent many hours hunched over a desk practicing my handwriting lessons. Wasn't it the Palmer Method? Yes....there used to be methods to handwriting. I was fascinated with my attempts to get the shapes just perfect. So fascinated that when I was in my 20's I took a calligraphy class. At one point I studied under Tim Botts.
So, back to the drawing. I write all the names on paper with my Waterman fountain pen.
Here's where I digress again. I think I've told the story about writing a check for groceries with my Waterman pen. The young cashier suddenly stopped dead still and stared at the pen as if it was an archaeological artifact.
"What is that?" she asked.
"A fountain pen." I answered.
I could see the wheels turning. She knew what a fountain drink was, but fountain pen?
"Would you like to try it?" I asked.
"Sure!" she exclaimed.
She doodled away on a scrap of paper, obviously thrilled with the experience. Other shoppers were not amused but I felt like the Pied Piper of cursive handwriting with pen and ink.
OK, back to the drawing. After writing out all the names I cut them apart and fold them.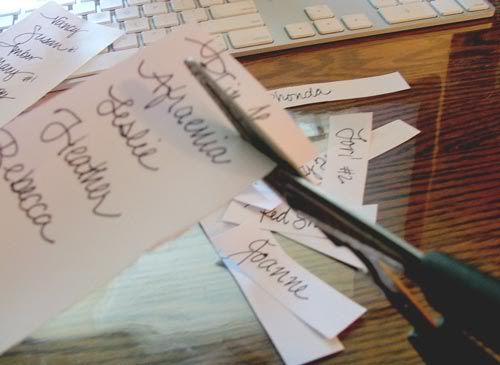 Not just any fold will do. I'm going to show you how to increase your odds when you enter drawings. Here's how you probably fold your entries, in half, straight across.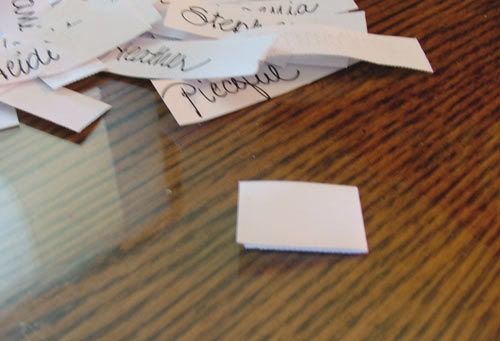 Years ago I worked with a woman who seemed to win everything. We asked her the secret and she said, "Fold your entry on an angle, created what I call a wing-nut fold. It increase the numbers of surfaces that can be grabbed."
There you have it. The wing-nut fold.
I drag out the official "bucket", which is a large 25th Anniversary glass brandy snifter. That would hold a lot brandy. I can't imagine celebrating that large.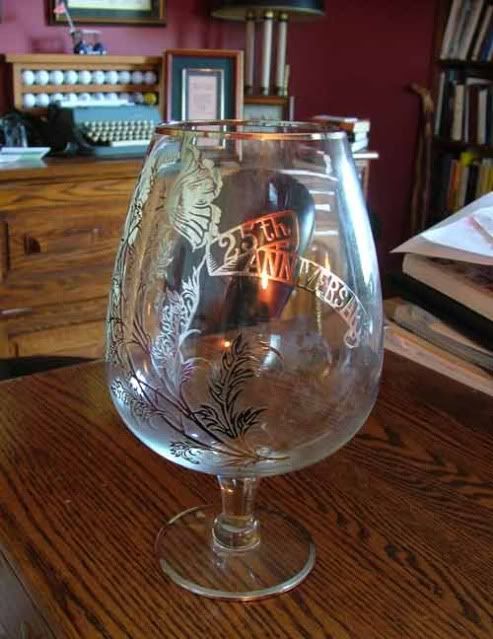 All the wing-nuts go in the jar.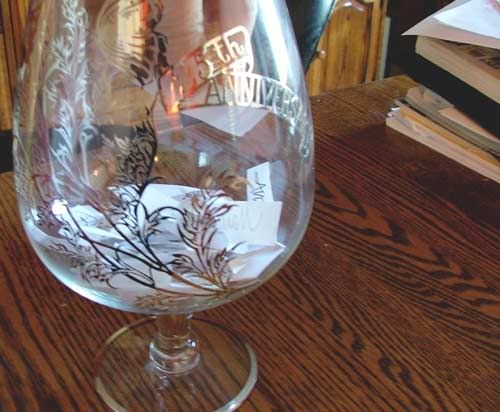 The Farmer is hard at work so I'm forced to draw the name.
And the winner is......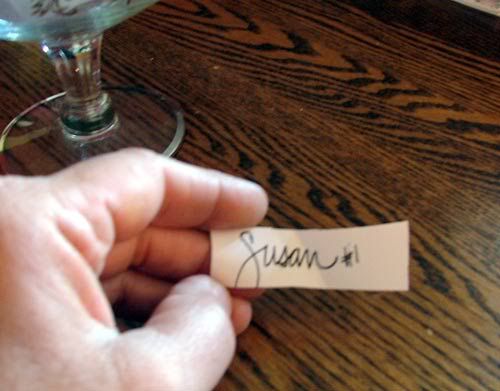 SUSAN #1.
Otherwise known as
Schnitzel.
She lives with the Trout.
Since there were multiple Susan's, Mary's and Lori's I numbered them in order of when they appeared in the comments section.
Congratulations Susan!! Please contact me via e-mail so we can get this in the mail to you.
Everyone else needs to stay tuned because there's an exciting field trip tomorrow and ANOTHER GIVEAWAY!!
Hope I don't get writer's cramp on this drawing.
P.S. Although I paid close attention to my handwriting lessons, I slept through grammar. Please feel free to correct errant apostrophes (apostrophe's?) or shoot down dangling participles. Thank you very much.