Work continues today on the laundry room. Just a bit more tiling and we need to re-install the cabinet and laundry tub.
The painting is done and I'm going to be making some new window treatments. Thanks for all your input on the paint colors.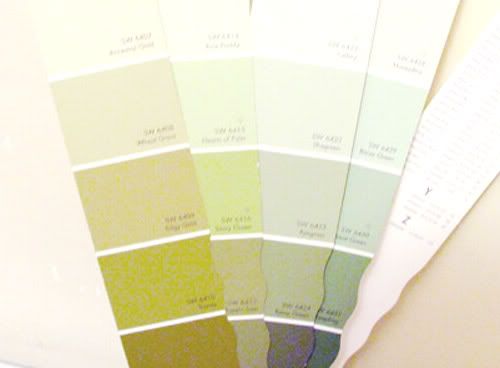 We decided to choose a color that was a bit brighter than a sage green.
The Farmer and the Other Mother insisted that the color on the bottom would be perfect. It's called Grass Cloth.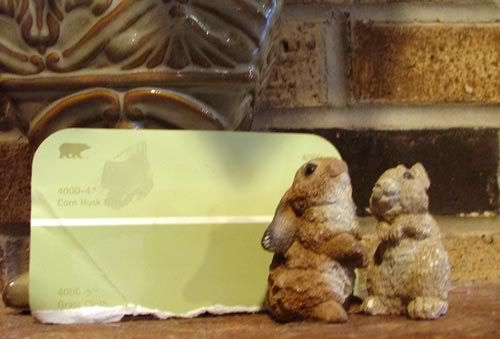 I said no, too dark.
They said yes.
I bought one of those sample jars. These are great because you don't need to commit to a gallon ($23) or a quart ($11). The little sample jars are $5.
Painted a strip on the wall.
Too dark.
Who knew?
Me, that's who.
No big deal. I knew from the start that the top color was perfection.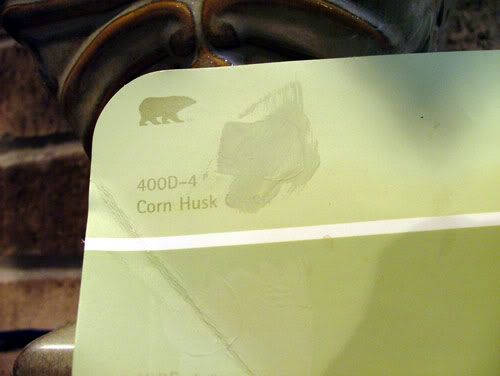 Why? The name........ Corn Husk Green. What could be more perfect for a laundry room that's smack dab in the middle of a million acres of northern Illinois dent corn?
It's a very refreshing color in contrast to the clean white of the new tile and appliances.
We chose the shiny tile and it reflects the vines growing right outside the window on the porch.
If I ever have to get another real job, I want to work as the person who names paint colors. Seriously, that's got to a fun gig. I could easily sit around and make this stuff up all day long. Here's a few:
Baby Poop Brown
(We ALL know what that looks like)
Pepto Pink
(There was a house nearby painted in this color)
Sand Pebbles
Corn Silk
Spaghetti Sauce Red
Dust Bunny
Soap Scum
So we see a pattern developing here?
Anyway, have you ever thought of names for paint colors? Try it, it's fun!