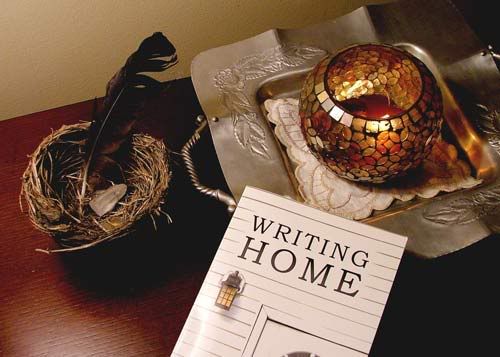 (If you mention the dust on my nightstand you'll be disqualified, so don't even go there!!)

Before I hit the publish button for the first time on this blog, I sat down and wrote myself a mission statement. It reads:
"To create a multi-generational community of
women
people who can share their knowledge and experience for the benefit of all." (I've had to amend the mission statement since I have some men who stop by occassionally.)
I honestly didn't know if the "multi-generational" part of that mission would work because we do tend to gravitate towards those people who share our personal experience. Young moms tend to seek out other young moms. But I felt that those of us who have raised our children have experience and hindsight to share.
I've been happy to see younger women hanging out here with those of us who are on the downside of child rearing.
During the process of blogging I've met some awesome and talented people. One of the first bloggers I met after starting this site was Cindy La Ferle. Unlike those of us who play at writing, Cindy is an author with a body of work in the publishing industry. She's written for newspapers (Detroit Free Press) and national publications including Mary Englebreit's Home Companion, Reader's Digest, Country Gardens, Better Homes and Gardens, Literary Mama and more. Whew, that's a lot of writing.
She has put together a collection of essays in a book entitled, "Writing Home". Her stories reflect the themes that resonate with all of us - the challenges of parenting, preparing for the empty nest, living creatively, aging gracefully and reinventing family traditions.
When my children were small I got into the habit of reading essays. Busy days jam packed with activities left me with little time before sleep to delve into a novel. It was possible to read an essay and feel like I'd accomplished something mentally stimulating before I drifted off to sleep.
Cindy's stories helped me remember those special moments in life or prepared me for what's to come. She's managed all this with a distinct perspective and a wonderful philosophy on life.
I want you to have a chance to read Cindy's book and I have a signed copy to give away!
Here's what you do. Leave a comment. Tell me, do you read at night before you go to bed? Do you tuck books into your handbag to read a page or two at the doctor's office? Let me know your reading habits. Why? Because inquiring minds want to know!
Her blog - Cindy La Ferles Home Office
Deadline for leaving your comment is midnight (Central Standard Time), winner announced on Thursday morning.