There's a special place in hell for people who prey on senior citizens. That include large conglomerates who base their success partially on that fact that some seniors are lonely and isolated which somehow translates into a shopping addiction.
Online shopping probably isn't in a senior citizens universe but those TV shopping networks and the insidious mail order businesses certainly are. I won't mention names but let's just say that Ed McMahon has passed on to the happy hunting grounds and can no longer represent them.
I wonder what the mail carrier thinks when they drop off 6 or more packages a week from this business. I can say for a fact that 99% of it is just junk.
These appeared one day. They are beautiful blown glass but apparently they don't work because they're now relegated to decorating my countertop.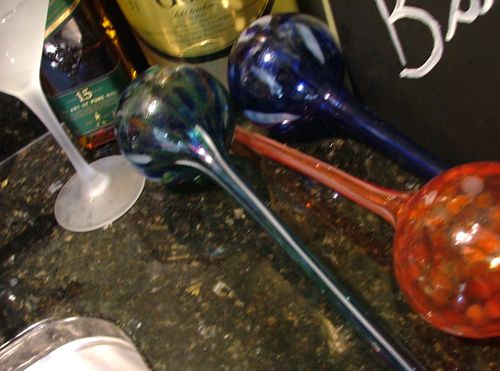 The large plastic bags and jellified filling that were supposed to hang from the deck and grow tomatoes without soil have been unceremoniously dumped in the trash. That product contained two, count 'em TWO, tomato seeds. I shudder to think what that cost.
Occasionally something will makes it way into the house that is actually useful. Take this for example.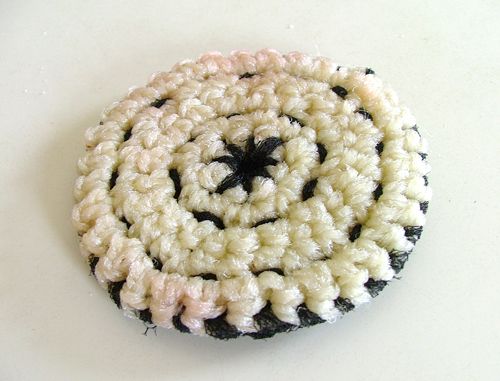 It's a crocheted pot scrubber. I love all things crocheted, so this found an instant way into my heart. The front side is made with some type of nylon cord. The back side, which is the scrubby side, is a scratchy material.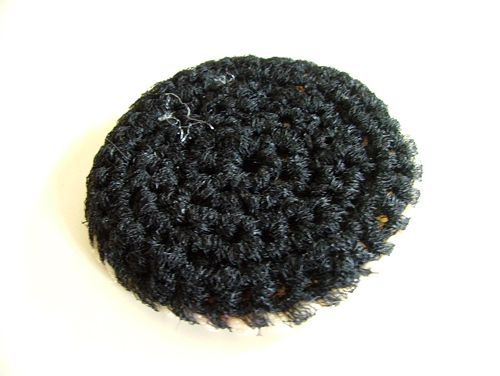 On closer examination it appears to be coarse nylon netting that is cut in strips and crocheted.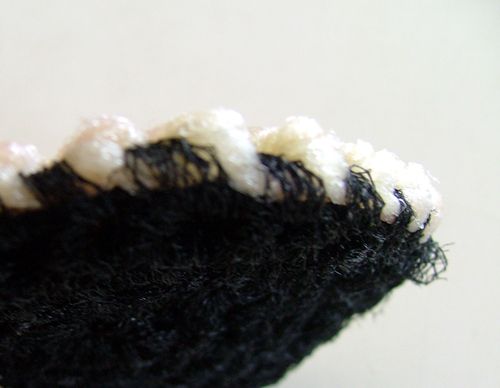 I love this thing. It works great and feels so wonderful in my hands.
As a newlywed I used a sponge. You know, the ones with a scratchy side. My mom however, was committed to the cotton dishcloth. She soon converted me, pointing out the fact that you could throw them in the laundry to disinfect and refresh them.
I'm always open to new household products, but they only get one shot. Speaking of which, look what showed up in my mailbox.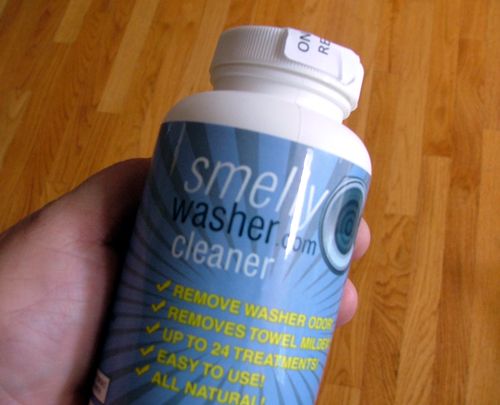 Yes! The Smelly Washer guy sent me the promised sample. I don't have a smelly washer (we recently had to buy a new one), but my sister does! In the next couple of weeks we'll be traveling out to her house to put this to the test. I was happy to see that not only does it treat washing machines but it can get mildew and sour smells out of towels. That's occasionally a problem around here. Stayed tuned.
Tell me, have you ever tried those "Shown on TV" products? Any success stories? Failures? How about favorite household products?
As for me, I'm in love with my Extra Moisturizing Pledge with lemon oil. And NO...they don't pay me to say that. HA!