It's time for another field trip. Once again we're going to stick close to home, just to prove that we can have some fun just around the corner.
Neighbor Joe extended an invitation for us to come down and pick some cherries. They're ripe and the tree is laden with fruit.
We're going down the road. Their place is just around the bend of evergreens.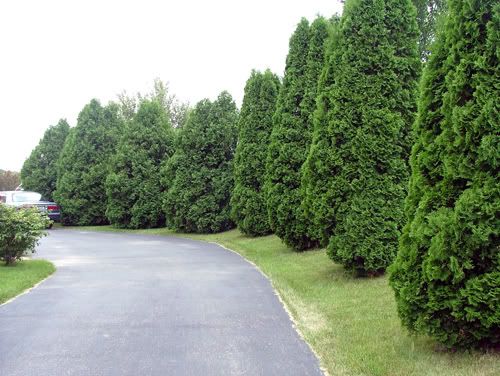 Joe was inside the house doing some painting but was nice enough to bring a ladder outside and place it next to the tree. There were many diversions on the way to the back of the property.
They have a gorgeous garden but we'll tour that another day. I was trying hard not to fall down the rabbit hole of poppies. The cherries are getting riper by the minute and we must move along.
Joe's wife Susan gives me a tour of their small orchard. They have plum, apple, peach and cherry trees.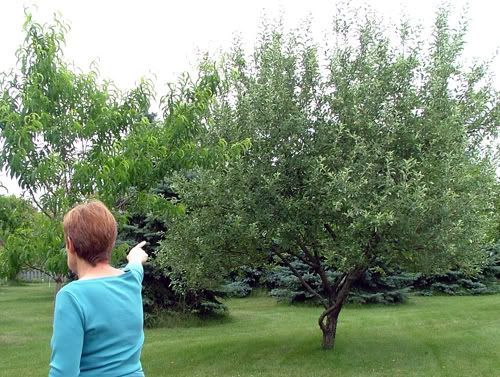 It's so beautiful to see the bright red popping out of the greenery.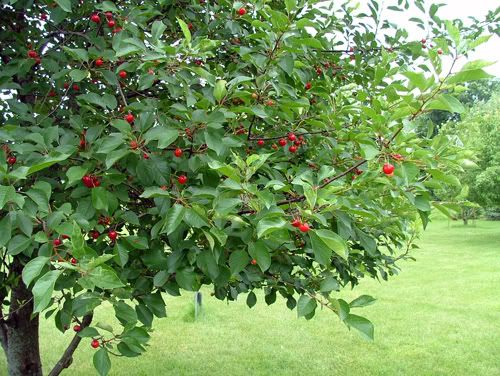 This tree was loaded with fruit.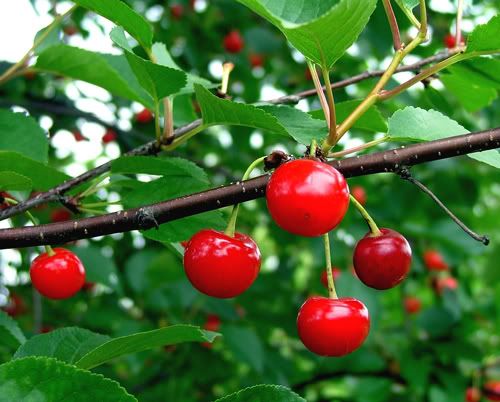 Cherries make me happy.
I brought a large plastic bowl to hold the fruit while I picked, transferring it to a large bag as I worked. Susan and I picked and talked and picked and talked. It was such a beautiful cool day, just perfect for cherry picking. Here's a tip to determine if the fruit is ripe for picking; if you give it a tug and it releases, it's ready. You shouldn't have to pull.
I kept dumping fruit into the bag and Susan finally said, "Are you sure you want to keep picking?" It was only then that I realized I had lots and lots of cherries and they all needed to be pitted!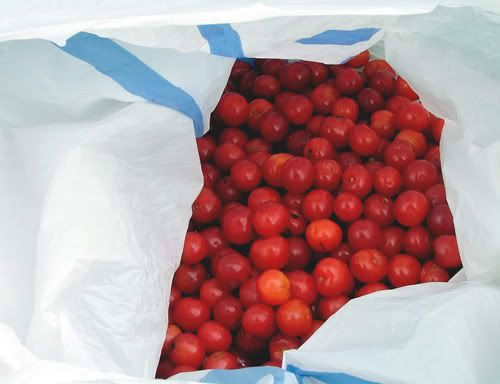 After thanking Susan, I walked through their garden one more time before heading home. They were kind enough to lend me their cherry pitter. There was work to be done.
First I retrieved my favorite strainer from the cabinet. It's see it's better day, has a few chips, but I love it. The color scheme is perfect for this task, don't you think?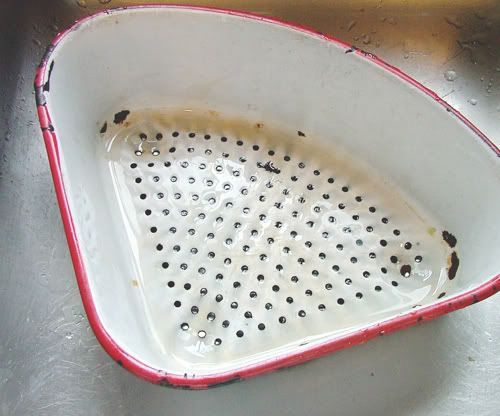 I had to rinse the cherries in batches. Yeah, that many.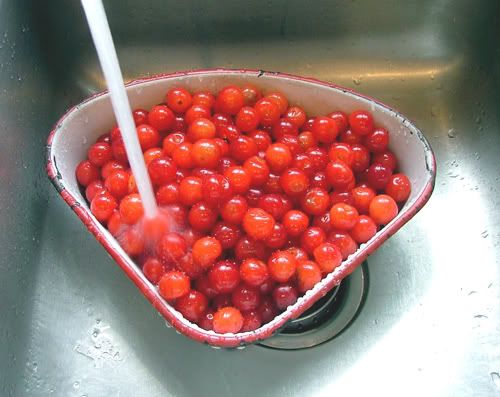 Now it's time to start pitting. This is the gadget. The white sleeve is removed before you start working.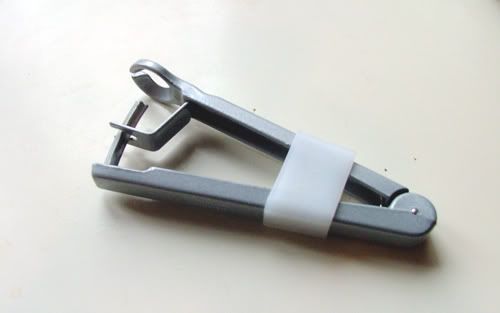 The cherry is placed in the pitter with the point that was attached to the stem pointing up. You push the handle down and it pushes the pit out the bottom side, leaving the cherry whole and intact.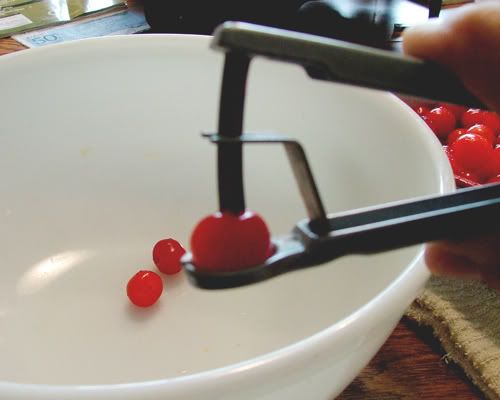 DId I mention there were a lot of cherries to pit? This is halfway through the batch.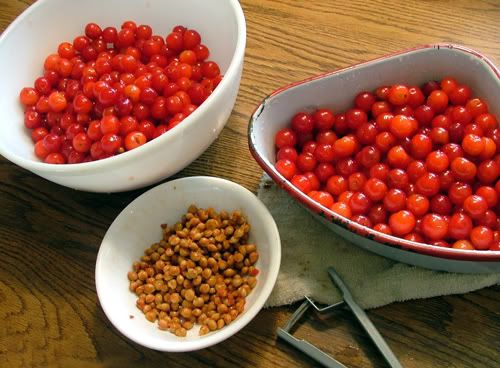 The house was quiet and I worked steadily. It was a pleasant task. Pits piled up and before long I was finished. Tomorrow I'll bake something wonderful.
I'm going to have a
Cherry Picking Field Trip Giveaway!
Everyone knows that my standard of measure/scale is a martini glass. To give you idea of the size of the bowl full of cherries, here it is compared to the martini glass.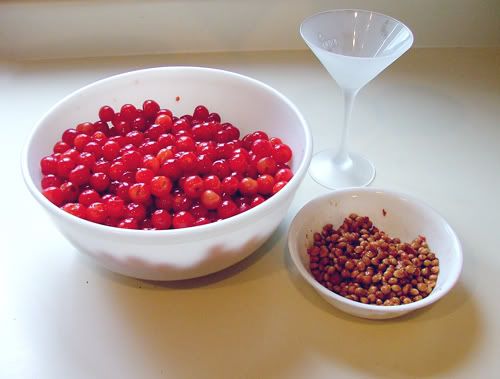 Your task is to guess how many cherries I pitted. YES...... I kept track as I was working!
Here's a close-up of the bowl of pits. Start counting.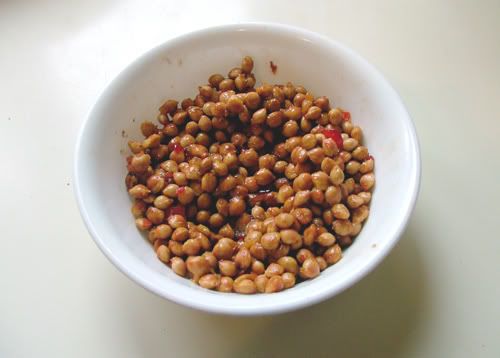 You have until Sunday evening (July 5th) at 6 p.m. to leave a comment with your guess. I'll be announcing the winner at our Monday Morning Staff Meeting.
What am I giving away? One of my Cherry Jam wallets, of course.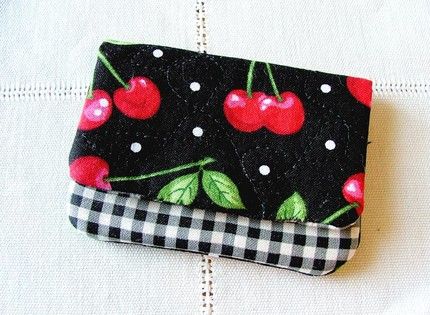 Good luck everyone. I hope you enjoyed our cherry picking field trip.