I'm feeling rested and ready to resume the tour of the trailer gathering. How about you?
Next down the line is what I call the Moroccan gypsy trailer. You can get a hint of what's inside as you approach the trailer. The lawn chairs are draped in jewel toned velvet throws.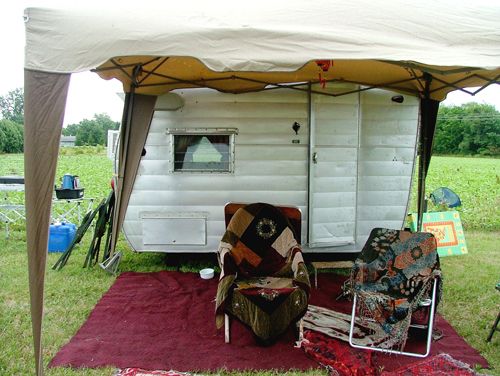 The is the home away from home for Kimberly. It's a 1963 Shasta trailer. Just inside the front door is the kitchen area.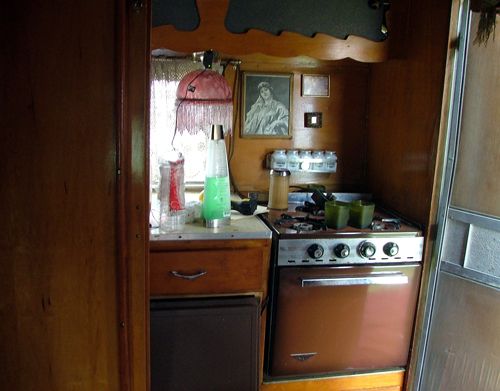 I know some of you have said that you traveled in these types of trailers when you were kids. How exciting and adventurous is that? I can' just imagine the families that have used this unit in their travels over the past 40 years!
Here's a close-up of the kitchen showing the beaded pink lamp, the cool old spice rack set and a picture of a gypsy!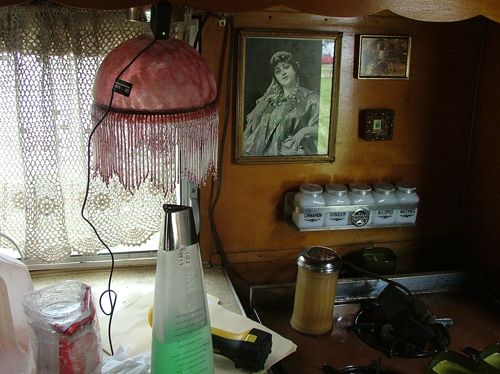 I like the sleeping area because it has two twin beds. As you can see they're decorated in the theme.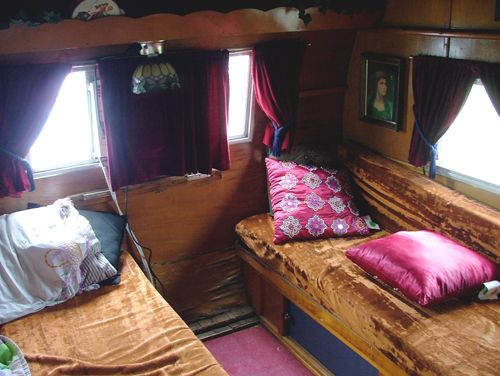 Every girl needs a way to defend herself while traveling on the road. Kimberly has a plastic handled revolver (plastic also).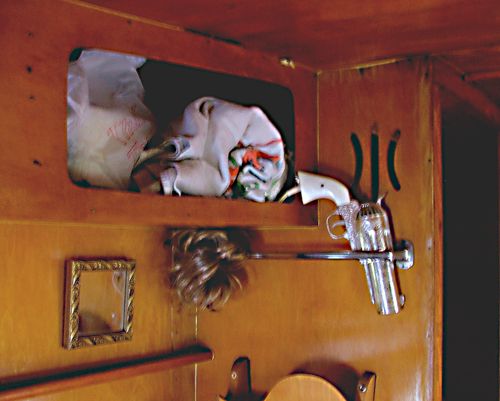 Here's Kimberly sitting in Mike's 1958 Garway. Mike's dog is also along for the trip.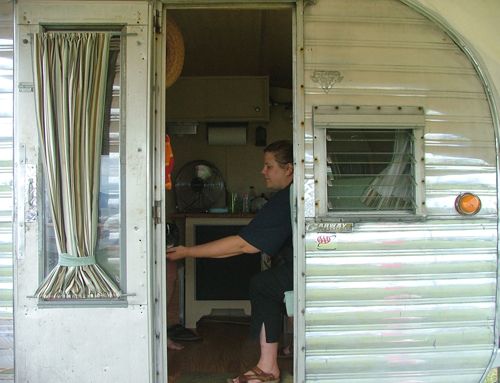 As we move down the line there's a very nice Yellowstone trailer.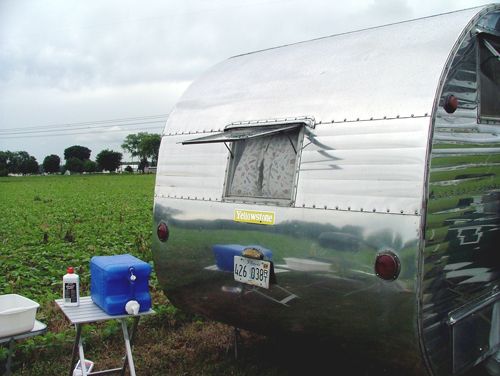 The owners have decorated the awning and notice the white picket fence at the very front of the trailer. You could really have fun with this.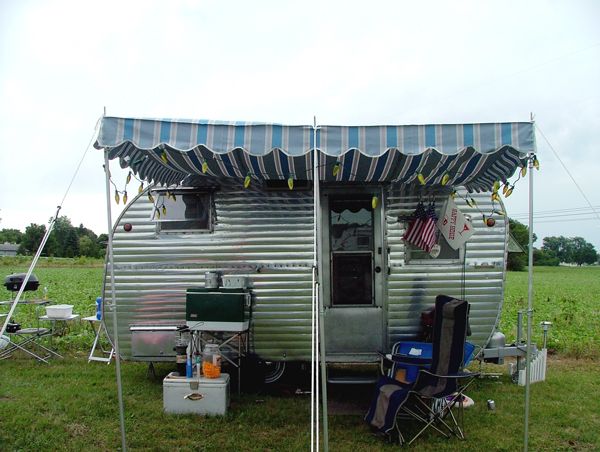 Look at the polish on this old Airstream.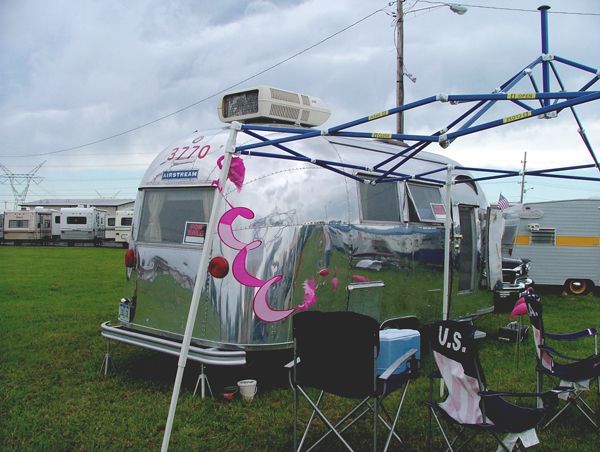 It's from 1963 and it belongs to Kathy and Melvin from LeClaire, Iowa. The people at the gathering assure me that Kathy decorates the place to the 9's, but the wind is forcing everyone to pull down their awning and pop-ups.
We're reflected in that awesome finish.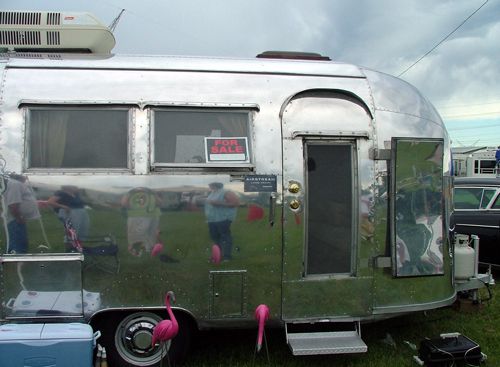 My mom makes friends with their dog Dolly. One of the benefits of this type of travel is that you can take your pets with you.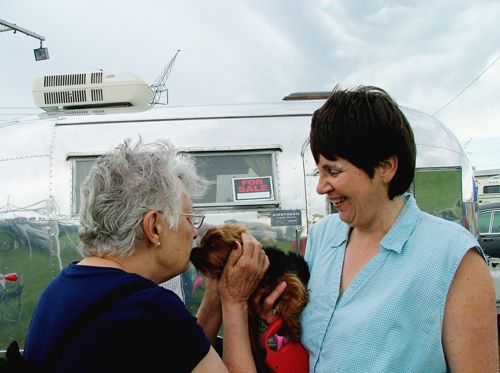 Kathy and Melvin have graciously invited inside, but I can't resist taking a fun house picture in the Airstream's door.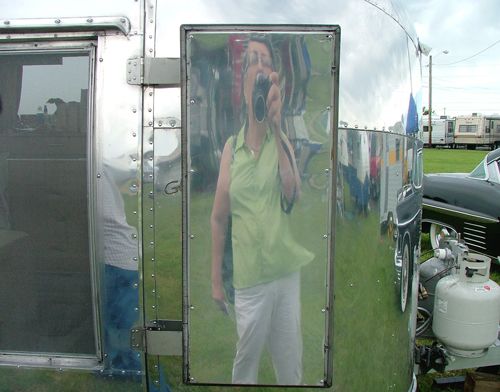 Melvin opens the closet to reveal the untouched original finish. It was his job to figure out away to recreate the stained wood effect. He did a great job!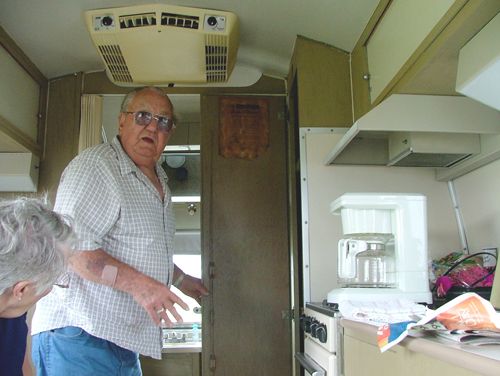 Here they are, such a nice couple. They offered us iced tea and Kathy was kind enough to allow me to take some photos. This Airstream is for sale as they have another one. If you're truly interested, contact me and I'll see if I can put you together with them.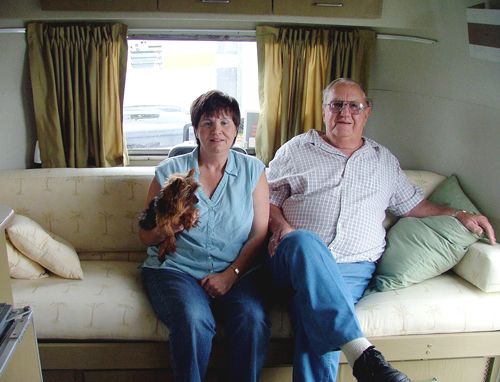 What do you think he pulls that Airstream with?
How
about
this.....................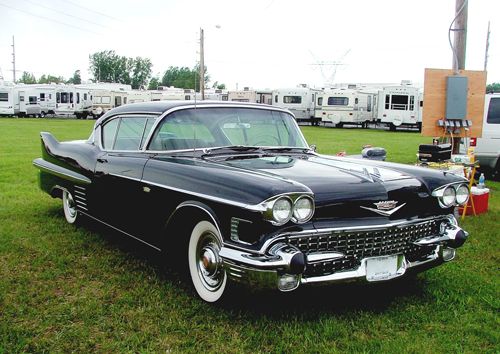 My grandfather had this same car! His was baby blue. I think it's a 1958 and it's a two-door that's at least 19 feet long. You need to pack a lunch to check out the trunk. Can you imagine the looks that this gets pulling that Airstream. Awesome.
I promised you a Shasta Daisy, and here it is!!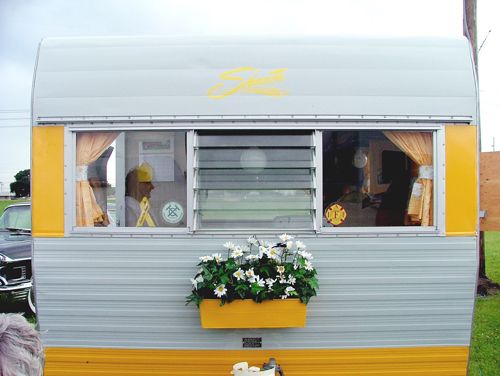 Such a cute theme going on in this trailer. The little window box is so adorable.
This is a 1968 Shasta, owned by Steve, also from the LeClaire area.
Just inside the door is the cutest retro kitchen. What a trip down memory lane. Avacado green appliances, yellow gingham curtains, and daisies everywhere.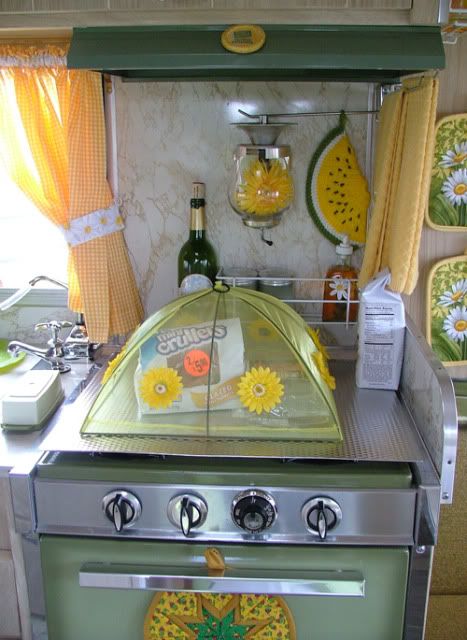 Look whats on the back bunk area. I'm sure your grandmother made one of these crocheted afghans.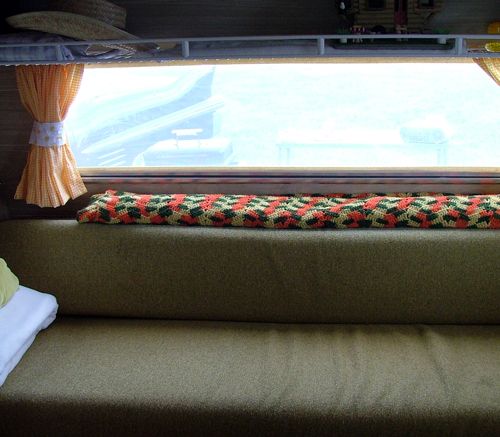 More of the kitchen area, looking towards the little eating nook.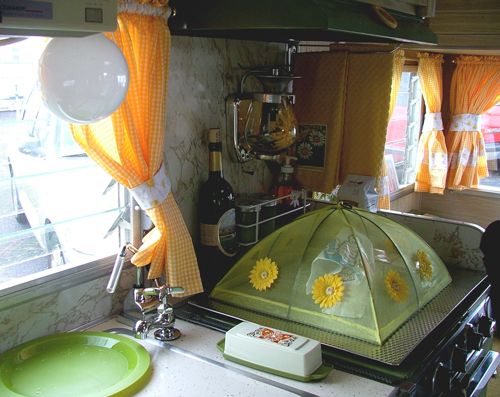 Looking at the front window and the eating nook. The window box is just outside.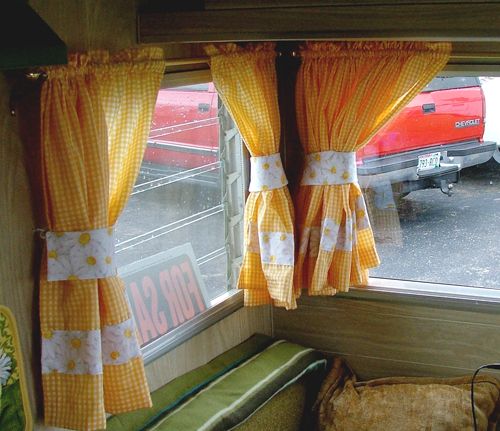 Shasta's have wings, all the better to fly!
This Shasta Daisy is also for sale. Steve has several trailers. I guess they're like photo chips, you can't have just one. Him and I were discussing how "Sister's on the Fly" this trailer is. Perfect for someone in that group or someone who wants to join. I'm going to say that I felt the price on this trailer was very reasonable, so again, if you're seriously interested in talking to Steve, contact me and I'll put you two together.
I'm very sad because it's time to head home. I've really enjoyed having all of you along for the road trip. You've been well behaved, no grumbling or asking "Are we there yet?". Because of that I'm going to treat everyone at Dari Dogs in Sycamore, Illinois. (Ang, I'm sure you know this one. Right next to the driving range.)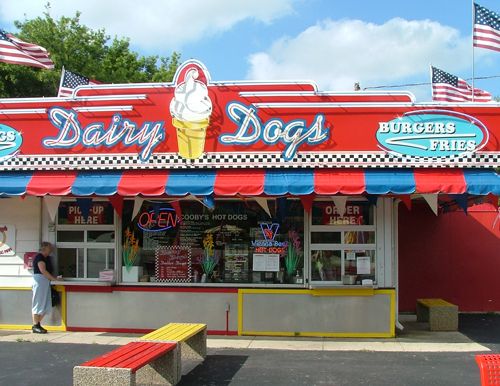 That's my mom picking up our orders.
Yep, it's Turtle Sundaes all around. If you're allergic to nuts or would like something else, let me know.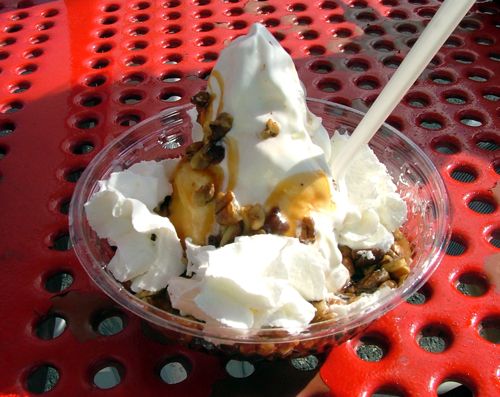 This trip............. and the sundaes............ are HISTORY.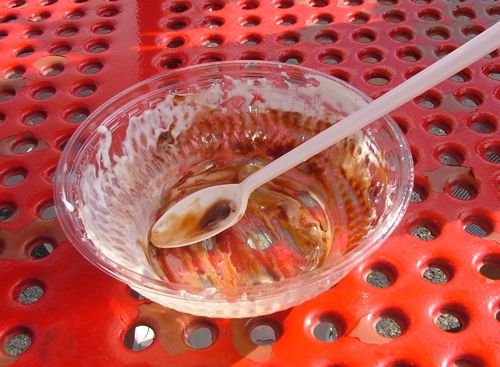 VINTAGE TRAILER ROAD TRIP GIVEAWAY

Today's giveaway would look right at home in that Shasta Daisy Trailer.
It's a vintage spiral bound cookbook.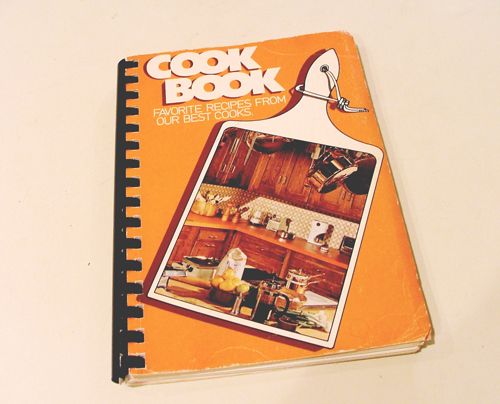 You know, the kind that includes everyone's family favorite recipe. This edition is extra special because it was compiled by some church ladies, the Women's Ministries of Calvary Lighthouse Church in Rochelle, Illinois.
It contains many old favorites including chicken and rice casserole, monkey bread, funnel cakes, cherries in the snow and more.
Leave me a comment before 6 p.m on Sunday, July 19th. I'll draw a winner and announce it at our Monday Morning Staff Meeting.
Thanks again for coming along on the road trip.