You can see by the title that we're going to a Vintage Travel Trailer Gathering. This is guaranteed to kick start your wanderlust.
Fasten your seatbelts because I don't put the car into reverse until everyone is buckled up. That means you Rue!!!
Just to clarify the difference between a field trip and a road trip, our field trips are nearby locations which are less than 10 miles from the homeplace. Road trips are over 10 miles and require us to stop for sustenance.
All great road trips involve road food and we're going to bookend this trip with some wonderful finds.
It's cloudy as we pull out and I'm hoping that the rain holds off. We're going to head about an hour west to Rockford, Illinois where we'll pick up our co-pilot.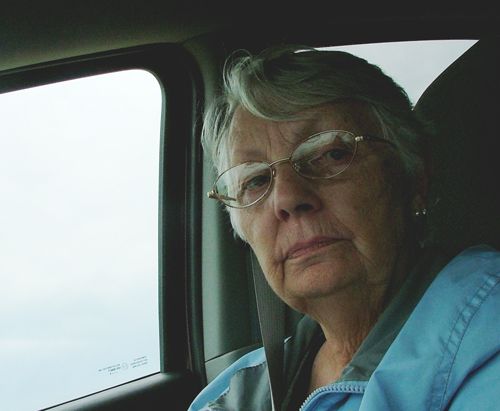 Polly, the navigator.
It's my mom, Polly. She's a good sport and always willing to ride shotgun on our adventures. She looks a little cranky here but that's just because it's started to rain and she's hungry.
The weatherman has promised that the rain will subside in about an hour and that's how long it's going to take us to drive to our destination - Rock Falls, Illinois.
Look! Here's an example of the make-do spirit. If your bumper is torn off and you don't have the money to replace it, attach a sturdy 2 x 4 with carriage bolts. It works.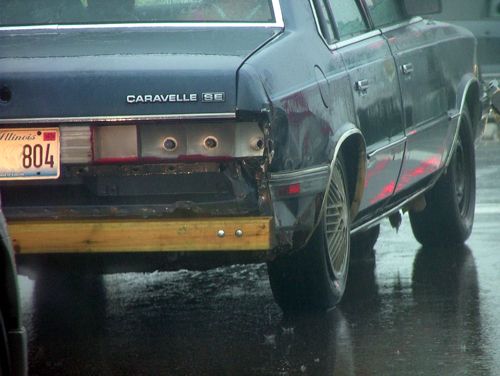 Before we leave Rockford we're going to stop at
Beef-a-Roo.
They serve some serious burgers at reasonable prices. Mom needs to be fed and we decide on an Olive Burger (served with mayo and swiss cheese). We've added blue cheese crumbles to send it over the top. You can order one for yourself or the Western Burger (bacon, cheese, grilled onions, BBQ sauce). Oh heck, here's
THE MENU
. Let me know what you'd like. No salads allowed on this ride.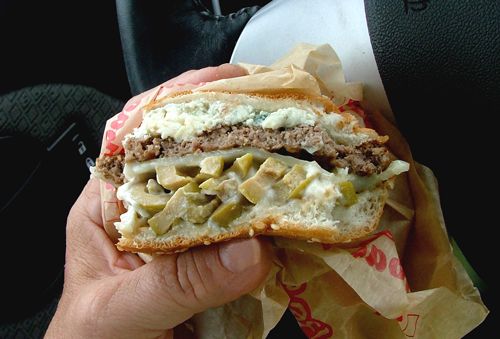 Let's not forget the hand battered onion rings.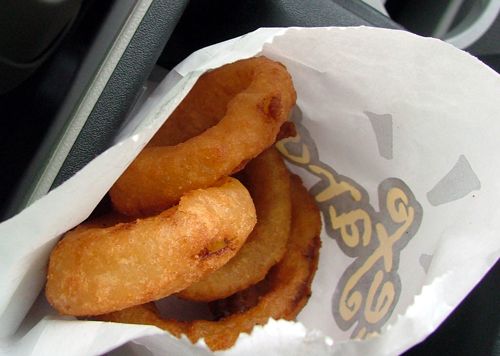 Yes, they're that good! And they're REAL onion rings, not the chopped up stuff.
Mom's in a better mood now. Instead of taking the interstate, we're going to head down Route 2, which is a beautiful scenic ride.
Just outside Oregon, Illinois we spot Chief Blackhawk, looking west and pondering the fate of his tribe. This statue is huge and stand atop a bluff overlooking the Rock River. We'll visit him another day.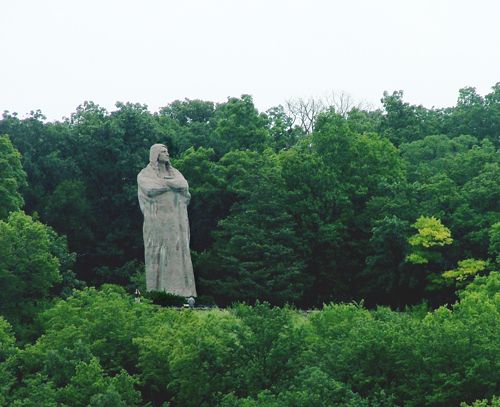 The rain has stopped but it's still cloudy as we pull into the
Jeff Bright RV Dealership.
They're hosting the gathering. The big event, a cookout and open house, is on Saturday but unfortunately we've got other plans that won't allow us to be here. As we pull into the back we see the vintage trailers in a semi-circle. It's kind of like circling the wagons in the old days.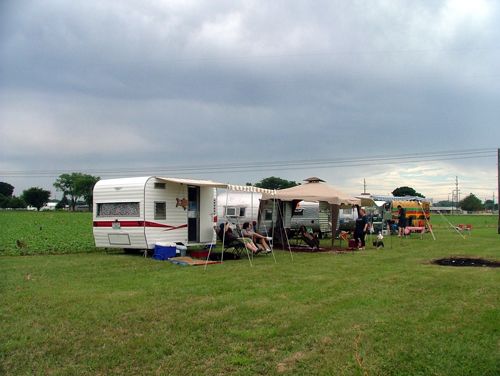 Even though it's not an official open house day, the campers welcome us and are willing to show off their trailers. To be honest, this works out well because on Saturday this place will be mobbed and photos and interviews will be more difficult.
Here's a Camp-Inn Teardrop trailer. Remember when we visited the Camp-Inn factory in Wisconsin?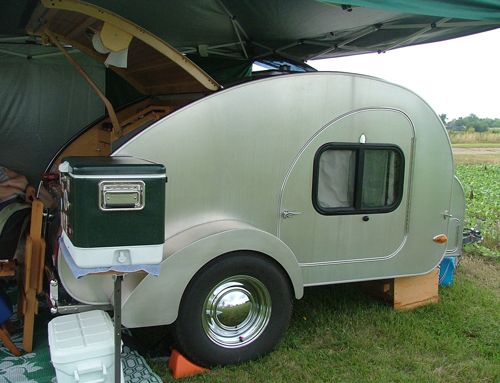 Here are the owners Jerry and Tina, who are members of the Tearjerkers Club. They were gracious enough to pose for a photo. They are from Savanna, Illinois, home of the country's scariest bridge. We'll visit it some day and I'll let you decide.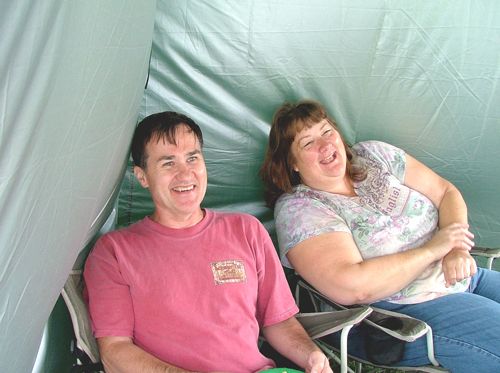 They've devised a way to protect their kitchen and sitting area from the elements. These pop-up tents are great.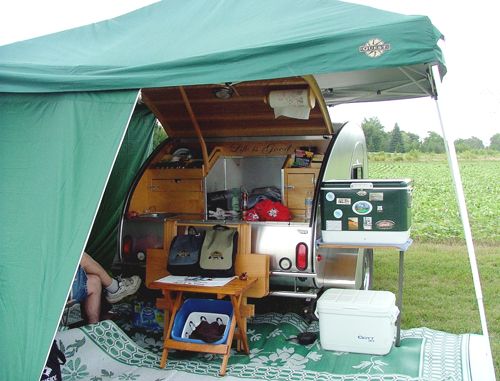 Across the way is this great old Airstream. The owners aren't home but they're decorated their awning.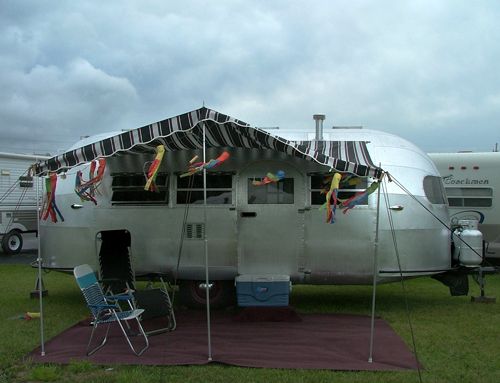 Here's a cute little trailer. It's a Santa Fe.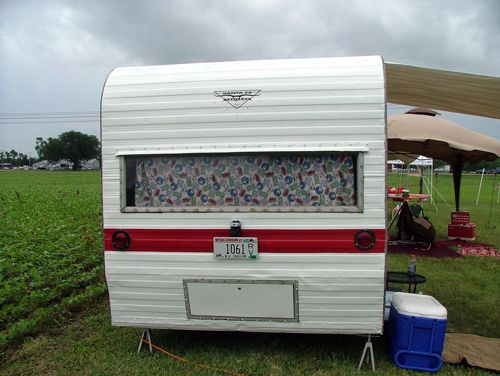 I'd say it's just the right size. So cute!!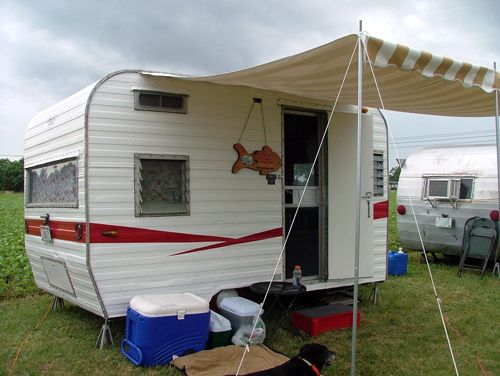 Here's Rhonda, the owner (on the right). She's enjoying the fresh air with her dog and her friend. They're parked next to a soybean field. They drove down from Janeville, Wisconsin.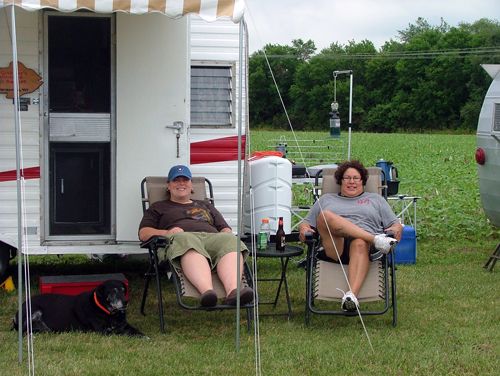 Rhonda bought this 1965 Santa Fe from her neighbor and here's the pictures of the restoration.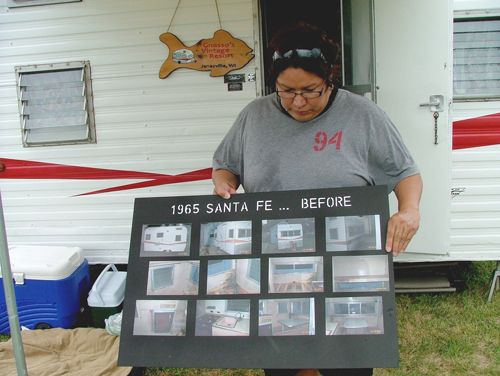 She did an incredible amount of work. This is what the interior looked like. Scary!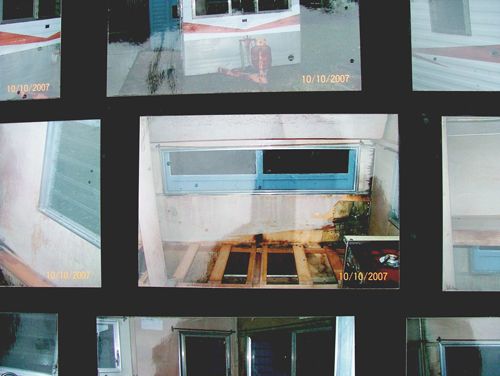 Look at the cool table top inside the trailer. It's made up of beer bottle caps.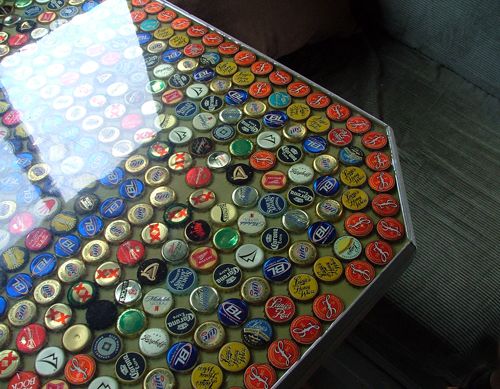 Oh look, there's one that's colorful.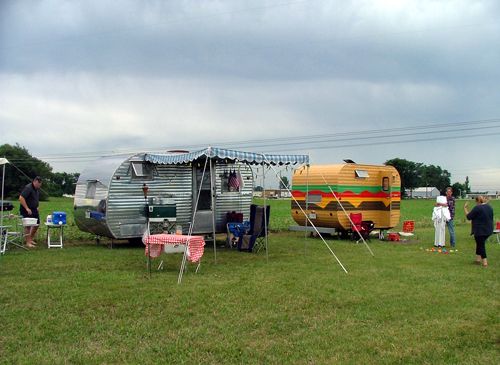 It's a 1958 Hiawatha, owned by Norm and Julia from DeKalb, Illinois. If you notice there's a camp shower tent just to the right. You go inside, zip up and take a shower! I'm wondering, does your partner need to stand outside to hand you your towel?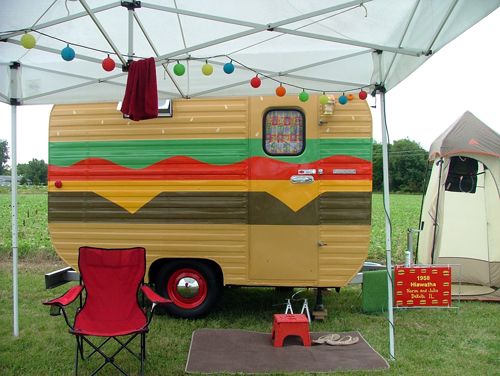 The weather was threatening again so I think they're safely tucked inside.
My feet are starting to hurt. How about you? We're going to sit down and take a break. Come back tomorrow and we'll tour Kimberly's 1963 Shasta that she's decorated in a Moroccan Gypsy theme, a wonderful Airstream and the cute little Shasta Daisy.
And.........of course, there will be a Road Trip Giveaway!
See you tomorrow.