Joni at
Cote de Texas
continues her countdown of the top ten design elements with number two, slip covered furniture.
Joni states that there's no middle of the road when it comes to slipcovers, you either love them or hate them. I don't have any slipcovered furniture. Heck, I'm lucky to have furniture at all.
I understand the concept behind slipcovered furniture but the reality does not appeal to me at all. I'm lucky if I strip the beds and wash the sheets, much less the furniture. I got my fill of pulling clothing off uncooperative toddlers and wrangling the clothes of a coach sounds frustrating.
And putting the slipcover back on the sofa sounds like hell. Do you remember trying to stuff a two-year-old into a snowsuit? Yeah, that kind of hell.
I understand the concept behind the slipcover but it always looks to me like the furniture has been covered with sheets and they're closing up the house to spend the winter in Bermuda.
The fact of the matter is that our home a big jumble of stuff because we combined two households when we created a multi-generational living arrangement.
Last week I listed plastic fruit as my first bad design element. Ugly 1960's candles surrounded by super tacky plastic flowers should be included as a sub-category of plastic fruit.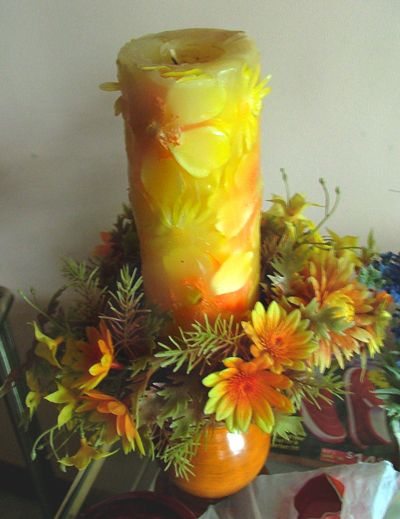 I had made a brief mention about scary dolls and it elicited quite a response. Yes, I remember those creepy half dolls with crocheted skirts and the ones created to cover toilet paper rolls. I'm happy to report that we don't have any of those in our house, perhaps they didn't survive the move.
We do have something creepier. I can't even think of a name for this: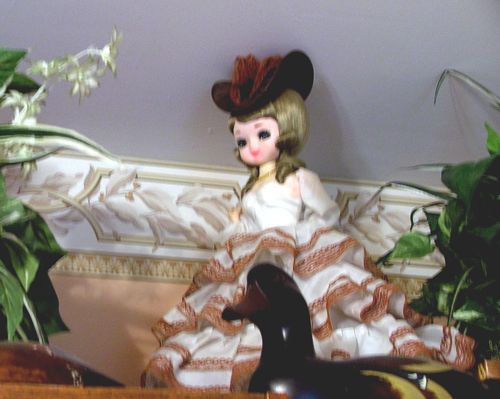 It's hard to get a good photo because she's on top of a bookshelf guarded by wooden decoy ducks and silk plants. I think she's the mother of those scary big eyed kids in the 1970's art.
Scary dolls are my number two What Not to Do.
Slightly scary dolls under a plastic dome are OK because they can't escape their dome and they're headed to Ebay before they can cause any damage.