Thanks for coming back. We're going to continue our tour of the Steam Powered Threshing Bee in Sycamore, Illinois.
My history with tractors goes back to my childhood when my Uncle Jackie allowed us to sit on his vintage Farmall. I don't think he ever actually let us drive it. That's OK because just being able to sit atop that beautiful piece of machinery was enough for a girl living within spitting distance of the city of Chicago. Oh, the tractor! Oh, the chickens! Oh, the noonday meal, the table groaning under the weight of all that home cooked food.
Here's some extra signs they had laying around. I just love these hand painted beauties.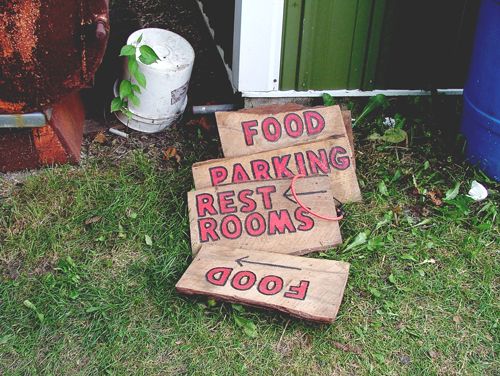 All the big steam dragons are lined up in a row, all hissing and spitting hot droplets.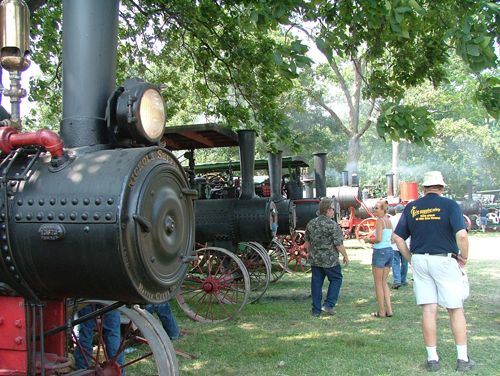 Here's the shady grove on the west side of the show.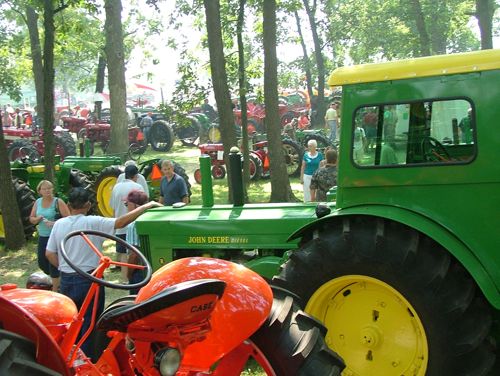 Those are all tractors in the background!! There are literally hundreds and hundreds of vintage tractors on display. It's an amazing sight.
The detail on this old tractor makes me laugh because amongs all that glorious aging is a brand new fuel filter.
These guys are setting up a tractor to run a piece of equipment that husks corn. Notice the large hay wagon loaded with corn stalks.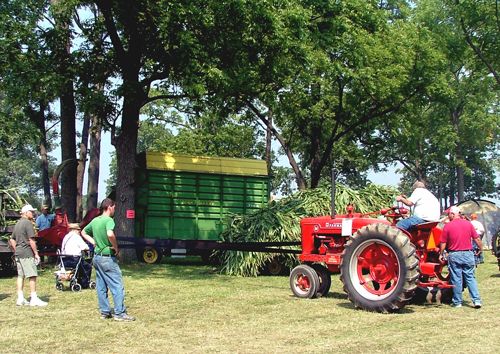 The sawmill was operating and was connected to a small steam engine and a larger John Deere. Again, they use belts that are turned by the steam power.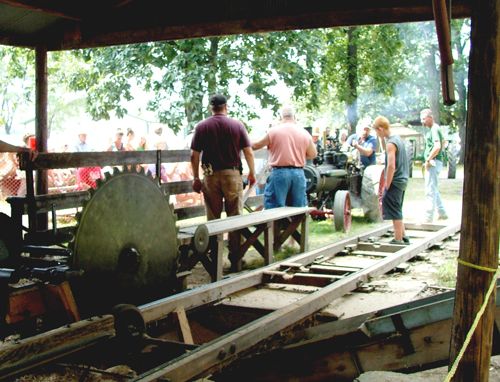 There's tons of food available. Kebabs are being grilled at this spot.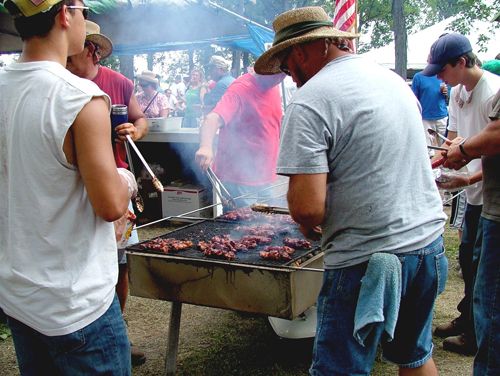 Nearby they're frying up onion blossoms. The guy in charge of slicing and dipping the onions wanted to be in the picture. I thought that was a good idea.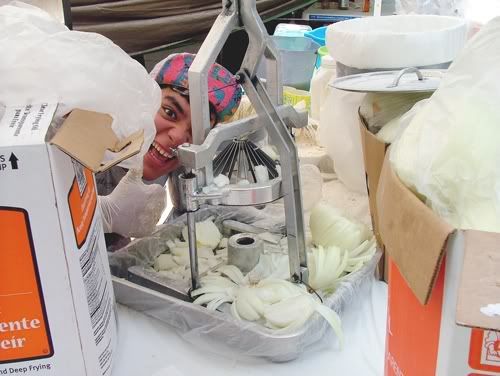 The slicer thingie was very cool. I've heard that in restaurants they slice the onion and then soak it in cold water which causes it to fully open.
The old timers find a good seat for the tractor parade.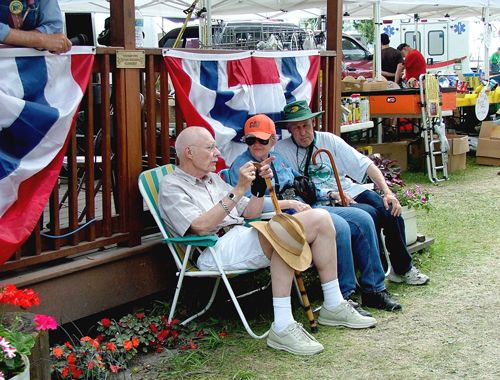 A 1923 Fordson makes it way along the parade route. This is an 86 year old tractor!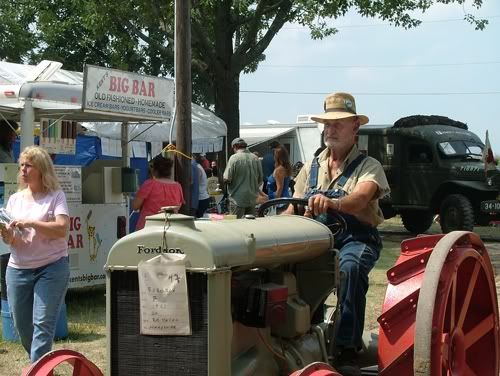 Here's another old beauty.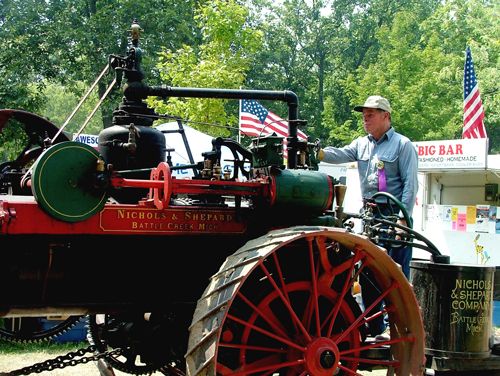 I'm in awe of the size of some of these machines. It must take a very sturdy trailer to haul them.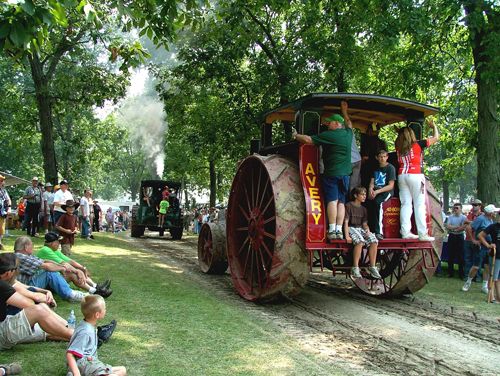 Stephanie and Lance - this one's for you. This is a 1931 John Deere. It's a beauty.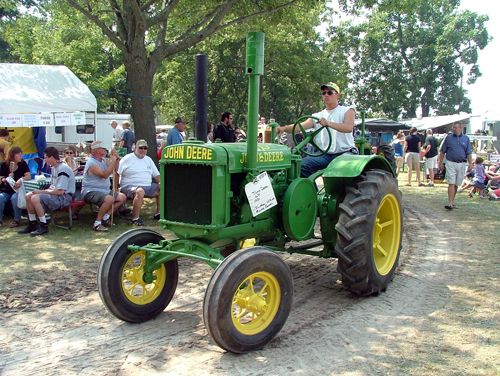 We can't let the guys have all the fun. This young woman smudged her face up real good. This is dirty work!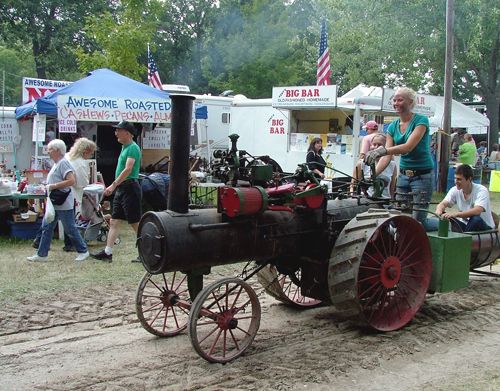 There's music over by the big tent. They were playing bluegrass.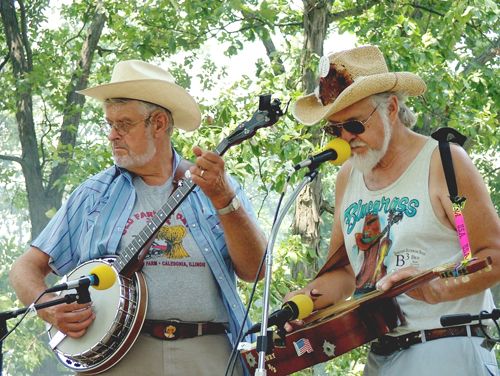 Did I mention that there's plenty of food? We eat lunch under the big tent, that's where Fay's Barbecue sets up. The Farmer leads the way. He looks like he's done this before.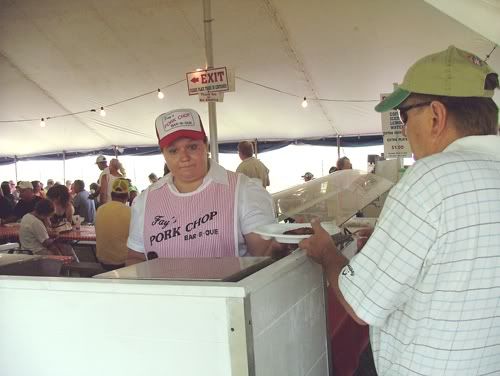 It's wonderful! They offer barbecued pork chops or chicken. For some unknown reason I thought it would be a good idea to try the chicken.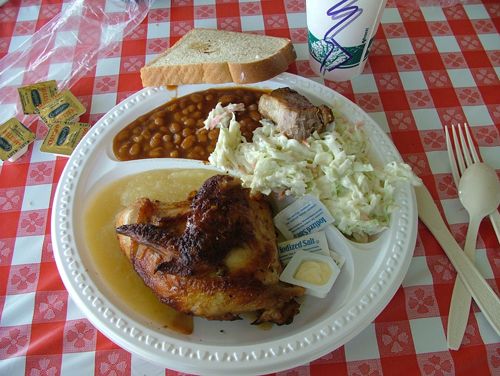 Gosh, what a mistake. Everybody knows that you get the Fay's pork chop. The Farmer shared a little bit of his pork with me. Thanks honey.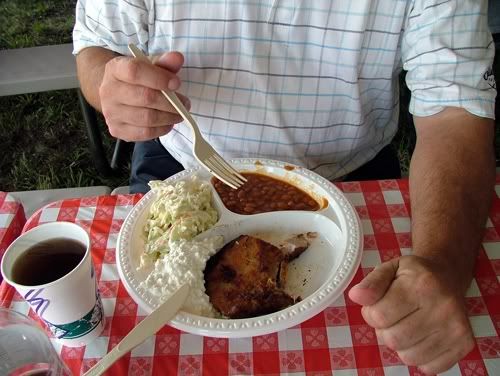 I seem to have lots of photos of the Farmer digging in to a meal. With your pork chop (or chicken) you can help yourself to baked beans, apple sauce, cole slaw (very yummy), cottage cheese, bread and butter and a drink. All this for $9.00. It's a little bit more if you want two pork chops.
In addition to all the steam power and food, there's a flea market on the grounds. More ways to spend your money than you can shake a stick at. These were interesting Indian figurines. They probably would make a nice centerpiece for Thanksgiving. Unfortunately, I'm trying to divest myself of stuff, not bring in more.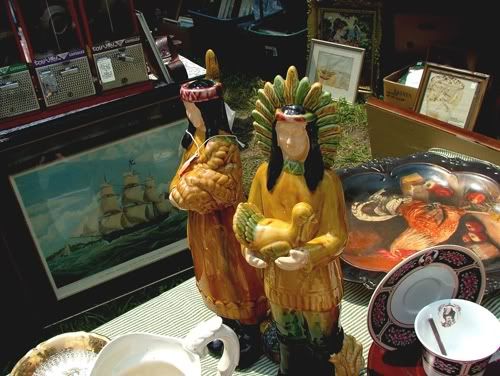 One booth had a nice vintage Nesco roaster. I'm sure plenty of delicious things were prepared in this one. My newer model is not nearly as nice.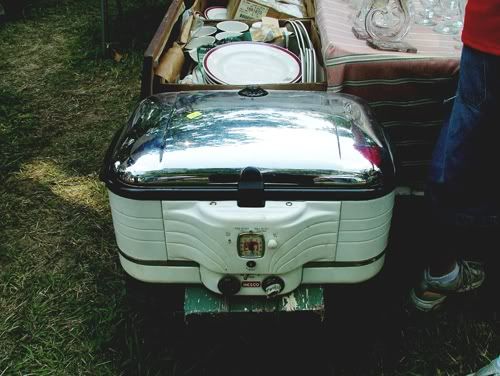 Margie was set up, selling her jewelry and other things.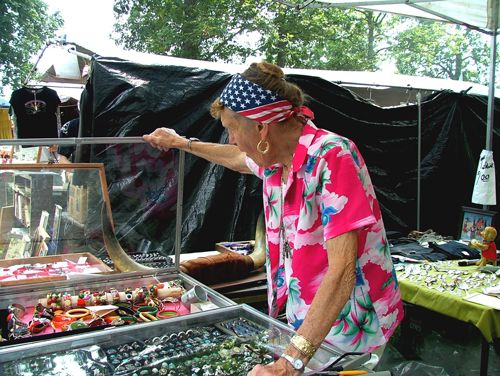 I found the turquoise ring at another booth.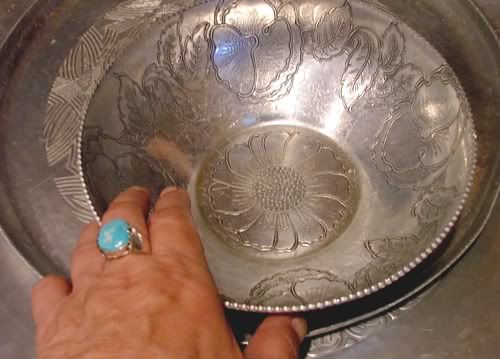 We walked until our feet gave out. I hope you're not too exhausted.
Be sure to come back tomorrow for the giveaway. I picked something up in the flea market just for you!
Thanks for coming along on this field trip. I had fun. I hope you did too.