You made some great guesses last week when I mentioned that the Farmer and I were going on a little adventure that involved steam. Ang. knew for sure where we were going because she was raised in Sycamore, Illinois and rode her bike or walked to the threshing bee.
I want all of you to come along with us as we experience one of the most interesting summertime activities that northern Illinois has to offer.
The old-time threshing bee is held about 15 miles from here on the grounds of the Taylor Marshall farm. It's in the middle of corn and soybean fields. We turn right off the main road and find ourselves in a traffic jam. Unheard of except during this event. There's lots of help directing traffic.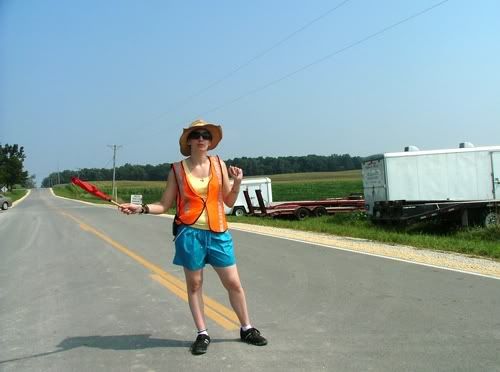 As you can see there's not a car in sight from the other direction.
There's an entire field filled with the trailers that haul the big equipment to the site. On the opposite side of the farm is a huge camping area with RV's and tents.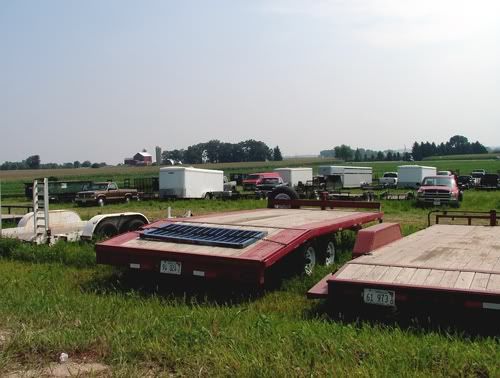 The signs point the way.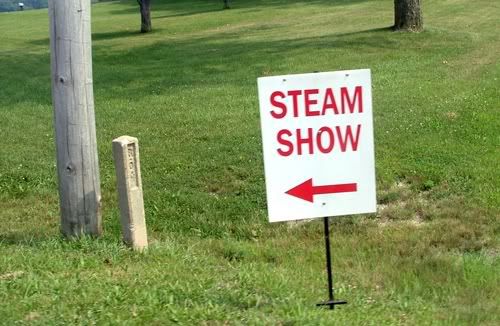 This is not a road, it's a path through the grassy field that's been worn down by the constant passage of cars. This is a four day event. Get up early because this is run by farmers and it opens at 6 a.m.!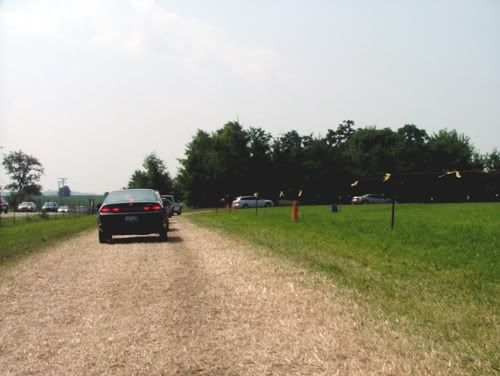 We are having fun as the trusty Impala bumps across the field. We're off-roading in a Chevy! We believed we'd left early but look.......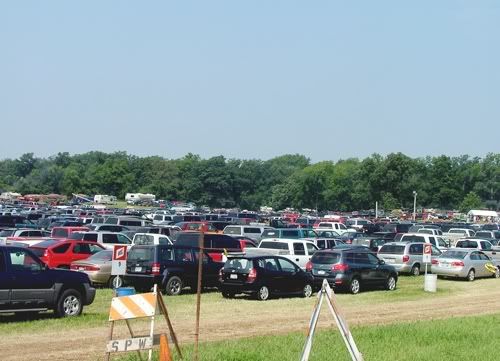 the field is jam packed with cars! That means we're going to need to park a long distance from the entrance.
It doesn't matter because there are shuttle "buses" to take us to the gate.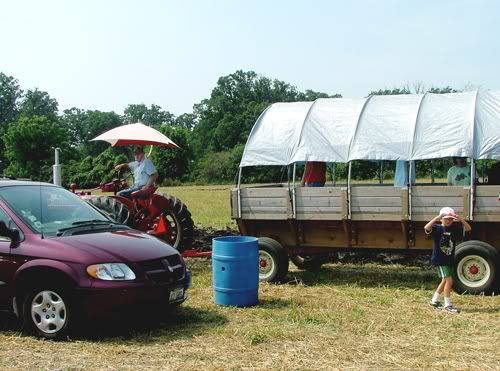 These are hay wagons pulled by vintage tractors. They've rigged a Conestoga-type structure covered with a tarp to protect riders from the elements.
Bordering the parking area is an open field that is used to showcase the plowing abilities of the old tractors.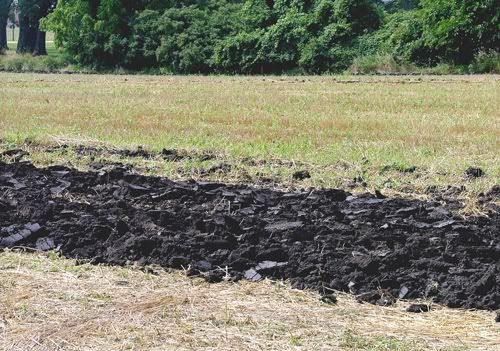 Take a close look. That is Illinois topsoil. Yes, it's that black and rich. It never ceases to amaze me. This is why it's a crime to plunk another house on top of what was once a field covered with some of the world's richest soil.
Our hay wagon has arrived and it's time for the show. The blue tarp makes everyone look like blue Martians.
The entrance fee is $6.00. I asked for the senior citizen discount but that's only offered on Thursday.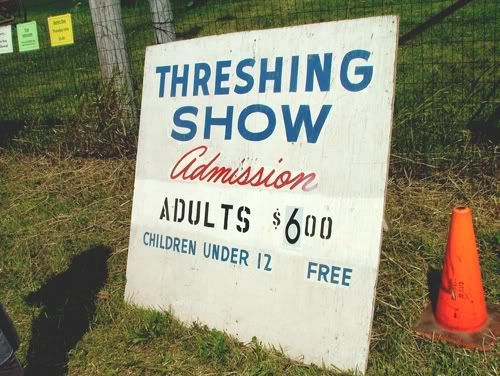 I love the hand painted sign. Speaking of which, once we get inside the gate there are signs to direct us to the important areas including the airbrush tattoos.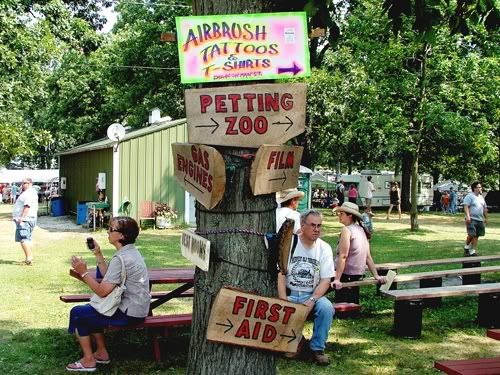 Last year the Farmer was very, very unhappy. We'd walked around the show going clockwise. He was anticipating the booth with the roasted sweet corn but when we got there they had run out!!! How do you run out of sweet corn at a threshing bee? The Farmer was taking no chances this year. We're heading straight to the back to the corn stand.
There it is. It's hosted by the Hampshire Sportsman and Conservation Club.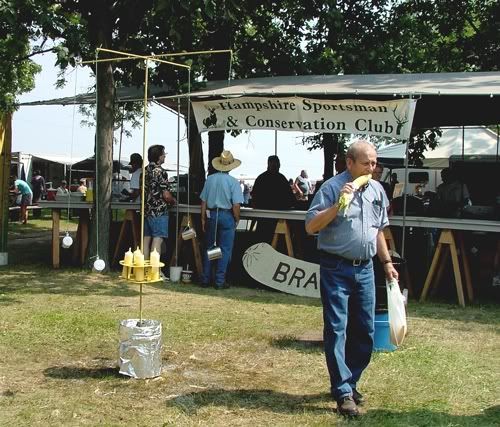 They also serve brats but we're not interested in those, we're here for the sweet corn.
Here's how you roast sweet corn. Soak the corn in a large tub of salt water.
Pull them out and put them on a very hot grill. Roast, turning occasionally, until the husks are beginning to turn brown.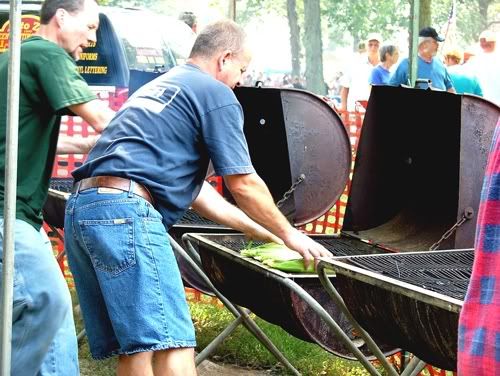 Pull back the husk, using it as a handle. Walk over to the butter and salt merry-go-round.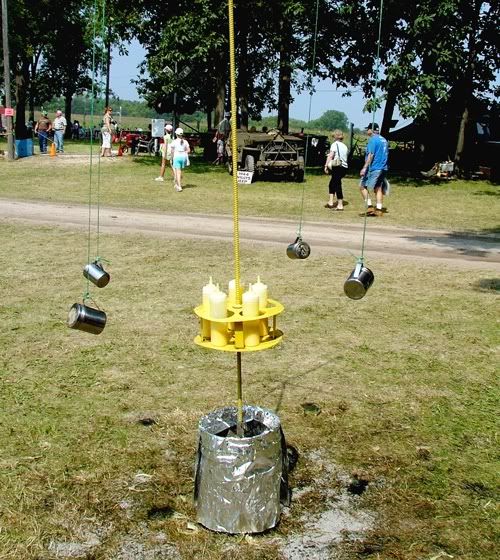 Butter it up good. Salt to taste.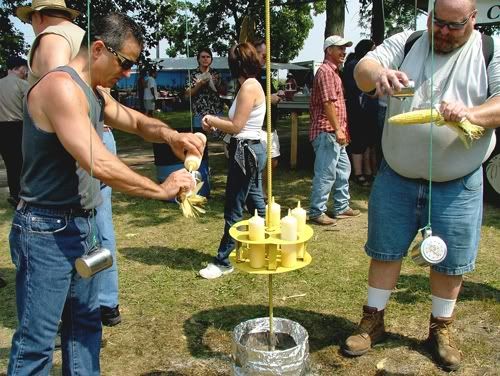 Dig in.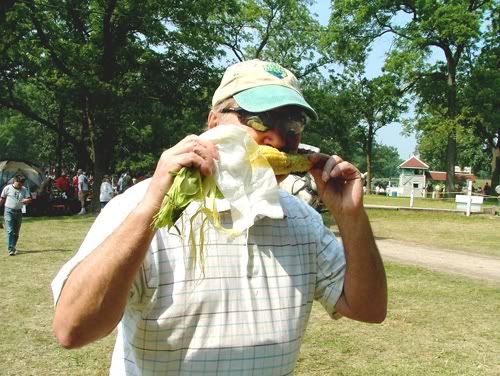 Yes, it's that good!!!
We finish our corn in no time flat and the Farmer promises he'll be back later in the afternoon for more. With food in our stomach it's time for the main event, the tractors!
These boys collect BIG TOYS. They are big, dirty, hot-as-hell and amazing machines. I can't imagine someone coming home and saying, "Honey, I just bought a two ton fire breathing dragon."
Here's a huge Minneapolis. For scale, look at the woman on the left. She's just stepped off the back of the tractor.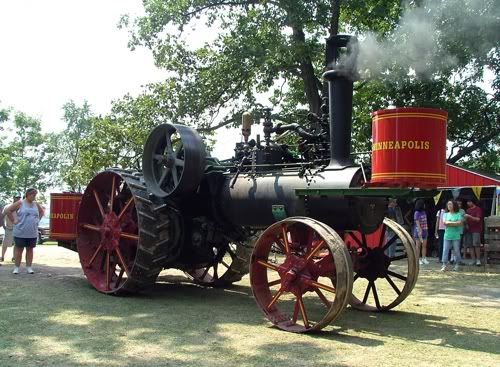 Here's another machine.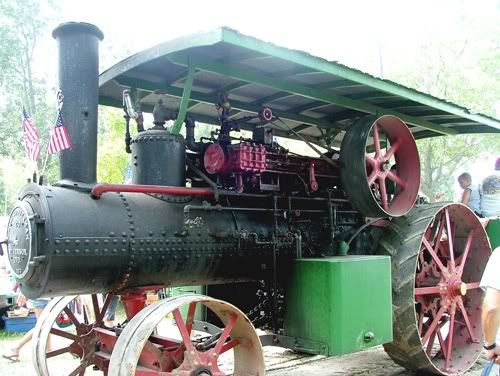 It's an environmentalists nightmare!!!
They're like something out of a storybook. Look at this colorful machine.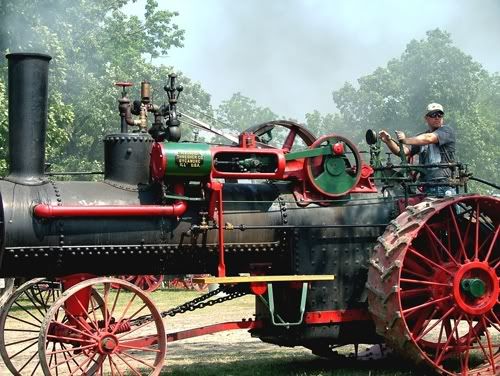 The controls look complicated. It's a steam boilers on wheels and looks mighty dangerous to me. This guy is working the controls and it's not like driving a stick-shift car.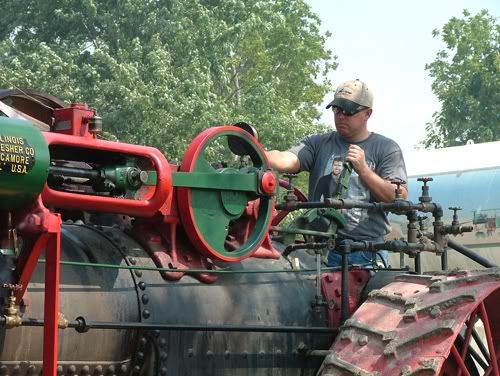 When the tractors are at rest they're very quiet. All you hear is the ominous hissing as water droplets hit the hot metal.
Speaking of storybooks, what was the name of the steam engine in the children's book? I can't remember. Here's a real, live working steam engine.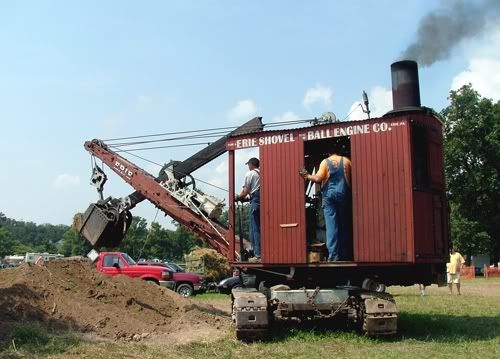 It's a two-man operation.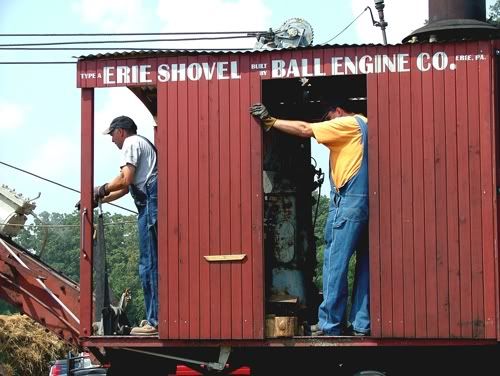 I say hooray for the folks that spend their time and resources to save these machines for future generations. They're a different breed of historical archivists.
Besides plowing fields, these engines were used to do many tasks on the farm. They have large flywheels that attached to belts that would use the power to run other machines such as the threshers, corn grinders and sawmills. We'll see that tomorrow.
This old truck actually runs! It looks like something out of a vintage movie set.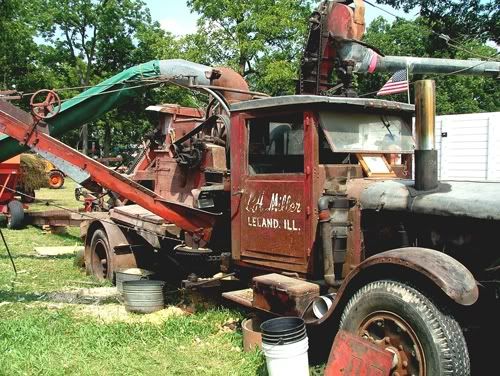 It hooks up to a rig that shucks corn.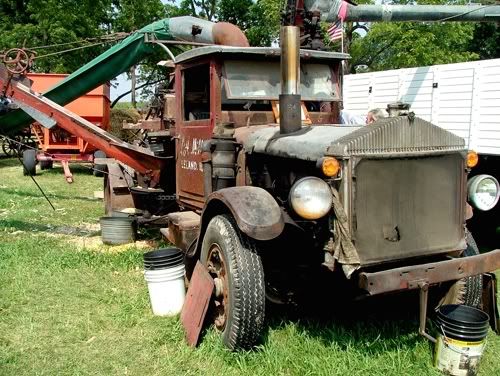 That's it for today. Come back tomorrow when we have MORE FOOD and see some of the vintage tractors run by conventional gas engines.
Thanks for coming along today. I hope you enjoyed the sweet corn. And remember, there's always a giveaway connected with my field trips. Tune in tomorrow.