On Tuesday we talked about those wonderful paper dolls. None of mine survived my childhood. I do have my white leather baby shoes and a baby dress my mom saved. Oh, and also a baby book with all the cards my mom received at her baby shower.
In my own motherly past I was a ridiculously serious pack rat. At one point I realized that I had not thrown away a single piece of paper my kids brought home from school. I literally had boxes and boxes of this stuff. At some point I realized it had to go. This was probably when they were in high school. I'm a slow learner.
I kept so much stuff, thinking perhaps that I could somehow capture their childhood by holding on to their things. Cleaning out a closet the other day I found some of my daughters stuffed toys. She's told me that she no longer wants to keep them but I could not part with her Glo-Worm. Did you children have one? It's a doll shaped like a worm (sounds strange but it's cute) and when the child squeezes it, the worm lights up with a soft glow. It was one thing that helped my daughter to go sleep at night. If she felt scared she simply squeezed her Glo-Worm.
Along the way I've pitched other things including the little silver container that was meant to hold their baby teeth. One day I crossed the line from sentimentality to realizing that for me a container of baby teeth was just downright creepy. Out they went.
In an effort to streamline my life other items were disposed of and those that I saved were neatly tucked inside labeled plastic containers.
Here's one.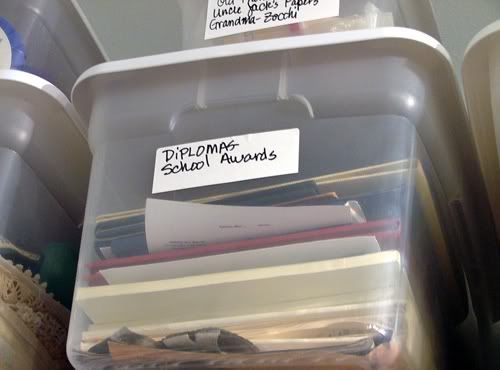 It contains their diplomas and school awards. Some of the Farmer's awards are in there too.
This one contains the few clothing outfits that I couldn't bear to part with.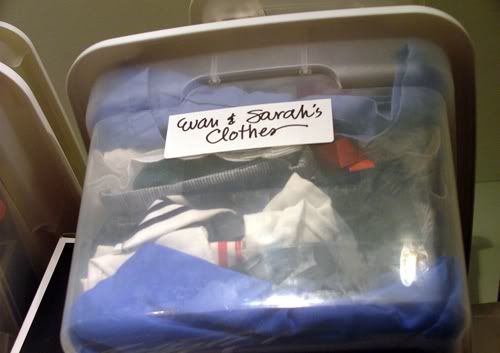 My daughter's christening gown (which I made) is hanging in another closet. But here's the little blue and white Eton suit that I made for my son's christening. (They were christened together on the same day).
I loved this sweater. My son looked so cute in it.
Underneath the sweater is the black and red outfit my daughter wore in this picture.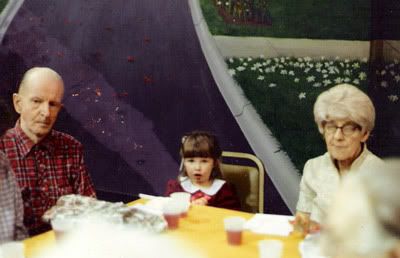 Here's some of their U.S. Space Camp gear. They both attended but different years.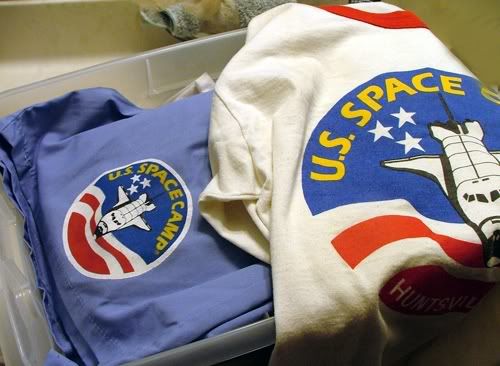 This picture shows my son getting ready to leave on his first day of school.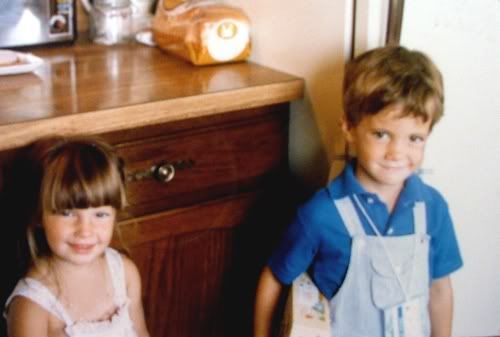 I remember how cute he looked in the new overalls. He was so excited when the bus pulled up the street, he ran across the front yard, tripped and fell, staining the right knee with a big grass stain. "Oh no", I thought. "The teachers are going to think I'm a terrible mother sending my child to school with grass stained clothing!"
These days I can hardly remember anything. How do I remember it was the right knee? Don't ask. Here they are 24 years later.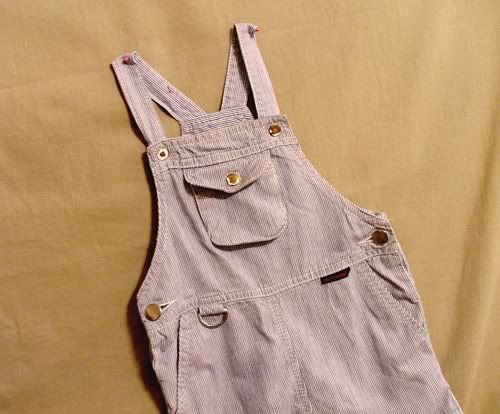 Safely tucked in a plastic container with a slight stain visible on the right knee.
Have you saved your kids stuff?