I'm slipping, I tell you. I completely forgot about giving away the note cards yesterday. That last field trip was posted on a day other than Friday and that threw me all off. Oh, and I'm late posting this and it's all the Queen Bee's fault!
Last night was a meeting of the "ladies of a certain age" in the neighborhood and it was held at the Queen Bee's house. If you look at the Peeps list on my sidebar you'll see her husband Ed listed as one of my bartenders-of-choice. He was mixing martinis for the ladies last night and I consumed my share. I'll confess to one Chambord and Vodka martini, one chocolate and one extra dry martini. I'e been a very, very bad girl. But it's their fault I tell you!! The can take the blame for being such wonderful hosts.
Let's get to the drawing. I don't do that random number integer what-ever-you-call-it. I employ the mininum amount of modern technology to keep my life going smoothly. A automatic number thingie doesn't appeal to me. Why? Because I love paper, pen and scissors.
I love to write all the names on paper. I think about all the people as a write. Some are loyal readers and some are names that are new to me. There are two Steph's so I denote one as the cotton-picking-chicken-farmer. You know who you are. One person says to give the note cards to someone more deserving. HUH? Who's more deserving than you, I ask.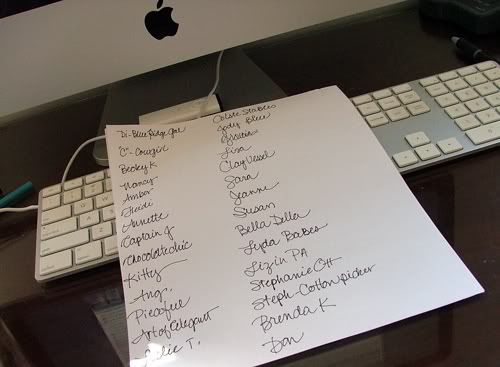 After writing the names on the paper I do the fun part, which is cutting them apart. Oh gosh, I loved paper dolls! Do girls still play with paper dolls? I'm trying to think of my favorites. Was it Betsy McCall? Does that sound familiar?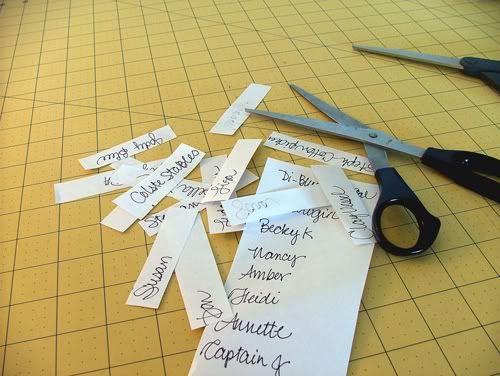 After cutting them apart I fold them into wingnuts.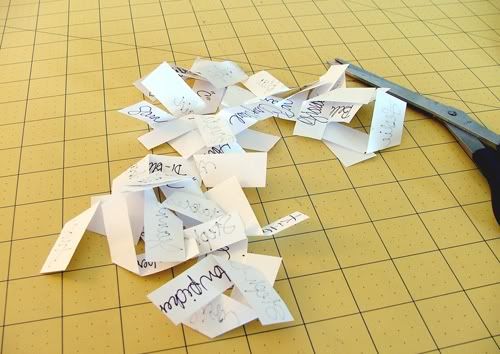 Put them in my thread catcher basket.
And pull out a name.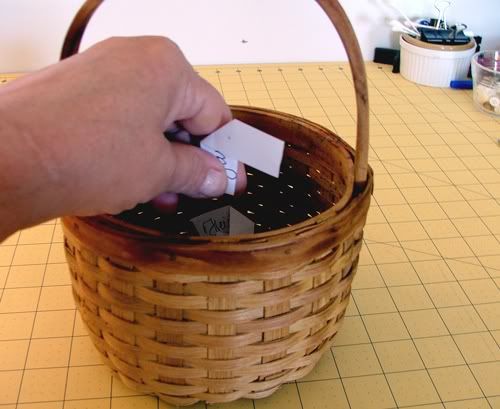 Jeanne - you're the winner of the notecards. Please contact me with your snail mail address and I'll get them in the mail to you.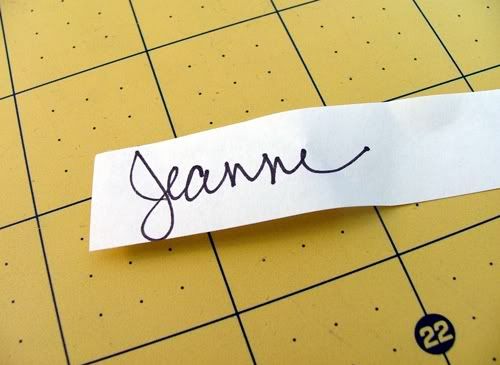 Thanks everyone for participating. And please, I'd love to hear your best paper doll stories because I know I'm not alone in still loving those things!