"On the table and in the kitchen." - Julia Child, on where butter belongs.
Here's the plan. Call a girlfriend, or two or three. Perhaps six would be better. Make plans to go see the movie, "Julie and Julia". Go to the early show and then to dinner afterwards. Don't eat before you go. You're going to want to let the movie jump start your appetite.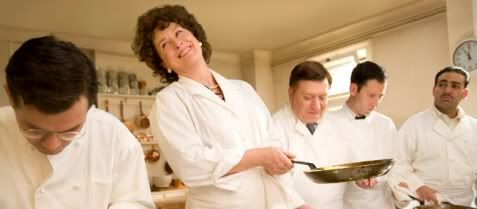 I went to an early screening with my friend and her daughter. We were so happy to be spending some time together and this seemed like the perfect choice. It was!
The movie was very good but to be honest I would have preferred an
entire movie
based on Julia Child's life. Poor Julie seemed as bland as white toast next to a character as colorful and dramatic as Julia.
The scenes of post-war Paris were wonderful - the clothes, the hats, the markets, the characters, the CAR!!! I want that car. Oh, and the fabulous turquoise ring that actor Stanley Tucci (portraying Paul Child) wears through the entire movie. And while we're at it, I'd also like the Child's wonderful home in Cambridge, Massachusetts.
The story switches back and forth between the tale of Julia's path to becoming a graduate of the Cordon Bleu and her collaboration on her famous book. Blogger Julie Powell's commitment to preparing every recipe from Mastering the Art of French Cooking in one year is the second story line. The weakness of the film lies in it's premise. Julie's story would be interesting enough (blogger makes good and snags a book deal) but pales in comparison with Julia Child's dogged determination, years of work and accomplishment.
Let's not forget that on screen Meryl Streep devours young actresses. Each scene seems to drain the life out of the poor ingenues. Something's rotten in Denmark if Streep doesn't garner an Oscar nomination for this role. The fact that she was able to recreate the voice is amazing enough but I was so taken aback when in little moments she would do a little movements that were all Julia. You'd swear she was channeling her. It was uncanny.
Be sure to have dinner at someplace out of the ordinary. It doesn't have to be expensive but please, not a chain restaurant. You'll be crushed at the disappointment otherwise. Boneless chicken wings will not do after spending two hours looking at Beef Bourguignon, roasted chickens, chocolate tortes. Oh, stop me!
The discussions of food in this film will have you running to the kitchen to attempt a recipe or two. For me it was Beurre Blanc.
The movie perfectly states the idea that food is yet another connection in our relationships with others. Breaking bread, sharing a meal is the most perfect way to connect.
All in all, I say two thumbs up for this movie. Please grab a friend and check it out. Let me know what you think about it.