I've been stuck on Julie and Julia for over a week it seems. There were such interesting visual elements in the film, mostly those of post-war France.
Many reviewers mentioned that car and it was only in the movie for probably under a minute. I did some research and it was a 1947 turquoise Buick Roadmaster station wagon that Paul Child called "Flash". It certainly made an impression on me but then again I'm a car person.
Also making an impression on me was the scene in a French restaurant. Behind Julia and Paul in the banquette were some antiqued mirrors very distorted and "veiny", is that a word? They were fabulous!
I was drawn to the turquoise ring that actor Stanley Tucci wore throughout the film.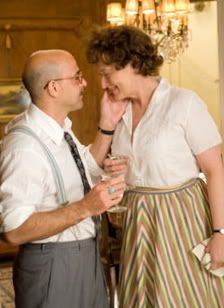 I'm not sure if child actually owned a turquoise ring? No matter, it made a personal statement on Tucci's hand. He wore it on the middle finger. I wanted one instantly.

Call it kismet, syncronicity, the planets aligning, whatever..... when the Farmer and I were out yesterday on our outing I stopped at a booth in the flea market area. While the Farmer was buying some of their homemade bison jerky I was looking over the jewelry cases.
There it was!! I fairly large flat nugget ring. It was a man's ring which meant it was a larger size. It fit perfectly on the middle finger of my hand and it was affordable. How could I not buy it?
I did.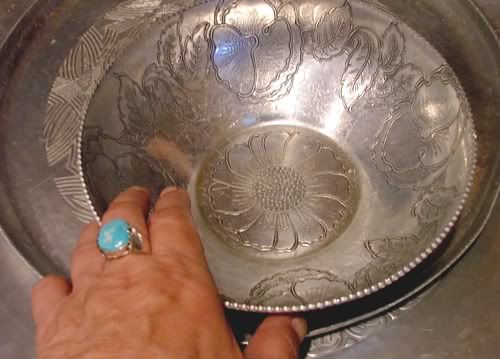 The ring and also the latest additions to my collection of vintage aluminum serving ware.
I could check out my lipstick in the reflection in the side of the ring.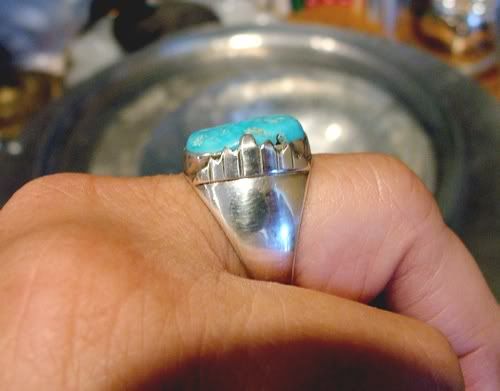 This makes the ring look really large. Trust me, it's not that large.
If I wore lipstick.
This is certainly not the first time that a movie inspired people to decorate or buy jewelry. Have you every longed for something you saw in a film?
Personally I'm also wanting the beautiful house featured in "The Big Chill."