Last weekend the Farmer and I were having dinner with some old friends when the conversation turned to travel. We had spent the evening with these same friends the night before we left for our adventure in Belize and Guatemala. Just talking travel triggered my legendary wanderlust.
The next morning, as we were driving to the store I turned to the Farmer and said, "I need to get to Tennessee."
I was born and raised an Illinoisian.... Illini?? What IS the word for someone from Illinois? Anyway, although I'm totally midwestern by birth and upbringing, I'm southern by parental lineage. There's something to be said for genetic memory because I've always felt right at home in the south and if I'm away too long I feel like a fish out of water.
I've had people tell me that although they've never been south, they love the south or they "feel" southern.
It's hard to put your finger on what draws you but I spent some time thinking about it. You could blindfold me and I'd still know. There are distinctive smells and sounds. In the area in Arkansas where we intend to retire, it's the smell of piney woods and the deafening call of tree frogs. In the Florida panhandle and parts of Alabama and Georgia it's piney woods mixed with sandy soil.
And Tennessee? It's the magnetic draw of lands that have been in the family since just after the Revolutionary War. Land is magnetic, land draws you. Wasn't Pearl Buck's character in The Good Earth convinced of the importance of a plot of earth?
Here's my sister, standing on a cold windy hillside, her back to our family cemetery and facing our great-great-grandfather's homestead.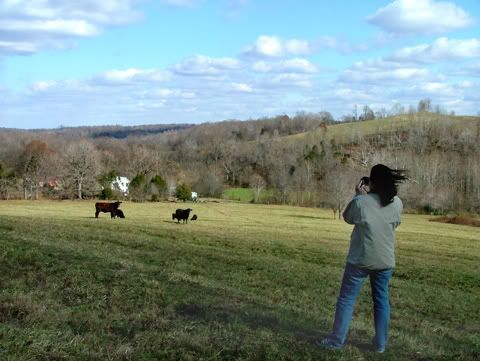 For me, the south is about the people and the food. There are more characters per square mile than anywhere else on earth. Our northern community seems bereft of these characters. There was Murdoch, Edie, Cricket, Polly Weems and Mr. Wickham, who created an entire forest of concrete characters.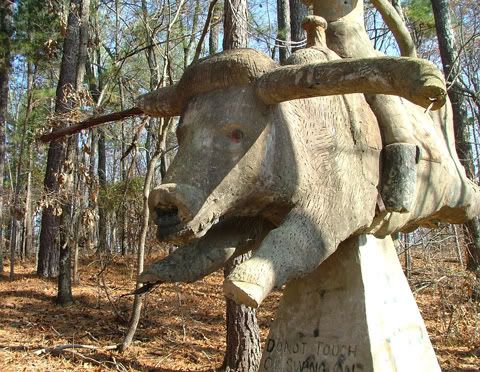 E.T. WICKHAM'S CONCRETE FIGURES
The south is also about the food. Close your eyes and you can smell the hardwood smoke slowing roasting the whole hog. Never trust a barbecue joint that doesn't have a pile of wood out back.
There's Blue Plate Mayo, country hams and Savoie Roux in a jar down in Louisiana. There's Paula Deen, the doyenne of southern cooking and hospitality.
You can imagine my surprise, in the atmosphere of magazines folding left and right, to find a new publication on the magazine rack. It's called
TASTE OF THE SOUTH
. Further investigation reveals they've been publishing for awhile. This is the first time I've seen it on the newsstands around here though.
I'll admit to having been drawn in by the piece of cake pictured on the cover. Caramel cake??? Oh, be still my heart.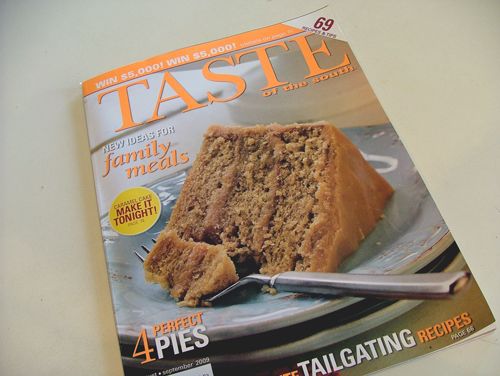 Look, they're promising 4 Perfect Pies! That particular article starts with the question, "How far would you go for a really good piece of pie?"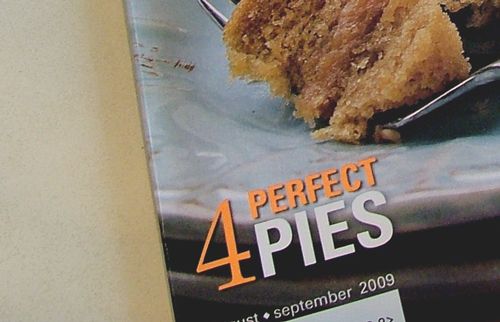 Are you joking me? How far is Timbuktu from here? THAT FAR. Omigosh, there's a photo of a gorgeous piece of coconut pie and a recipe that promises that's it easy.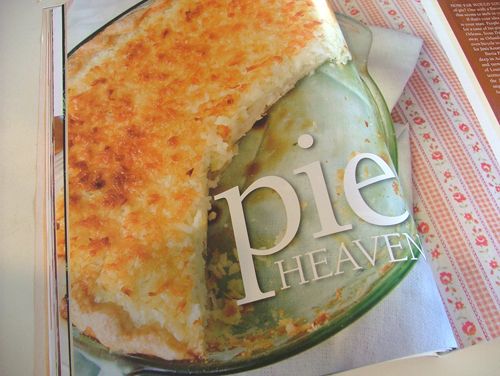 This magazine seems like a keeper and I'm seriously thinking about getting a subscription. They offer a
free trial issues
if you're interested. And no, they didn't pay me to say that! Heck, I'm waiting patiently for someone to pay me to say anything!! HA.
How about you? If you're in the south, I'd love to hear what you think makes the south special. If you've not southern, do you "feel" southern or are you fascinated by southern culture?
Farmer - if you're reading this (I know you do), I need a dose of the south. Tennessee (8 hr. drive) would be fine, Arkansas (11 hr. drive) would be good also.
Bon appetit, y'all.