There's a problem in this house. Actually, there's more than one problem but today we're going to talk about small obsessions. The kind that fill bookcases.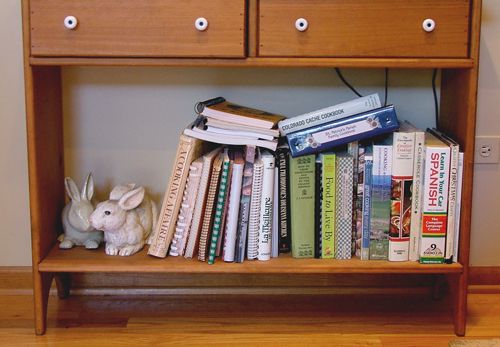 It started innocently enough. The Farmer and I would have a date night on Friday evenings that would involve grabbing a bit to eat and browsing the local bookstore for hours. There were tables of bargain books and I was drawn to the cookbooks. Who could resist the promise of 1,000 Great Recipes?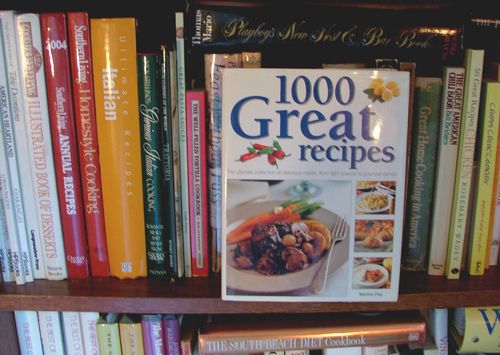 I certainly couldn't. This is an especially good book and yes, it actually does have 1,000 recipes and a photograph for each and every one.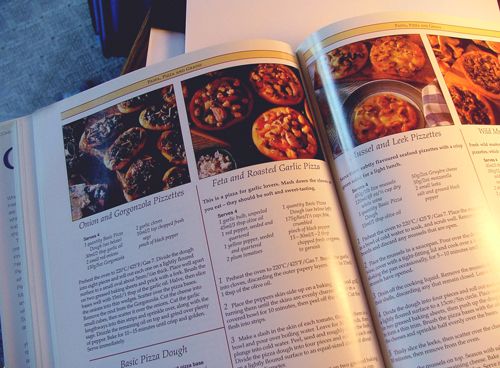 This book provided my favorite recipe for Hungarian Goulash. Which, to be honest, I haven't cook in a coon's age.
A trip to Goodwill held the possibility of finding a vintage spiral bound "Church ladies" cookbook. All those favorite recipes from church and social groups in one volume for 79 cents. Hard cover cookbooks were $1.39. I was hooked. The cookbook collection started to grow exponentially.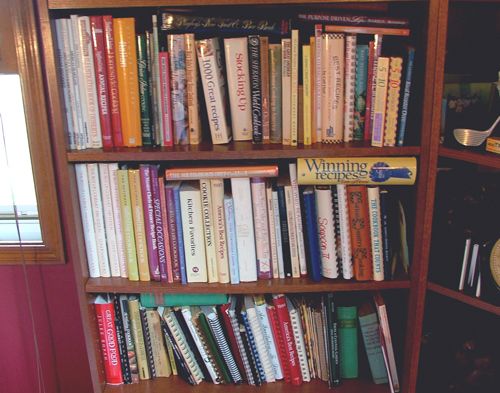 Other subjects were discarded to make way for the cookbook tsunami.
Opening a page of The Cake Bible by Rose Levy Beranbaum, I see she has a story about wedding cakes and snowstorms. I'm not alone in my wedding cake/snowstorm disaster.
The problem with this is, I cook the same stuff every night!!
If you're coming to my home for a dinner party, I promise you the food will be fabulous. We'll have pork loin stuffed with goat cheese, sausage and pistachios. For dessert we might have Cherries Jubilee flamed at the table with fresh ground nutmeg to create sparks. Or individual bread puddings with Creme Anglaise sauce (hands down a guest favorite).
But in between parties the cookbooks languish, collecting dust. Why? Because after a lifetime of figuring out "what's for dinner?", I've lost it. It's hard to produce the energy to plan menus and shopping lists. If it's 4:00 I'm scrambling to dream up something to put on the table.
So, tell the truth, are you a creative cook when it comes to everyday dinners, or are you as stumped as I am?