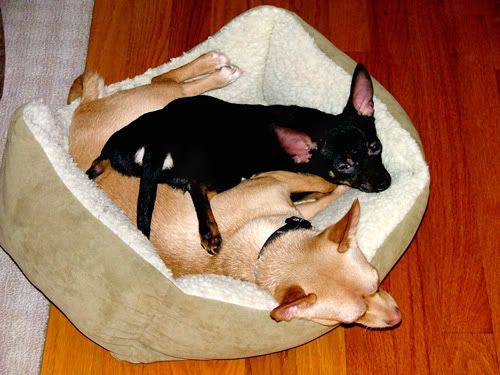 A waggle of Chihuahua.
The Chihuahua's called a family meeting. When they speak, we listen. Let's remember that Pancho is the one that had a Pit Bull cowering in a corner at obedience classes. Let's just say that attitude and an incessant bark go a long way if you want to be taken seriously.
The Chi's wanted to air a complaint that they'd been portrayed in a negative light on the post about our trip. They're right! Those dogs were perfectly behaved during the 13 hour drive. They slept most of the way and as is their habit they followed the sun all around the back seat of the car. They are serious sunbathers!
I told the Farmer that this is proof positive that they would be excellent traveling companions on a road trip across the U.S. in a small motorhome. He's still not convinced. Of course, being unemployed puts a damper on that idea anyway unless we'd like to sell the house and LIVE out of a camper. We're not quite ready for that.
While in the south we visited with the architect that will design our retirement home. It's an interesting creative process, one that I am enjoying. He has a staff of young architects and they're all very enthusiastic and full of interesting ideas. Stay tuned. As this process moves forward I may start a separate blog to journal the progress. What do you think?? "The Farmer Builds a House"? How's that for a blog title?
I'm glad to be back and spending time with all of you. We haven't cooked in awhile and I'm frantically looking for a recipe for the delicious fried green tomatoes and fried green beans we had while on vacation. The fried green beans were especially wonderful. I ordered them twice! I can't imagine dipping each one into coating, perhaps you simply toss them in a mixture. They were SO GOOD.
By the way, the best ribs I've ever eaten in my life are at Shorty Small's in Little Rock, Arkansas. They also serve an onion loaf that's out of this world good. We ate there twice during our 10 day stay.
Have a wonderful Saturday everyone! As a friend of mine always says, get outside and do something fun. For me today, it's mowing!