There's more to do at the Pioneer Festival. Let's get going!
This camp has a candelabra for serving a homecooked dinner by candlelight.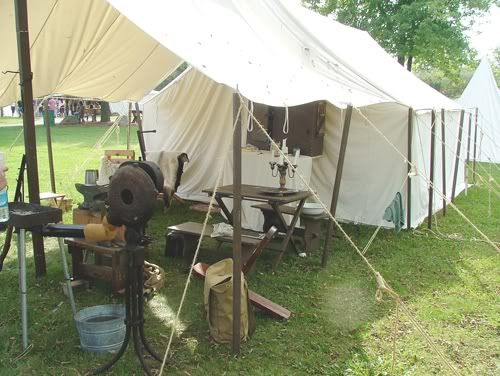 Throughout the festival grounds there were opportunities to try activities such as throwing a tomahawk, tossing an
atalatal
or using a crosscut saw.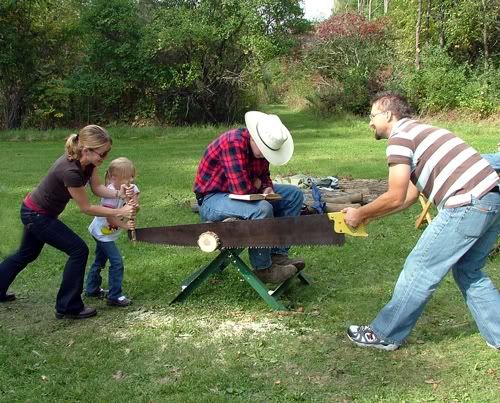 There are interesting vignettes set up throughout the grounds.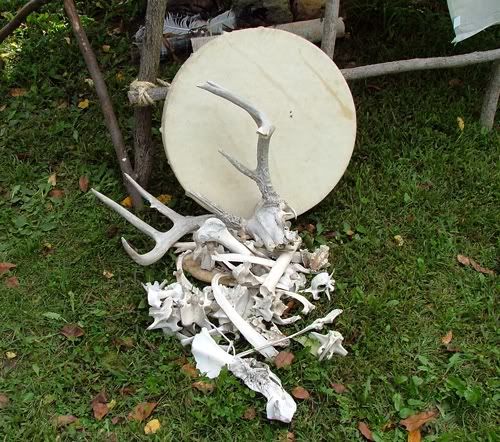 Aren't you getting hungry? There's plenty of food. No corn dogs or fried twinkies at this fair. There are sample of homemade apple butter. Here a young volunteer is stirring the batch in a large copper lined pot.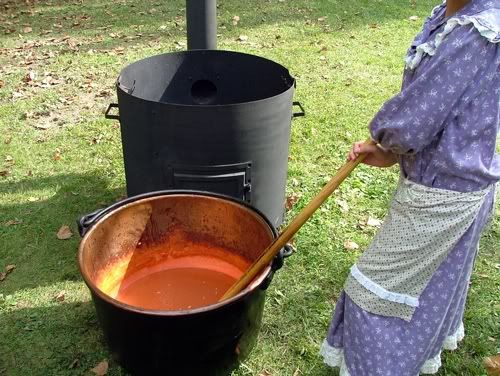 There's homemade pie but I forgot to get a photo of that. This young girl is tending the buffalo stew.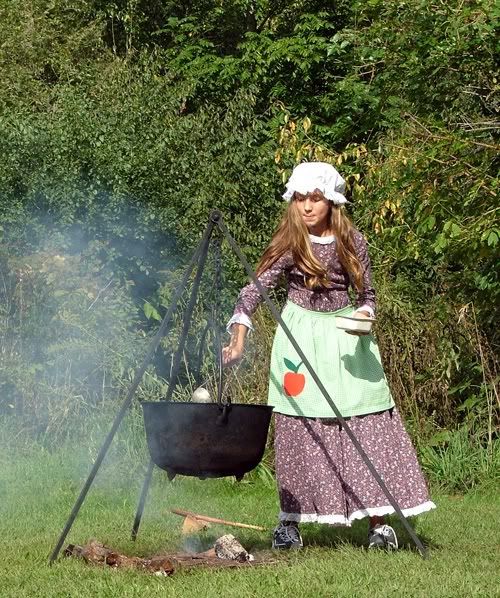 It's delicious!
We're going to make our way over to the Pottawatomie Indian Garden area where my sister is working. There she is.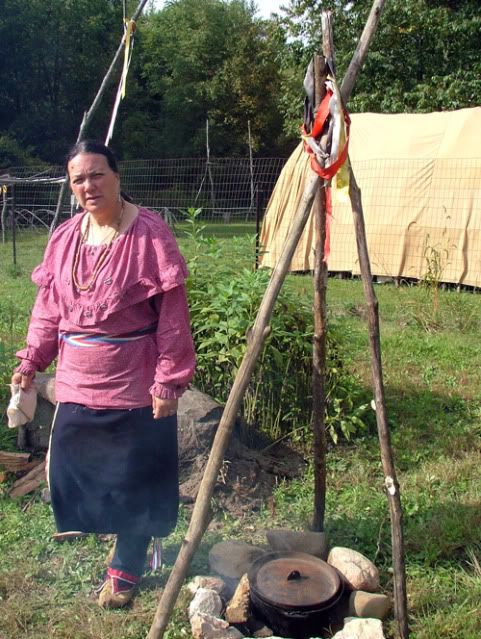 She's got a pot of vegetable stew cooking over the open fire.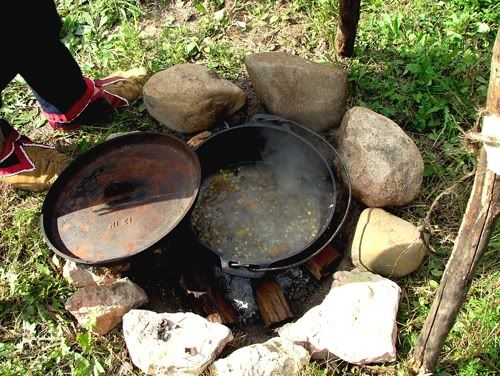 Here's her lean-to shelter. Don't mind the bright colored strips of fabric. That's so that people won't trip over the ropes.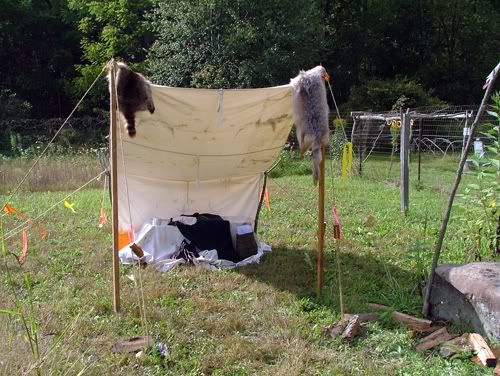 This is her beautiful display of handmade tools and garden crops. The beautiful hollowed out gourds are used as dippers and food containers.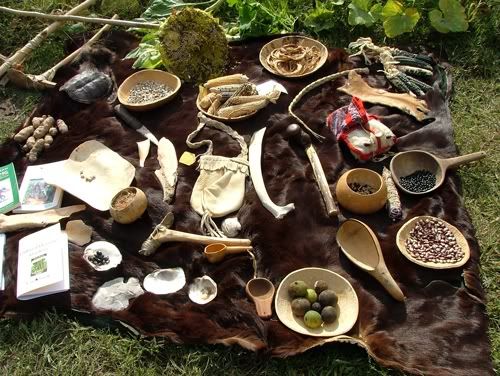 This is a sacred circle.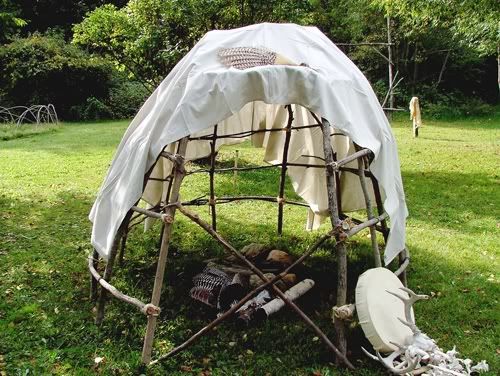 Here's a traditional wigwam, constructed of pliable branches. Traditionally it would have been covered with hides. Here they've used a large fabric tarp. This is a roomy structure, certainly tall enough for a man to stand inside.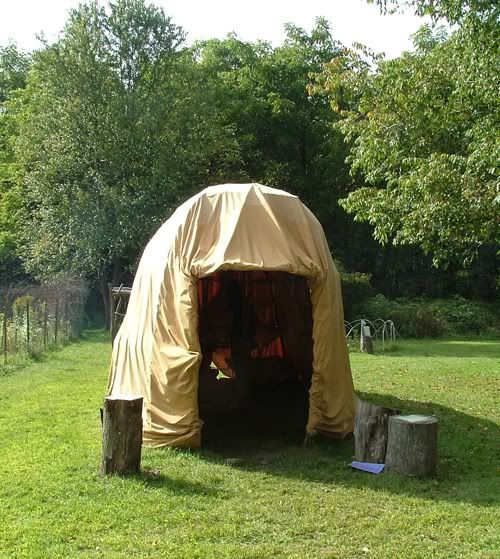 Let's go inside the wigwam. You can see how cozy it feels. The fire pit is in the center and there's a hole in the roof where the smoke is drawn up and out.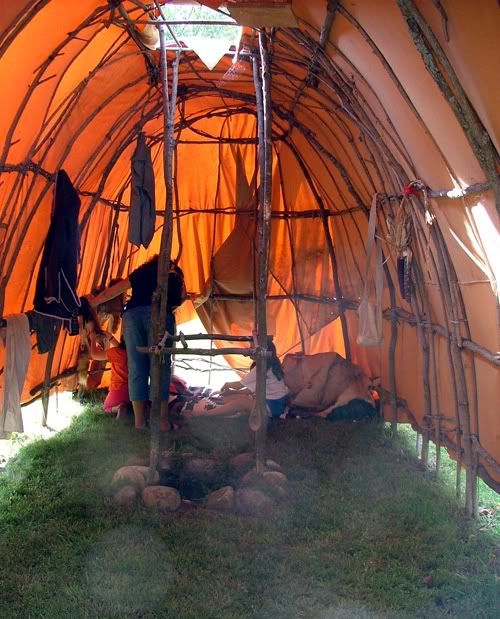 I hope you've enjoyed our field trip to the Autumn Pioneer Festival. There are a few more coming up in the next month, possibly some Voyageurs and an Indian Pow Wow. Would you be interested seeing those events?
PIONEER FESTIVAL GIVEAWAY
- T
he organizers of the Boone County Conservation District's Pioneer Festival have given me a copy of their Cultural Heritage Gardens Cookbook for a giveaway. It includes traditional recipes based on the five heritage gardens: Native American, Yankee, Scottish, Norwegian and German. Please leave a comment and I'll enter your name into the drawing. The winner will be announced at our Monday Morning Staff Meeting.