Harvest time is over for our kitchen gardens but the harvest of the corn and soybean crops is just begining
This has been a very, very wet and cold summer. The corn needs heat to develop properly and hopefully it's gotten enough. You would be shocked if you knew just how much corn we produce in this state. It's an awesome site to watch the harvest. Here is a photo from a couple of years ago. The corn is being offloaded at the edge of the field. It will be transported to a grain elevator where it will be stored.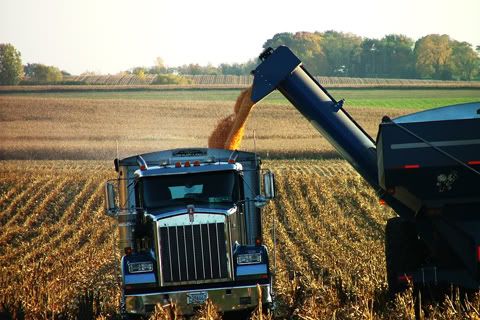 Here's a big rig driving through the open field. It's quite a sight.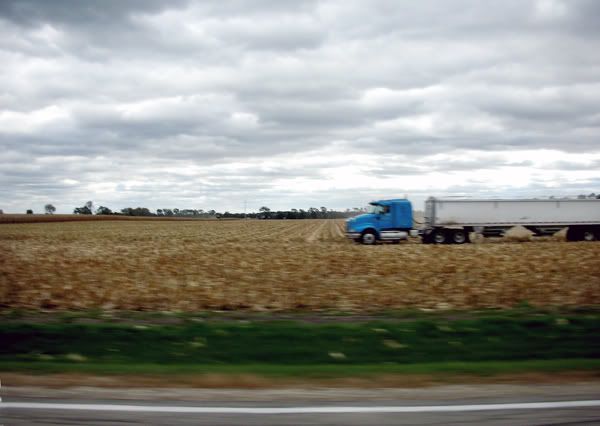 Of course you realize that the American heartland literally feeds the world and the farmer's plant in every possible nook and cranny. I've seen corn or soybean planted in twisting patterns around telephone poles or any other fixed feature. They plant every possible seed in every possible place.
The fall has been very rainy. We're all searching for plans for an ark. The rain will delay the harvest. The corn can only be harvested when it's moisture content is low. If you put high moisture corn in a grain elevator it will simply mold and rot. The grain elevators and silos all have fans that remove any moist air when the corn is stored.
Here's a photo from earlier this week.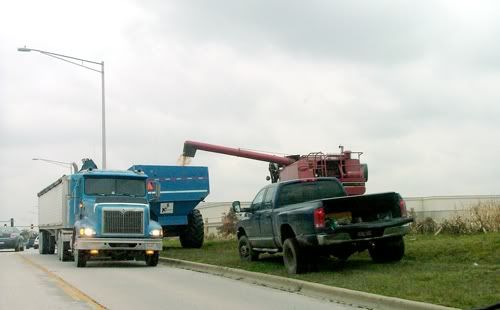 It was a very grey day but at least it wasn't raining. The farmer took the opportunity to harvest some of the field. This very small acreage is tucked between a housing subdivision and a "lifestyle" mall. Yes, our community has an identity problem. Are we rural or are we chic? Heck, we're both!
Just behind the trucks and harvester you'll see the back of the mall buildings. Just a short distance to the right is this: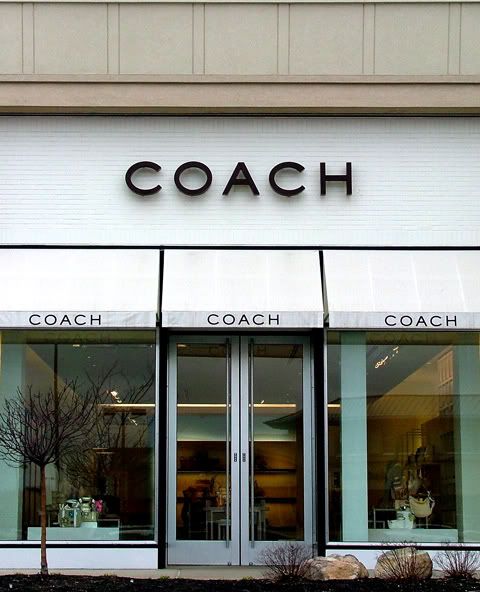 Yes!!! Our very own Coach handbag store. I've only been in there once. I was a bit intimidated because I certainly don't have the wardrobe that would be appropriate for walking into a Coach store, but the staff was very nice and friendly. They didn't seem to give a hoot if I was wearing jeans with a few paint stains.
I'l have to admit to some serious sticker shock.
Anyway, I just thought you might like a peek into what's involved in getting in the crop. This is just a small snapshot.