Good Morning everyone. Welcome to the Monday Morning Staff Meeting where we deal with unfinished business, little bits of interesting news and eat.
It's probably no surprise that this morning we will be feasting on Halloween candy.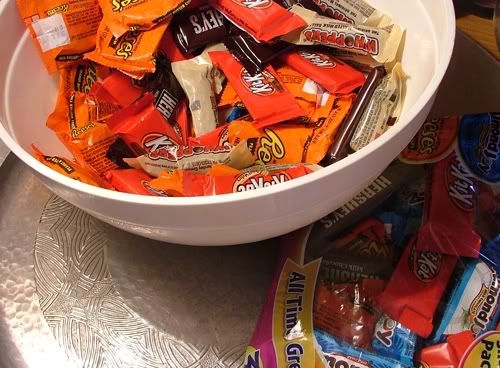 The Farmer would not listen to me and bought three extra bags of candy. I thin he's just counting on the leftovers. The homes in our area are on a minimum of 2 acres, which makes trick-or-treating a daunting task. The kids usually go to other places where the homes are closer together. Those neighbor kids who do trick-or-treat here are hauled around by their fathers in carts or flatbed wagons pulled by a lawn tractor or farm tractor. Bottom line is that we get very, very few trick-or-treaters.
Please help us by eating a few of these candy bars. Save a few Almond Joy for the Farmer. They're his favorite.
How was your Halloween?
- - - - - - - - - - - - - - - - - - - - - - - - - - - - - - - - - - - - - - - - - - - - - - - - - - - - - - - - - -
Everybody seems to be publishing books and cookbooks. The Pioneer Woman is doing a signing tour. Did I mention that Clara has a cookbook?
COOKING WITH CLARA
Several of you have mentioned how disappointed you were with the book, Julie and Julia. I did not read the book but heard that it was peppered with four-letter words. The movie does not. I can't remember one cuss word. Perhaps the producers and writers realized that it would fly on the screen. Cussing on that level is a really bad habit and makes you look very crude. Someone once told me that the excessive use of foul language means that the person has a limited vocabulary.
Books written by bloggers is a fairly new phenomenon. Publishers (and bloggers) are cashing in on their huge followings and in this environment just because a someone will publish your book does not make you a writer.
Many of you have suggested that I read The Glass Castle by Jeanette Walls. I have finished the book and I could literally write a book
about
this book. Believe me, I have LOTS to say. But first I'd like to hear from you. If you have read the book I'd like to ask you to leave a comment. What was the message/feeling you took away from it? Can you sum it up for me?
Currently I'm reading Mockingbird, which is a biography of Harper Lee. She had a very interesting childhood with some difficult relationships. So far, I recommend it.
Here's a list of books I've collected over the years that people have suggested. I call it my Book Bucket List.
A Short Walk in the Hindu Kush
Rivers of Gold, Rivers of Blood
The Kite Runner
Reading Lolita in Tehran
Quest for the Lost City
The Time Traveler's Wife
Silko's Ceremony
Fifty Acres and a Poodle
Distant Waters
Song for a Blue Ocean
Kristin Lavandsdatter
The Road
The Year of Magical Thinking
Working on the Edge
Pilgrim at Tinker's Creek
Anything by Barry Lopez
Have you read any of these?
- - - - - - - - - - - - - - - - - - - - - - - - - - - - - - - - - - - - - - - - - - - - - - - - - - - - - - - - -
I haven't heard whether there's a gingerbread house competition this year. I hope so. After a year off I'm ready to go again.
Here's my first entry, a farmhouse.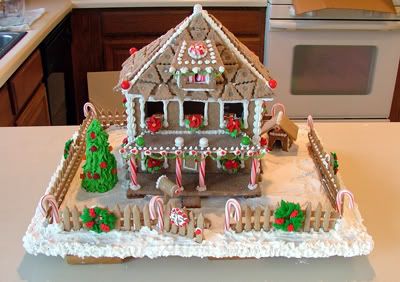 At the last minute I decided it needed a picket fence, so I stayed up till 1 a.m. baking and creating the fence.
It included a dog house in the back and doggie footprints in the snow. This didn't win a prize but the competition was stiff.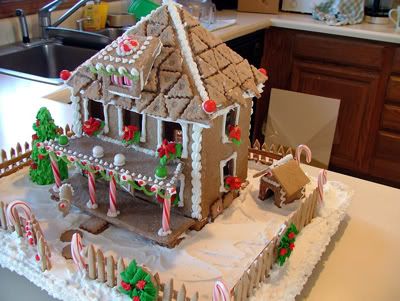 And the second effort which one third place.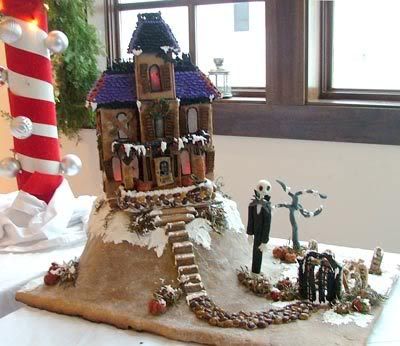 A close up.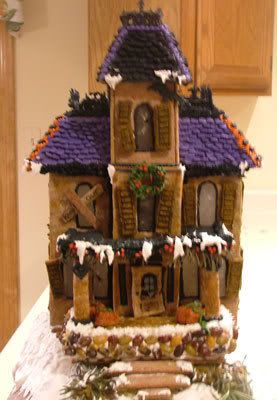 The organizer of this event is one of the top pastry chefs in the world (and his wife), who live nearby. It's a lot of work but so much fun.
How about you? Do you have any holiday traditions such as cookie exchanges or gingerbread competitions?