Today I'm off to run some errands including returning two of the book I recently checked out at the library.
Last night I polished off "Mockingbird", a biography of Harper Lee by Charles Shields. It was very good and reflected a huge amount of research. I can't even imagine that kind of commitment. Whilst reading I realized that Harper Lee is still alive. She's something of a recluse, cherishing her privacy as much as her childhood friend Capote gave his away.
There are some interesting insights into the making of the movie. One passage describes the crafting of the opening sequence which in my opinion is one of the best sequences ever. As the haunting melody plays in the background, Scout opens the cigar box which serves as the repository of her treasures. Each one has a significance either literal or symbolic. They were the treasured things of childhood.
I was thinking that perhaps we don't lose that desire to have a few special treasure tucked away. Mine are tucked inside a bird's nest on my night stand. It's comforting to look at them each night before I go to sleep. I can't describe how they were collected, each came with it's own significance to rest in the nest. The nest itself was found under a tree the morning after a particularly violent storm.
The contents of the nest.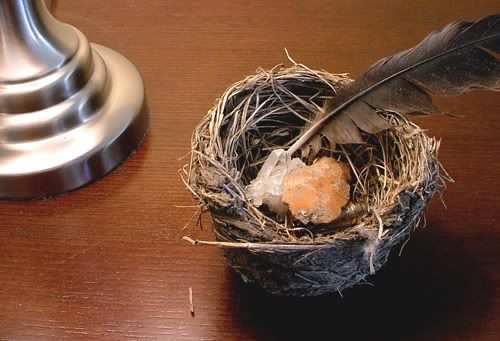 Just some flotsam and jetsom that was floating through my life.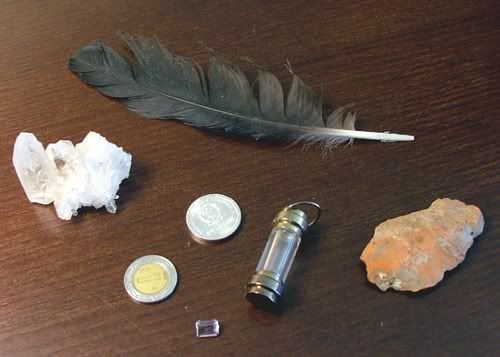 A feather that I found in the parking lot when I left for lunch after a particularly horrid morning at work.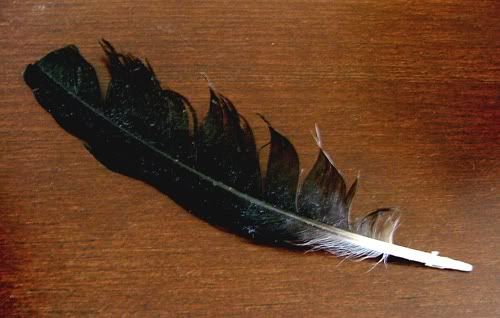 It made me smile at a time when I didn't feel like smiling. Look, it's dusty. How do you dust a feather?
A unmounted semi-precious gemstone. It's coloration moves from very light purple to light yellow. I have no idea what it is but I like it.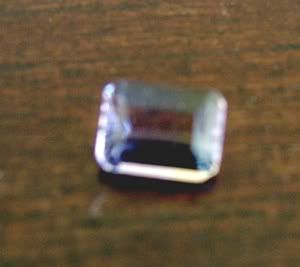 The picture is fuzzy because gemstones stubbornly refuse to stand still for a photograph.
These are pieces of Arkansas crystal. I'm an avowed rock lover so this fits perfectly into the collection.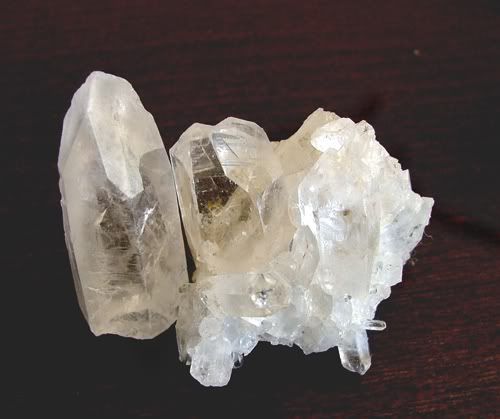 A piece of very old potshard, picked up on a walk with a friend. It was peeking out of the ground and she recognized it for what it was.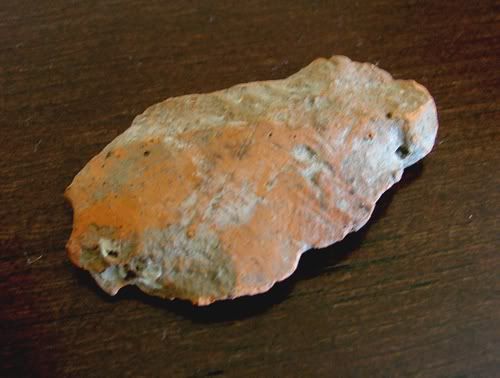 Two coins, one from Mexico and one from China. We've been to Mexico many times and we always bring back change. We feel that this means we must return to spend it. The Chinese coin was given to me by my mom and my thought is that I must go to China to spend it.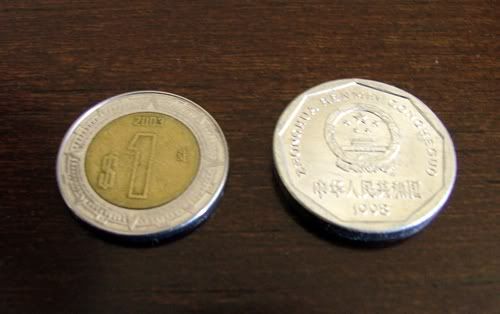 Here's the most curious and mysterious object. It's a glass vial, closed at both ends with metal caps. It's very, very heavy which suggests that it contains something of value.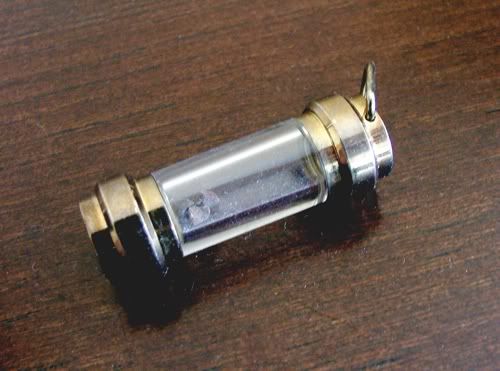 Inside are four small chips of rock, or what appears to be rock.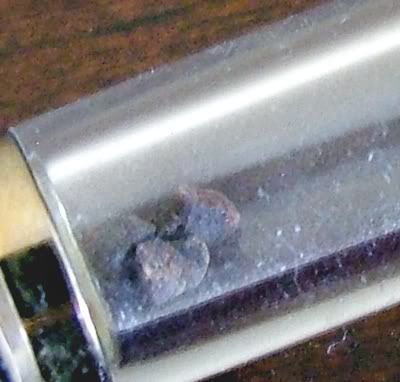 Honestly, here's the maddening thing. I cannot remember where I got this object or what it is. I think it's pieces of a meteorite or even pieces of a moon rock. Can't remember!! But I guess the mystery is it's fascination.
So, tell me. Do you keep a treasure box similar to Scout's?