The healing continues. The follow-up examination at my doctor's office confirms the fact that so far, all is well. Thanks to everyone who sent good wishes. I appreciate it.
I thought that this morning you might like to take a look out of my garret window. Well, it's not exactly a garret, it's my sewing studio which is on the second floor. It's always nice view while I'm working. I appreciate the diversity of weather and nature, always changing, always interesting. I actually love it when I see large looming storm clouds. It's so interesting and exotic.
Here's one of the three sunset maple trees at the southwest corner of the house. They are especially colorful this year.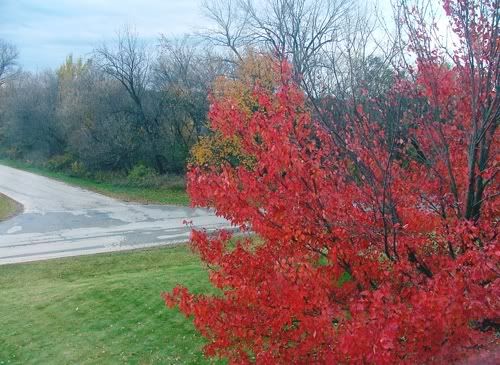 Here's the view looking to the southeast.
Fall in the midwest can be a dramatic show. It depends upon certain conditions, but I'm not exactly sure what they are, probably moisture and temperature changes. Our fall show is every bit as impressive as New England but the difference is that our landscape is flat, which doesn't allow the sweeping, rolling panoramas that they enjoy.
The most magical fall in my memory was the year my uncle died. We had his body transported to rural Tennessee where our family cemetery is located. We all drove in a convoy and the display through Kentucky and Tennessee was one of the wonders of the world. Amazing! I felt that nature was sending him off with a bang.
I'm hoping that my European friends can confirm or debunk something that I've heard - that the trees in Europe do not change colors in the fall. Is that the case? I think it would be very hard for me to experience fall without the burst of color. For me, fall is summer going out in a blaze of glory.
Ang - I'm sorry that I couldn't get back to you about Pumpkin Fest. I was sure I'd be able to make it and meet up with you but with the burns, it's not going to be possible! I swear, we're going to meet up sometime.