Let's get a head start on holiday gifts by making something for our four-legged friends.
Each year I try to bake batches of dog cookies for all the dogs in my life, including my own. The good thing about these is that they can be baked ahead and stored in a jar with a tight lid and they'll stay fresh.
I published this tutorial every year as a gentle reminder than we shouldn't forget our canine friends at Christmastime.
Let's get started.
DOG COOKIES
1/2 cup cornmeal
2/3 cup meat broth (beef or chicken)
6 TBSP. oil
2/3 cup whole wheat flour
Rolling pin & bone shaped cookie cutters
Mix dry ingredients together, add the wet ingredients. Use your hands to mix well. As a few drops of water if the mixture seems too dry. If the mixture seems to wet add 1 tsp of flour at a time. Be careful not to overmix or the dough will be tough. Roll out to 1/4 inch thick on floured surface. Cut cookies and back at 350 degrees for 30-35 min.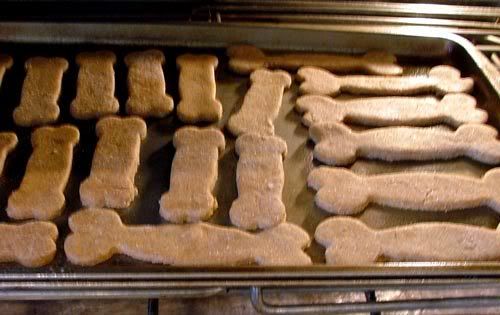 This batch made 8 large cookies and 30 small cookies. Numbers will vary depending on size of cookie cutter.
I found a place that carries the most wonderful collection of dog cookie cutters in the shapes of bones, fire hydrants, paws, dog houses and almost every "shape" of dog. Poodles, Corgis, Westies even a Chihuahua!
GOOD DOG EXPRESS COOKIE CUTTERS
Farmer's Wife Tip: Copy your favorite recipes on 3 x 5 inch index cards. Sandwich the card between two layers of clear contact paper. Spills can be wiped off with a damp rag.