The weather.
Again.
I promised you that I wouldn't bore you with talk of weather but it occurred to me that the weather is truly part and parcel of living in the midwest. Our daily lives are affected by the elements and we are forced to be flexible or risk putting ourselves at risk.
The days leading up to Christmas were fraught with onslaughts of ice and rain. The ice coats everything and has a tremendous destructive power. Black ice is a hidden danger that has caused many a vehicle to crash. Our trees are expecially at risk.
It was with great sadness that I turned the corner to discover our neighbor's beautiful willow tree had succumed to the weight.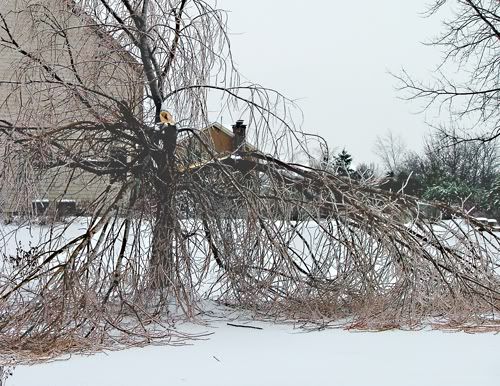 I thought willows were made of wood that bends and gives. Unfortunately, this tree was loaded beyond it's limit.
This was the scene two days ago.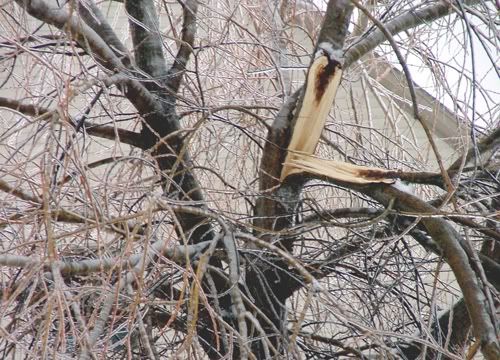 It's gotten worse. The tree has split further and half the tree is laid out from the break line like a lacy fan spread on the ground.
Today we were to have a large family gathering, planned by the Other Mother. Unfortunately it's been snowing since last night and all the guests were to come from a long distance. It's looks like the party will not happen. It's certainly a disappointment for the Other Mother but again, in the midwest you must bend to the elements or break like the overladen willow.
Hope you all had a Merry Christmas. Come back tomorrow when I'll share photos from our Christmas morning.