French toast weather is upon us once again.
For those of you who have never lived in the north and worked in a grocery store, french toast weather is the first big snowfall or the year, or a major winter storm, either a snowstorm or an ice storm.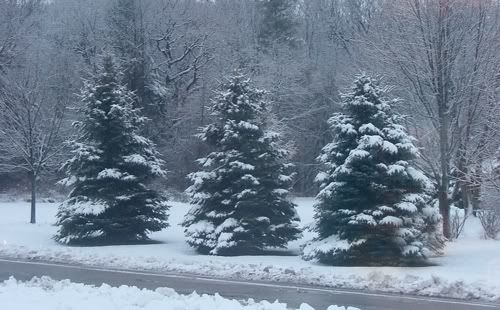 Early morning in Illinois.
Everyone runs to the nearest grocery store where they purchase bread, eggs and milk. They are basic staples for sure but this combination is what gave the phenomenon it's name.
On Tuesday evening we had a light dusting of snow which triggered the psychological symdrome known as Meteorlogicalfrabbelfarm. The symptoms of this condition include checking the weather channel every 20 minutes and starting every conversation with a discussion of the weather, past, present and future.
"We're supposed to get 12 inches overnight, followed by a period of sleet," says the sufferer.
"Back in 1967 we had the Big Snow. Closed down Chicago, remember that one?" they babble on.
As for me, I'm holding out for the most magical weather phemomenon of all, hoarfrost. The beauty is almost unimaginable and almost makes winter worthwhile.
- - - - - - - - - - - - - - - - - - - - - - - - - - - - - - - - - - - - - - - - - - - - - - - - - - - - - - - - -
Yesterday my errands took me within 200 yards of the Williams Sonoma store and I parked in front and entered the store in an attempt to test my willpower. The cake pan was OK, but having seen it my curiousity was satisfied and I left with nothing but a free sample of their toffee.
Outside in the parking lot I came upon this vehicle.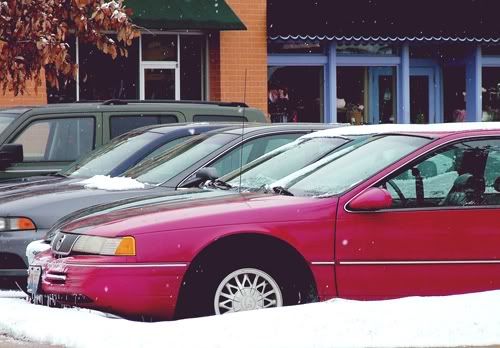 Fuschiamobile
Someone has painted their car a bright fuschia. Believe me when I say that this photo does not convey the fuschianess of it all. In an enviroment that is bathed in shades of gray and white for five months of the year, I applaud this bold move.
This car did not come off the assembly line painted in this bold palette, someone actually paid good money to have the fuschia applied. To that I say HURRAH. Hurrah for the playful offbeat spirit.
- - - - - - - - - - - - - - - - - - - - - - - - - - - - - - - - - - - - - - - - - - - - - - - - - - - - - - - - - -
On another note, don't be making plans to shop those day after Christmas sales for holiday themed products. It seems the retailers have made the decision to carry Christmas goods backed by very thin inventories. There is not ONE string of Christmas lights to be had within 25 miles of here. NOT a string.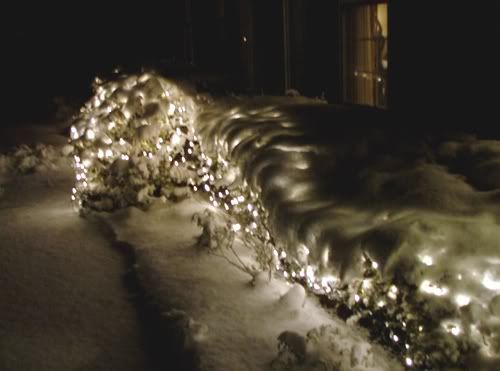 Christmas light buried under snow.
My son and I decorated the front of the house last weekend and discovered that two of our net lights that cover the evergreeens were non-functional. I drove to four stores in an attempt to buy more but came up empty handed. I finally gave up when I realized that the cost of the gas was outweighing the importance of having a balanced display. We threw a couple strings of regular lights on the bare bushes and as a result we have a somewhat Charlie Brown display.
The neighbors are quite forgiving and have not mentioned the gaffe. Thanks guys.
I'm off to do some work around here, decorate another tree and generally organize things. Those are perfect activities for a cold and snowy day.
Stay warm.