The weather continues it's predictable course. Just behind a major snowfall a mass of extremely cold air follows behind.
This morning the temperature was only 2 degrees and this was the scene from my second story sewing room. The view up the road is framed in thick frost on the window.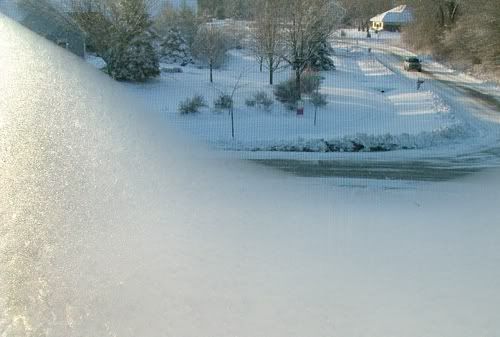 Two degrees in Illinois
An
Alberta Clipper
could possibly reach this far south but I think this is just a case of everyday normal frigid air. Calling it a Clipper makes it sound oh so much more intriguing.
The Other Mother had plans to do some shopping today, thinking either the son or I would take her out. But here in the midwest you must be flexible or you're simply going to get yourself into difficulty. The wind chill will reach 20 below zero and that cancels any thoughts of shopping. We'll make do without the few items she was looking to procure.
Speaking of unspeakable cold, I've just finished a most interesting book entitled, "In a Far Country" by John Taliaferro. It's a true story that chronicles the lives of missionaries (Tom and Ellen Lopp) who went to live among the natives in far north Alaska in the late 1800's. I never cease to be amazed by the true grit and resiliency of our ancestors.
The subtitle of the book is "The true story of a mission, a marriage, a murder, and the remarkable Reindeer Resuce of 1898". It's all that and more. Very interesting reading.
Currently I'm reading "The Colony", a book about the leper colony on the Hawaiian island of Molokai. Again, a true story and a very interesting read.
Have a great day everyone. If you promise to come back tomorrow, I'll promise
not
to talk about the weather!