Normally my chalkboard resides in my sewing room and has a list of tasks and reminders to myself.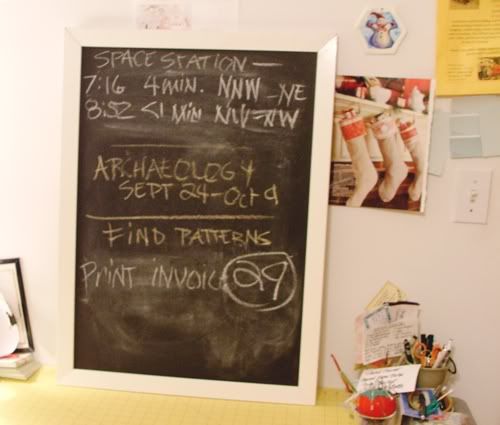 I'm a very visual (and forgetful) person and this is a way to keep things in my face, so to speak.
I had been using chalk.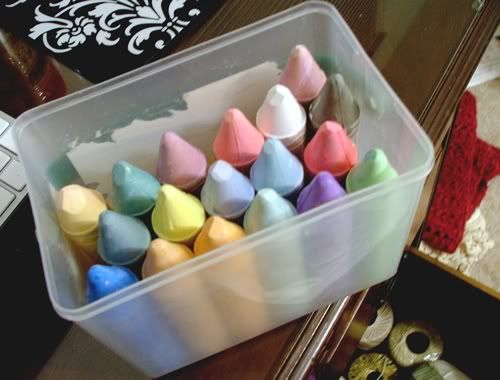 But thankfully I discovered chalk markers.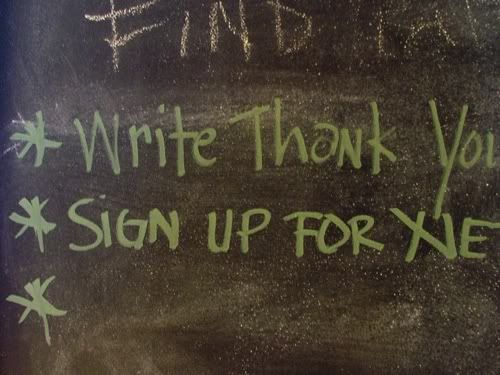 For the recent party I decided to take the chalkboard downstairs and create a menu board.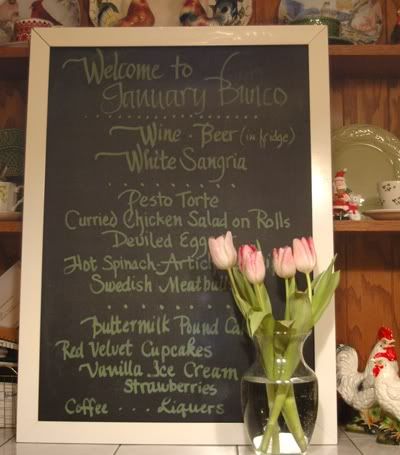 Thanks for all your kind comments about the handwriting. I studied calligraphy and taught at park districts for several years. Calligraphy is not difficult but I'll admit it's not something that you can teach yourself. It's de-mystified when someone shows you and you become proficient with tons of practice.
At one point I was hired by a school district to teach a group of students whose handwriting was deemed unreadable. When the students understood the concept of breaking down the letters into geometric shapes, they made a breakthrough. Some students ended up with handwriting better than their teacher.
I'd admired those large chalkboards in the Pottery Barn catalog, but my budget simply could not bear the cost. I need to stretch my dollar as far as it will stretch and besides, I love the challenge of how to recreate some of these looks on a budget.
I try to shop Goodwill at least once a week, usually on Sunday or Monday when they have a 1/2 price sale. The secret is to keep your potential projects in the back of your mind so that you can be on the hunt for that particular item.
To create a chalkboard, keep your eye out for a large frame, something with a backing board. If it's mounted under glass you're going to need a way to dispose of that because you're not going to need it. This frame is 22 x 30 inches, a nice size.
Remove the artwork. The backing board is going to be your chalkboard.
Chalkboard paint is available in the paint department of home improvement stores. It's sold in small quart cans. Give the backing board at least 3 coats of paint. Re-mount it in the frame and voila....... you've got a chalkboard that can serve many purposes.
If you mount one in your mudroom, family member can leave notes.
What I'd really love to do is paint an entire wall with chalkboard paint. I've seen instances where people have a chalkboard wall in the kitchen and during a party guests write messages or doodle.
Have fun creating your own chalkboard and saving some money for other projects, like tiling a 1,400 sq. ft. basement floor!
NOTE:
YES!!!!! My son and I have finally finished laying the tile. Half of the project is grouted and we're working on finishing the other half. Grouting a floor is a nasty, nasty job. I'll show you some photos when we're finished. I conferred with the tile guy at the home improvement store on some issues we were having with cleaning the tile after grouting. He's been very, very helpful during this entire process. Surprise......he said that he's been using me as an example when teaching tile demos at the store.

"If this 62-year woman can tile an entire basement, you can do it too."
And yes....you can!!!