Last week's Bunco party was a success and now it's time to pass along those recipes.
First, thank you to those who gave me hints on how to create a link for printable recipe. I'm a little technologically challenged, but I figured it out.
Lisa asked for the recipe for the Swedish meatball sauce. I'm also providing the recipe for the meatballs. I had a lot of menu items to prepare for the party and in an effort to budget my time, I actually purchased a bag of frozen Swedish meatballs at IKEA.
"Food? At IKEA?" my friend asked.
Yes, IKEA has a food department that carries specialty Swedish items. I passed on the herring floating in different sauces, and the salmon paste and cavier packaged in tubes resembling toothpaste. The ginger cookies looked interesting, as did the Lingonberries, but I left the store with nothing but the meatballs.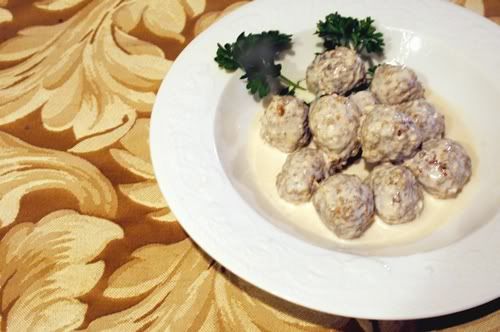 If you don't have an IKEA nearby, you can make your own Swedish meatballs.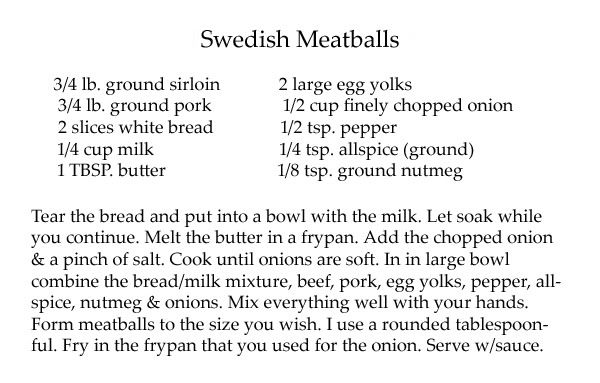 PRINTABLE RECIPE
Here's the recipe for the sauce.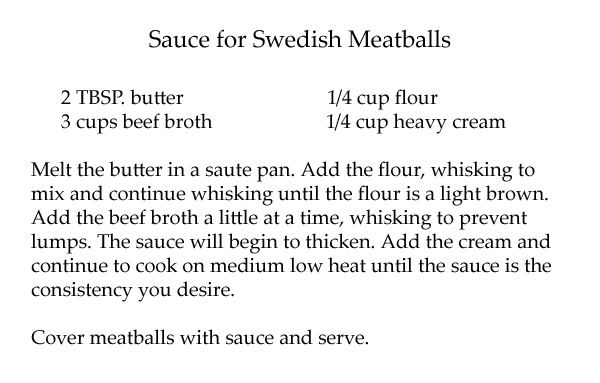 PRINTABLE RECIPE
TIP:
When forming meatballs, continually dip your hands in cold water.
When making a sauce with a flour base, always cook the flour while stirring. If you don't cook the flour your sauce will have a gummy flavor and texture.
Thanks for stopping by today. We're fighting the battle against cabin fever. It would be easier if I still had my snowmobile. I could race across the open cornfields under the moonlight. Believe me when I say that nothing can compare.