Welcome to the Monday morning staff meeting. I'm glad you are able to attend, no matter what the time!
First of all, the food. We're going to have oatmeal this morning but unfortunately I don't have any photos. I think everyone has a favorite way to eat oatmeal. My grandmother cooked it to within an inch of it's life (long, long time) and add raisins which plumped up and added a sweetness. I remember it with fondness, but that's not how I like my oatmeal.
Give me the old fashioned kind, not instant, barely cooked and strained to get rid of all the gooey stuff. Honestly, I prefer the steel cut oats but I normally don't have 20-30 minutes to stand around stirring and waiting. My sister makes them in a crockpot and perhaps I'll try that method.
I put a dab of butter and just a hint of sweetness, using either regular sugar, brown sugar or maple syrup. No milk or cream.
How do you like your oatmeal?
- - - - - - - - - - - - - - - - - - - - - - - - - - - - - - - - - - - - - - - - - - - - - - - - - - - - - - - - - -
If you look on my sidebar you'll see a button for Craft Hope Haiti.
Craft Hope is a group that I've been involved with for awhile. They sponsor projects in which a crafter can produce an item to be donated for use by those less fortunate. We've done quilts, blankets, sock monkeys, dolls and more!
They've set up an Etsy shop filled with donated crafts. The proceeds will go to Doctors Without Borders, earmarked for Haitian relief efforts. What a great idea. Not only will you be making a donation, you'll get something really cool in the process. One of my aprons will be listed soon.
Hooray for the power of the internet to help these people.
Also....... Rue alerted me to to Shore House Chic's fundraiser. She is auctioning off a cool tote filled with goodies.
SHORE HOUSE CHIC TOTE AUCTION
Update:
A commentor on my previous Haiti blog entry was worriedly seeking information on his aunt and uncle who were on a mission trip to Haiti, working with Dr. Hubert Morquette. He found my blog via a search engine and I was able to assure him that the Morquette family was OK and since his relatives were staying with them I could confidently assure him that they were also OK. He has heard from his relatives, confirming that they are unharmed. His uncle is a retired kidney and liver transplant surgeon on his first mission trip following retirement. He's been thrust into a situation that will make good use of his skills as a surgeon. Please pray for their continued safety and for all those affected by this tragedy.
The orphan situation in Haiti was formidable before this catastrophe. It will now grow exponentially. Pray for these children.
Here's James. He's at King's Garden Orphanage just outside Port au Prince. We supported him for several years. He found an adoptive family and we were all very excited. Unfortunately over 2 1/2 years later the adoption still has not bee finalized and he's still in Haiti. Keep him in your prayers also.
- - - - - - - - - - - - - - - - - - - - - - - - - - - - - - - - - - - - - - - - - - - - - - - - - - - - - - - - -
I promised you some close up photos of the hoarfrost. It continues to cover everything, which is very unusual. Normally it's a temporary but stunningly beautiful event.
During an ice storm everything is covered in a glassy coating. Hoarfrost occurs when the air is laden with moisture, usually the conditions are foggy. The moisture clings to the branches and when temperatures dip the moisture freezes and continues to grow crystals in an outward direction. These branches look furry.
Crystals forming on the branches.
If there is a breeze, the crystals form in a direction. See them blowing outwards to the left?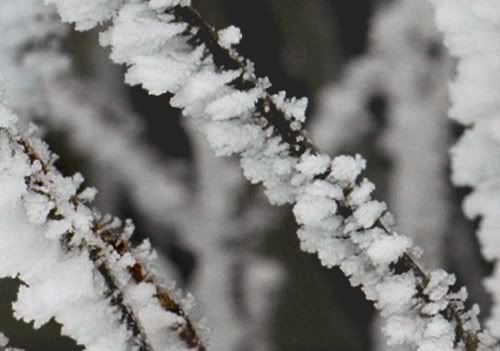 That's hoarfrost, one of nature's most beautiful shows.
- - - - - - - - - - - - - - - - - - - - - - - - - - - - - - - - - - - - - - - - - - - - - - - - - - - - - - - - -
Coming up this week is my recipe for Swedish Meatball sauce and more. Stay tuned.
I want to thank everyone for taking time out of your busy day to visit with me. I appreciate it...... even more since we're pretty much stuck inside. Cabin fever is ramping up and soon we'll be doing crazy things. Speaking of cabin fever, has anyone read Giants in the Earth? It's a wonder that anyone kept their sanity during the harsh winters on the prairie.
Have a great week everyone. I'm now turning the meeting over to you. All spammers - please leave the room or I'll have to call security.