I can't think of a thing to talk about today, so let's go into the kitchen and cook.
Today I'm going to share a very easy recipe that I served at my recent dinner party. I've had this recipe for years and can't recall where I got it. It's a perennial favorite.
Many years ago we attended a pot luck party at the home of a friend. The brandied carrots were a hit and as usual, I'd brought a double or triple recipe, there was some leftover in the baking dish sitting on the kitchen counter. One of the guys made a beeline for the carrots and stood in the kitchen munching on the leftovers, carefully lifting each matchstick carrot and plopping it in his mouth.
PRINTABLE RECIPE
Many of my older recipes do not have indications of how many servings. I'd say that this one feeds 4-6 people. I made a double batch for the party (6 guests) and I had plenty of leftovers.
Peel your carrots, cut in half lengthwise and then in quarters.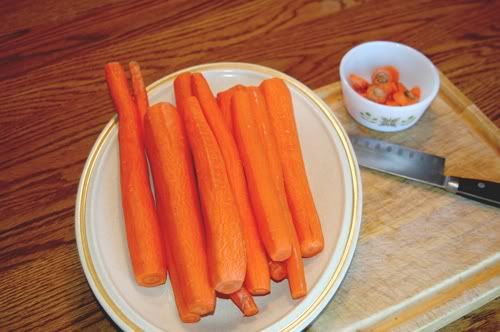 You'll end up with something that is like a matchstick cut, but you don't want them really thin, just quarter the carrot.
Arrange them in a baking dish.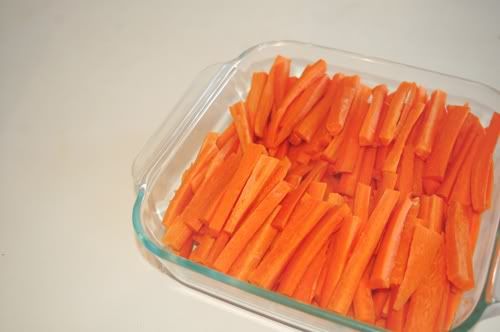 Melt the butter, add the brandy and the ginger. Heat at a low simmer for about 5 minutes and pour over the carrots.
Cover the baking dish with foil and bake in the over for 45 minutes to 1 hour. The baking time depends on how thick your carrots are. Check for doneness at about 45 minutes.
If you wish a little bit sweeter carrot, add a small amount of sugar or brown sugar to the butter mix.
Try these and tell me what you think. They're very easy since they can be baking in the oven with your meat.