No, I'm not talking about an office supply, I'm talking about an atmospheric condition called a whiteout.
It just occured to me that we have a wildly diverse set of weather conditions here in the midwest. I can remember when I lived in Texas I'd wake up each morning and declare, "Oh my, ANOTHER sunny day."
That was said with a fair dose of sarcasm because if you're from the midwest, after constant sunshine can get on your nerves. I'd pray for rain simply to break the monotony.
Here in the American midwest, thousands of mile from any ocean, we get fog. Heavy, dangerous fog.
The ground has been covered with a thick layer of snow and cold temperatures. This was followed by a warm-up, melting some of the snow, creating fog. Think about driving along the road and encountering fog in low lying areas near a stream. That's the effect except that all the corn and soybean fields put off the moisture that would have been in the stream.
This was the scene yesterday.
White snow, overcast white sky, white fog. Whiteout.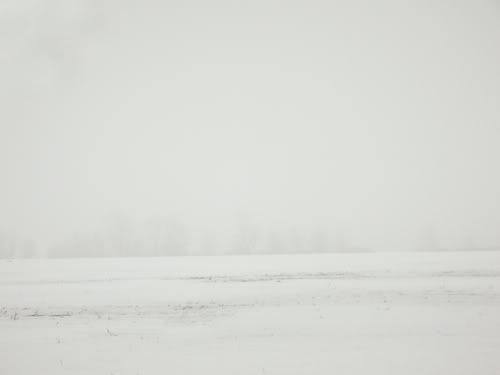 OK, greyout. It was kind of grey.
Can you find the horizon? Just barely, because there's a tree line barely visible in the distance.
It's does make for lovely vignettes, such as this old barn.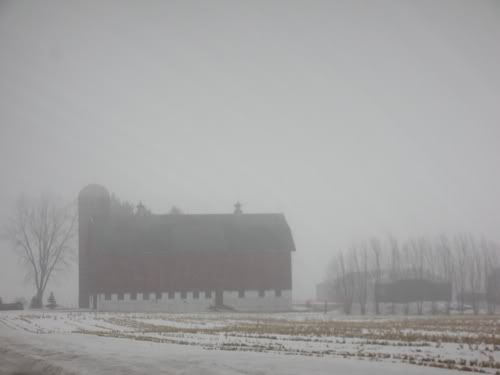 The only time I've ever been scared while driving was during a total whiteout, not even when I was driving inside the edge of a tornado. You lose even your sense of up and down, gravity is the only constant factor.
I've decided to continue the weather posts because it occurred to me that I'm interested in the weather in other parts of the country and the world, and so other's might be also.
Have a great day everyone!