Do you go thrifting? My question to you is, if not... why not?
At least once a week I try to go thrifting. It's always been a fun challenge to me to see what I can find on my little thrifting adventures My favorite spot is either of the local Goodwill stores. They are located near high-end neighborhoods which means they usually have great stuff. Sunday and Monday they run a half price sale on certain colored tickets.
I also like to frequent a Salvation Army store that's located a further distance. This store is requires you to do a bit more digging to find treasures but the results can be rewarding. This is where I found a copy of Julia Child's cookbook, signed by both Julia and her husband Paul for under a dollar.
One of the employee's at the local Goodwill has told me that Ebay power sellers visit her store at least once and sometimes
twice
a day. You need to duck in the store regularly in order to find the better items.
My first stop is actually the donation drive-thru because before I can bring anything into the house, something must leave. Then the car drives itself around to the front and I seek out the handbag rack. My neighbor Donna has me addicted to handbags. At $1.99 each I can certainly afford to have a handbag wardrobe. In the past I've found two Dooney & Bourkes and my collection of Liz Claibornes.
Of course I visit the men's department to snag the best shirts for my aprons. I've found tons of Tommy Hilfiger, Ralph Lauren and other designers.
Last year I knew that we would be hosting a large Mardi Gras party and I kept my eyes out for hurricane glasses from Pat O'Brien's in New Orleans. They would appear on the shelves, one or two at a time. In a few months I had the set of 24 needed for the party, spending no more than 99 cents on each one and matching the two the Farmer and I got on our honeymoon.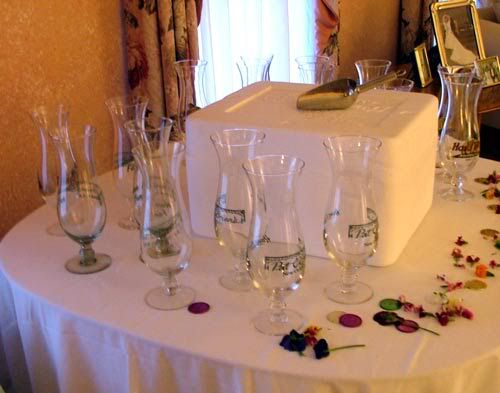 I also make it my business to check out the domestics department. There's hardly a better fabric bargain than a large decorative tablecloth. Unless otherwise marked, everything in the domestics department is $1.49. I dig through the large table that contains throw pillows. Every week I find at least one or more decorative pillows that are down filled! If you don't like the pattern you can recover it and have a luxurious down filled throw pillow on the cheap.
Here's my loot from this week's shopping spree.
This lovely throw pillow (the beige one) for my bed. It's dupoini silk covered wth hundreds of small pearl buttons and sequins, and it's down filled.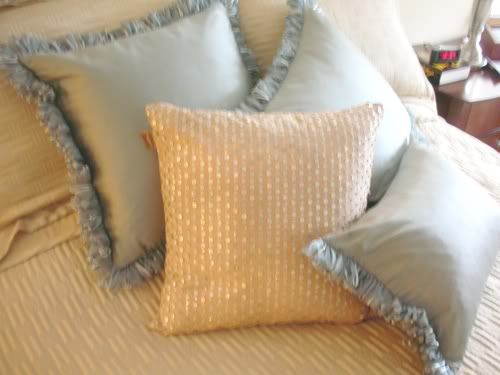 The bed was looking a little boring with the beach glass blue and beige color scheme. Just for fun I picked up this cherry red pillow.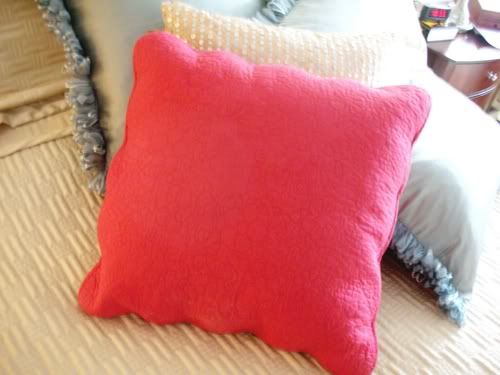 It's cover is fully quilted and it's also down filled.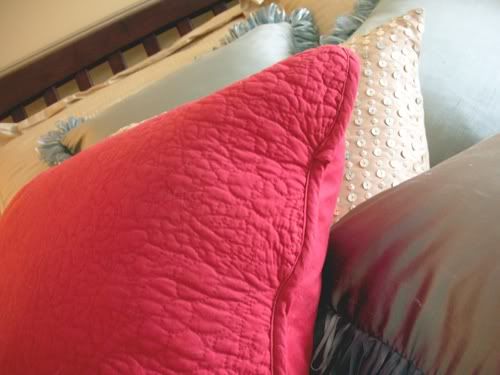 Three dollars for two decorator throw pillows.
I also found a nice black sweater and a crisp white Liz Claiborne shirt.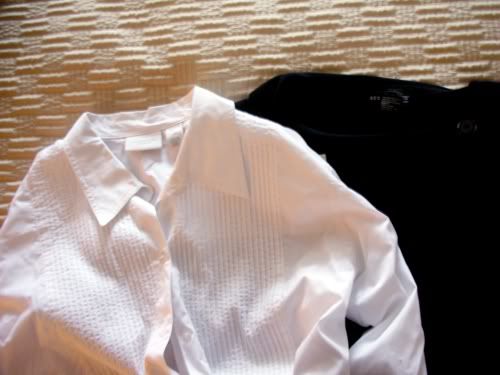 Total bill - $15.00.
I'd love to hear about your thrifting successes or your favorite thrifting spots.