Actually, it's the second one that's gotten away in the last year.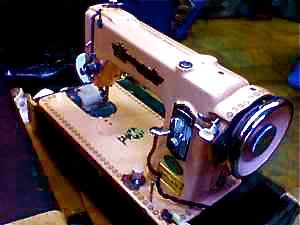 The Pink Beauty
Awhile back I had a chance to buy one from the sewing machine guy who sold me Beverly.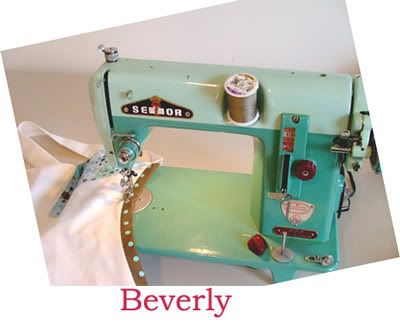 But the Farmer had just lost his job and I had a tuition payment looming so I took a pass. I knew that there would be another one appear from somewhere. I haven't seen one on Ebay for quite awhile but I did find one (very affordable too) on Craigslist, but in another state.
I e-mailed the seller and he agreed that he'd be willing to ship it. I asked him to compute the shipping charges and let me know, I'd transfer the money via PayPal. That was the last I heard from him. I didn't follow up. Why? Because something inside told me he wasn't really committed to following through and I have learned over the years to listen to my instincts. And so, she slipped away.
There will be another one on the horizon, one with my name all over it.
Why do I need another machine? It will help me work faster if I have two sisters side-by-side, threaded with different colored threads. Most of my projects take two or three different thread colors and constantly stopping and starting is annoying.
That's my story and I'm sticking to it. HA.
Now...... if I have three machines, things will positively spin out of control and I'll be a one-woman factory. That's what I'm telling myself because I have a 1950's LAVENDER machine in the garage that I picked up at Goodwill about a month ago. I've got to get it out to Zoltan-the-retro-sewing-machine-repairman out in Rockford so that he can tune it up and add a new belt.
Three machines. Oh.....four if you count the modern-plastic-multi-stitch-machine that won't sew through anything thicker than toilet paper.
But, who's counting?