I'm going to the spa today.
No, not THAT spa, the other spa.
Today I am scheduled to have my yearly mammogram. What's that got to do with a spa? Well, the mammogram center at the nearby hospital is what I term, "A Mammogram Spa."
There are bowls of Hershey's kisses on the desk at the reception counter. The outer lobby has a coffee bar and high speed internet. The inner waiting room has a selection of cold drinks and snacks. Inside the dressing room you will find hospital gowns, not the flimsy cotton numbers printed with wierd little patterns and stringy ties but taffeta gowns.
Sheesh, I'm there for my mammogram not a for an episode of "Say Yes to the Dress".
I appreciate any effort to make me comfortable but I guess I'm just not accustomed to such treatment at a hospital. This is the same hospital that had a stinking Concierge (!!!!) in the lobby. The hospital does service a very upscale area so perhaps some people expect this type of treatment. As for me, just give me a facility that is clean and staffed with highly qualified people and give me a cut on the bottom line.
So I've decided to do yet another giveaway. This one is PINK, in honor of breast cancer awareness.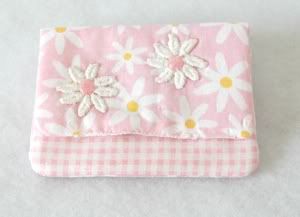 Pink mini-wallet. Holds credit cards or use it as a business card holder.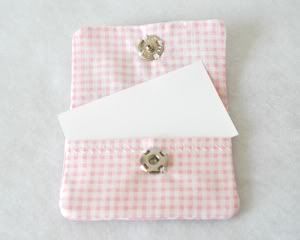 Holds multiple cards. Outside embellished with cute little daisy appliques.
Leave me a message telling me that you've had your mammogram, that you've scheduled one or that you plan to schedule it. Or just give other women a heads up that this is something important to do for yourself.
I'm thankful to live in a time and a place where these preventative tests are available.
NOTE: Winner will be announced at the Monday Morning Staff Meeting.