Thanks for all your kind words and suggestions after the recent onslaught of the flu. I can't believe how much it knocks out of you. Yesterday I mostly stayed in bed and watched movies. Thank goodness for Netflix and the ability to watch movies nonstop instantly on my computer.
Since I'm still feeling like a rag doll (but not wanting to leave you with nothing to read), I thought you might like this piece I posted on my photoblog back on March 23, 2006.
Perhaps those of a certain age will remember...... glass.
- - - - - - - - - - - - - - - - - - - - - - - - - - - - - - - - - - -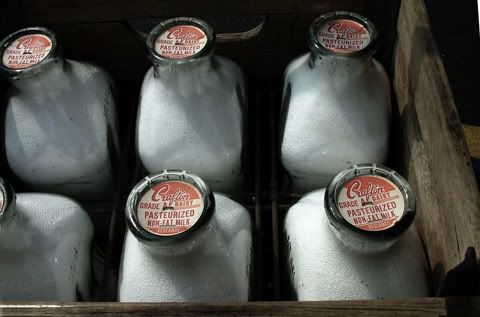 When I was growing up in the 1950's moms stayed at home, and dads went to work. It was the only possibility because no one had two cars. Never heard of anyone having two cars - many didn't even have one car. They took public transporation to work.
Milk was delivered fresh on our doorstep by a great guy in a sparkling white uniform with a snappy hat and a black bow tie. Bread was delivered too, because we only did grocery shopping on the weekends.
Milk is still delivered around here, in real glasses bottles, by Oberweis Dairy. These are not Oberweis dairy bottles, but Craftons, from a old time dairy in California. I was forced to reach into my archive of photos since I inadvertently erased todays shoot. That's OK, it allows me to bring you this image that invokes the past. Oberweis dairy hosted a gathering of Milk Delivery Truck Collectors. They gathered last summer on the stinking hottest day of the year. It was almost impossible to enjoy the beautiful restored vehicles.
Crafton was a family owned dairy in California. These are the original bottles and caps, although for display purposes filled with tiny white styrofoam beads.
I hope you're one of those that remembers milk in glass bottles. I just tastes different - - - believe me on this one!