Does anyone else remember the TV show, "Adventures in Paradise" with Gardner McKay? I'm dating myself because this show aired for four years between 1959 and 1962. I don't think I missed an episode. What's not to love? McKay was Hollywood gorgeous and he portrayed Adam Troy, a Korean War vet who bought the sloop Tiki and sailed the South Pacific.
Thinking back, I was always fascinated by adventure and the world beyond my small neighborhood.
The Farmer and I are big fans of adventure travel, both here and abroad. We stay on islands with no roads (or phones or TVs), travel in boats that are as flimsy as Dixie cups and have flown all over Central America in small planes whose have instruments attached to the dashboard with duct tape.
I've never been afraid.
Life is a pretty fearless adventure as far as I'm concerned. I listen to my instincts but beyond that I'm good.
However, I do not like bridges. It could possibly be categorized as an extreme subconscious dislike. Thinking back, I've pinned down my uneasiness to an incident that occurred many years ago when I was visting my dad in Florida. A ship hit one of the huge supports on a bridge that led south from St. Pete across the bay. It was at night and the impact damaged the support and caused the entire center section of the bridge to fall into the bay, sending cars and people to their death. Unknowingly, drivers continued up the bridge and off into the void.
That did it for me as far as bridges were concerned.
This weekend at the Bloggy get-together I met Michelle and quickly determined that she lives in Iowa just west of Savanna, Illinois.
"That means you must have crossed
THE BRIDGE
to get here," I said.
"And you must cross
THE BRIDGE
to get home," I continued.
"Yes," she said. And everyone at the table who lives in the area gave a light, nervous chuckle.
They know the bridge. It's the one without a solid road bed. The bridge is very narrow, scary narrow and when you look down you realize you're driving across an open metal grate. Yeah, like the subway grates in the city. This ain't natural!!!
I'm just glad that I not the one that has to drive home over that bridge.
So what do Gardner McKay and south sea adventures have to do with my trip to White Pines State Park? Well, I've visited the lodge several times but I've never taken the time to explore the park further. So, after I left the ladies in the parking lot I headed out and made a right to see what was beyond the bend.
There were very beautiful rock walls to the right. Signs told me that the camping areas were ahead. I followed behind another vehicle similar to mine. I couldn't see around it and little did I know what laid ahead, UNTIL................ I notice the car in front of me is driving through water. Lots of water.
Wait, this is alot of water. This is a river. Well, maybe a medium sized stream, but still. He's driving through water, and leaving a wake.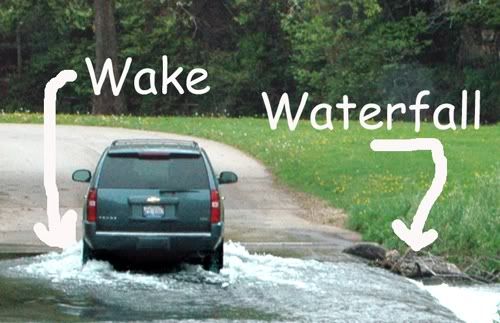 I don't know, but I'm pretty sure that cars are not supposed to create wakes. And look, that's a waterfall to the right. If he slides to the right, he's over the edge.
I know, it's not Niagara Falls but it's definitely a drop off.
It's too late. I can't turn around. I have no choice but to go through.
He made it safely to the other side, maybe I can too. And then the thought hits me that I'll need to go through again to get out of here. YIKES.
The sign says it's a "ford", and I know that certain people ford a stream every day to get home. But not me. Cars and water don't mix in my book.
I might consider returning to White Pines but I'm not going down this stinking road again! I've sailed my ship for the last time.