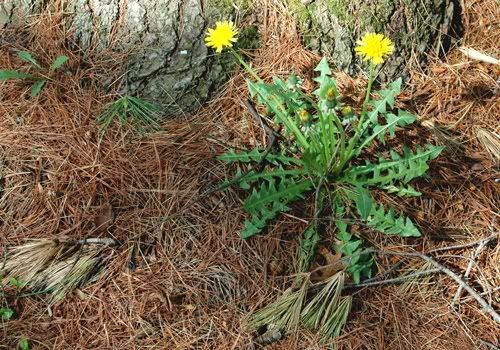 My friend Cindy is a writer, a real writer, the kind that gets a degree and spends a lifetime honing her craft. She doesn't write simply when the mood strikes her. For years she produced a weekly column for her local newspaper, pulling from her life experience for inspiration.
I once read something by an author who said that he often sat in front of a blank typewriter until beads of blood formed on his brow. Yeah, sometimes writing can be that hard.
It is sometimes true for reading also. There are books that simply do not grab your interest. I can read 50 or 60 pages and decide that it's no longer worth my time or effort to continue. When I was young I had the crazy idea that reading War and Peace was a good idea. Pretty soon I was lost in a sea of characters whose names gave me a headache. I quit.
About ten years ago I was mentoring a young co-worker who was making at attempt to get a college education, the first in his family to do so. He was having some difficulties in a literature class and I said I'd read Grapes of Wrath along with him. Pretty soon my head was hurting. I could barely get through a page a day. I was afraid to say anything lest I squelch any enthusiasm for the work on his part.
One day he called and said, "I want to start a bonfire. Gotta any logs? I've got kindling."
"What do you mean?" I queried.
"This book is the worst, ever," he replied.
I could not disagree and we entered into a conversation as to why it sat on us like lead weights.
For me it was just so heavy handed. It's dry. It's dusty. It's poor. It's chaos. It's melodramatic. It's all too much. Page after page Steinbeck hits you over the head with the images. I got it. Seriously, I got it on page 3, and 6, 7, 9, 42, 53, 135......ad nauseum. It's a literary version of that bird that's singing in my yard.
For those of you who love the book, that's fine. Very knowledgeable people declare that it's a classic, so who am I to say otherwise? We all understand that tastes in reading are as varied as tastes in food or wine, which brings me to the wine. Dandelion wine to be exact. My friend Cindy had suggested the book, "Dandelion Wine" by Ray Bradbury.
I purchased a paperback copy on Amazon for a penny plus shipping.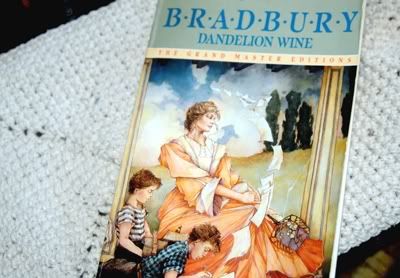 It has a lovely stylized illustration on the cover, although I'm sure that neither Bradbury nor his mother actually looked like this.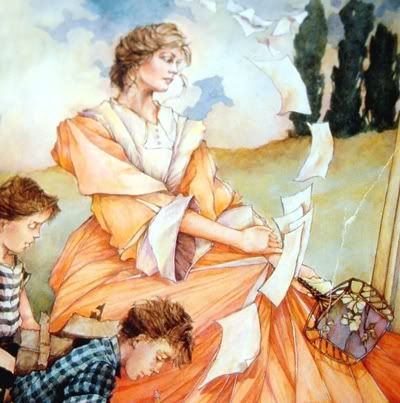 The book is a collection of stories loosely based on his childhood here in northern Illinois. Shortly after the book arrived I carefully set up my nightstand with a small snack and something to drink. When everything was just right I climbed into bed under the covers to read. I read five pages, ten page, twenty-five pages. Oh gosh!! This is not grabbing me. It simply is not resonating with me and I was feeling very confused because I know that Cindy has very good taste in books.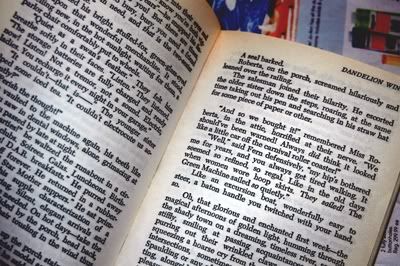 Maybe it had something to do with the fact that the paperback was older, yellowing around the edges, produced in a very small typeface.
Finally, I gave up and laid the book aside on my bedroom bookcase. Maybe in the future I would pick it up and try again.
Months later I picked up the book again and found myself engrossed. I started from the beginning, page one, and was soon captured and engaged. What was the difference? Why, the first time around, did I find it so strangely unappealing? Why? Because I tried to read Dandelion Wine in the wintertime!!
This is a summertime book, something Cindy realized. She reads it once a year, at the beginning of summer. Great plan. I shall do the same.
As for giving Steinbeck another shot...... I think not.
- - - - - - - - - - - - - - - - - - - - - - - - - - - - - - - - - - - - - - - - - - - - - - - - - - - - - - - - - - - - - -
Cindy LaFerle has written her own book. It's entitled "Writing Home" which is a memoir and a collection of stories of home and family life. Proceeds of new book sales go to organizations supporting the homeless.
WRITING HOME
Her blog:
CINDY LA FERLE'S HOME OFFICE
- - - - - - - - - - - - - - - - - - - - - - - - - - - - - - - - - - - - - - - - - - - - - - - - - - - - - - - - - - - - - -
How about you? Do you ever give a book a second chance?