You might be asking yourself, what do bonsai and watermelons have in common?
The answer is, they are both roadside entrepreneurial ventures here in rural Illinois.
The location of these two venture is the dusty parking lot of a local hot dog establishment. It's at the intersection of two busy roads, but hardly a hotbed of retail sales.
The Bonsai Guy, as I call him, showed up about a month ago. Each morning he would park the bright yellow van, hang the sign on the side, construct his display stand and carefully arrange the bonsai on the planks. Then he sat back and waited for people to stop.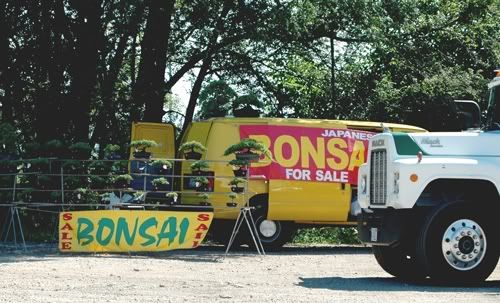 I'll have to admit that lots of people were stopping and some were buying. It was just a little odd because bonsai is hardly something you imagine being sold by the side of the road next to a hot joint frequented by truck drivers.
Imagine my further surprise when an errand took me 20 miles north of here, where I spotted another bonsai van. Same color, same display stand, but this one was being operated by a woman.
Hmmmm, must be Bonsai man's wife.
And then the questions started. I always have a thousand questions floating around in my head. Who is the Bonsai man, and who is the Bonsai woman? Do they work on creating the bonsai during the winter and then set out during the summer to sell them? Why did he stay so long in this one spot? Certainly rural, pork and field corn producing Illinois is not exactly the place where people would be looking to buy bonsai. Do they sell enough to make a living?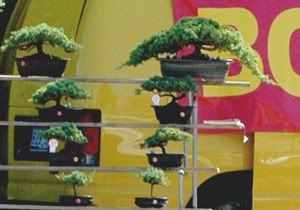 The questions were piling up. Every time I saw Bonsai man I formed another question. Yesterday I made a decision. I was determined to stop and interview Bonsai Man. It would make a great blog post, because you know EVERYTHING is blog fodder.
Imagine my surprise when, just like the little Nash Rambler from yesterday's post - GONE! He was gone! Now I'll never get the answers to my questions.
In his place was Watermelon Man!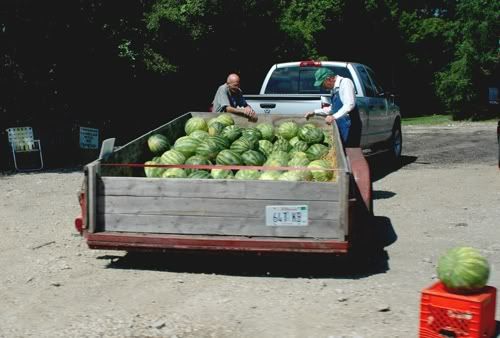 Yet another entrepreneur set up shop in that dusty parking lot. I'm not quite sure where he's hauled these melons from because I don't think out local watermelons are ripe yet.
See.... there's my first question. If I see Watermelon Man tomorrow there will be more questions.
I might stop. But I don't want a watermelon. I want some answers!