No blogging yesterday. We were busy building an ark.
I've said many times that I'll take our midwest thunderstorms and tornados over an earthquake any day. I stick by my guns. The recent 4.something earthquake with an epicenter about 9 miles from here creeped me out and made me feel very unsafe. An earthquake can effect everyone in a hundred mile radius. A tornado usually cuts a path a few thousand yards wide and a mile or two long.
It's just my preference but I do understand that it's what you grow up with I guess.
Anyway, we get some tremendous thunderstorms around here, some serious gullywashers. But thunderstorms, although they can be dangerous, are mostly annoying.
Take Friday night for example.
This was the scene out our front door, looking southwest.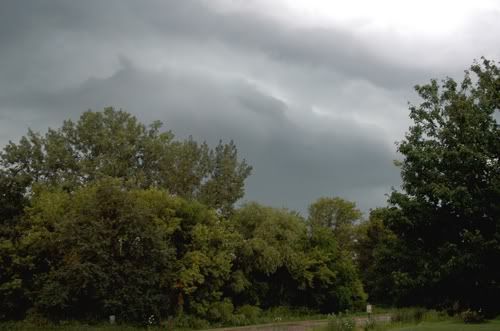 Yeah, that dark but not particularly frightening. Now, if the sky had a green tinge, that would be a whole 'nother ballgame.
This is looking southeast towards one of the neighbors houses at about 6 p.m.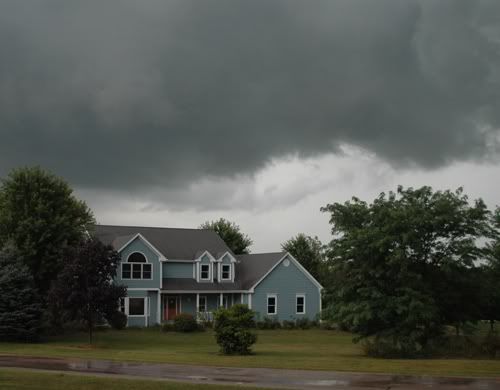 What followed was unprecented in my memory. Usually a thunderstorm rolls in, flexes it muscles, makes a lot of noise, drops a lot of rain and moves on to bully the counties to the east. On Friday night it was a veritable thunderstorm disco party. Wave after wave of thunderstorms moved in, one right behind the other.
There was no sleep to be had and I'm feeling the effects today. The electricity went out many, many times. Our smoke detectors are hard wired and each time the power goes out they make a single high-pitched beep. Thankfully we installed a natural gas powered automatic generator that cuts on 10 seconds after the power goes out. Believe me, you don't want to be in northern Illinois in the wintertime and have the power fail. The temperature in the house plummets like a rock.
First thing Saturday morning the Farmer got his tools together and started building an ark. We got
7 INCHES
of rain overnight. Farm fields and roads are flooded. In one spot the water was gushing off the field and over the highway, creating a small waterfall on the other side.
Water is a powerful force and I have learned that water will
always
have it's way regardless of what the Army Corps of Engineers might think.
Hold on, the Farmer is yelling something from the garage.
"I need you to hold the end of this ruler. Hey - what's a cubit?"
Heck if I know.
OK, I gotta run. I'm being called to do some really imporant Biblical research.
"I'll be there in a minute, honey. I'm grabbing my Bible."
- - - - - - - - - - - - - - - - - - - - - - - - - - - - - - - - - - - - - - - -
Research tells me that a cubit is a unit of measurement equal to about 18 inches.