I'll be leaving here in about an hour, driving west to celebrate The Mother's birthday. She's not to be confused with the Other Mother who lives under my roof.
The Mother turned 82 today and she's struggling with some of the effects of age. I tell my mom again and again that if you are going to live to a ripe old age, there's a price to pay. Of course, in life there's a price to be paid for everything.
Here she is, a very young mom, shortly after the end of World War II.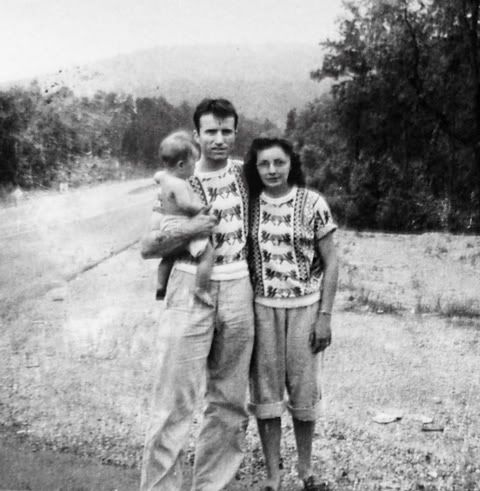 Her and my dad were taking me down to Florida to show me off to my dad's family. This is actually the first of many, many family vacations spent with relatives. Back in the day there was no money for hotels, spas trips to Mexico. Staying with family was the norm.
My mom was so talented and creative when we were growing up. All the teachers wanted us in their classroom because they knew it meant really, really great teacher gifts. She learned to sew like a pro, saving tons of money by constructing beautiful clothing for us.
One time she said to me, "Oh, you're so talented. Look at the beautiful things you've sewn." She said this with an air of envy, as if she had no idea where that skill might have come from.
I looked at her, incredulous.
"Mom, do you not remember the beautiful things you made, including wool dress coats with velvet collars? You know, Rothschild-type coats."
But the truth is that sometimes she does not remember. In a way that is sad but it's also reality and one thing I learned in therapy is that the more you rail against and deny reality, the more miserable you will be.
The Moody Blues have a line in one of their songs:
BREATHE DEEP THE GATHERING GLOOM
What that means to me is to embrace what is coming. Make friends with it. Do what you can to make the impact of negative things a soft landing instead of a slap in the face. The sooner you come to terms with your reality, the sooner you will adjust and get on with life.
One day I took my mother to lunch. She had really been struggling with some recent events that had left her off-kilter. I said, "Mom, there's good news and there's bad news. The good news is we're living longer. The bad news is, we're living longer."
She laughed and got my point.
Today we'll celebrate over lunch at her favorite place for hamburgers, Red Robin. We'll talk and laugh, remember old times and plan for the future.
Happy Birthday Mom!!