Today we're going to talk about an important element of the sleep process. But first, here's what greeted me this morning when I was cooking pancakes for The Farmer.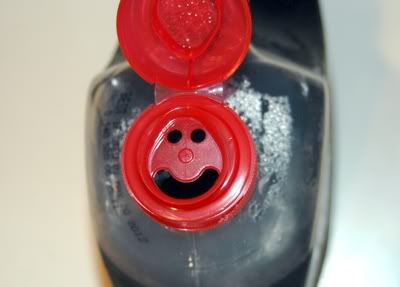 Isn't that a happy, clever packaging idea? That's the pouring lid on a bottle of Hungry Jack pancake syrup. It certainly made me smile.
Ok, here's the thing. I'm one of those crazy people that you see in the airport, dragging their pillow all over the planet. YES! I take my pillow with me.
I can't remember ever having a preference concerning pillows when I was younger but about 10 years ago (maybe longer) I met a pillow that converted me and made a zealot. It's my crunchy pillow, filled with buckwheat hulls.
When I first saw them advertised in the store I thought it was a totally crazy idea. Why in the world would I want a pillow that sounded like it was filled with corn flakes? Why, indeed. I didn't buy one, but my mother gave me one and I was instantly hooked.
The Farmer sleeps on a super soft smushy pillow that resembles the Staypuff marshmallow man. That's not for me.
The last time I was traveling alone, I stopped at a Hampton Inn and was surprised at the pillow arrangement on the bed. It was a new hotel and was decorated in the manner of a boutique hotel. The bed was so inviting and the pillows were piled high. There were two cardboard signs, folded and placed on the bed, announcing the fact that the pillows on the left were firm and on the right were soft. What a great idea but still, I had my own pillow tucked in my suitcase.
Somehow, in addition to the one large buckwheat pillow I've acquired two small ones. They are my own personal Great Wall of Buckwheat. I arrange them in a semi-circle and plop my head right in the middle. It lifts my head up off the bed and supports it perfectly, molding itself around my head. Like I said, I'm addicted to this pillow.
So when you see me in the airport, clutching my crunchy pillow, just say HI!
How about you? What is your preference? Soft, firm or crunchy?
Come back tomorrow and I'll show you how to make your own designer pillowcase. If you're a sewer there will be a chance for you to participate in a wonderful opportunity to help others.